Celebrities are standing with Imran Khan and exhibited their support on Twitter. Last night's chaos and all the happening at zaman park incident that caused violence and injured several PTI workers shook the internet.
Just to arrest one man, the whole Islamabad Police arrived in Lahore fully armed and equipped which also raised various questions.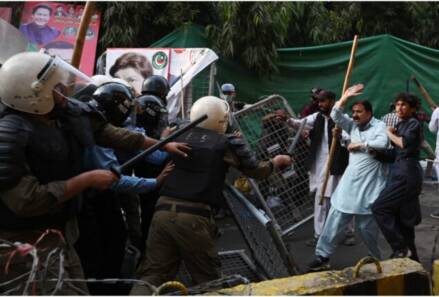 However, the attempt to arrest Imran Khan in the Toshakhana case failed and as per the sources Imran Khan will appear in court.
But Celebrities rally behind Imran Khan and shared delightful support for their leader.
Celebrities Stands With Imran Khan After Zaman Park Incident
Actor Adnan Siddiqui wrote,
"It's incredible to witness people from all walks of life coming together with a shared sense of purpose, fueled by their passion and dedication. Such an outpouring of support for a leader is unprecedented in the history of our country."
Actor Atiqa Odho, who is married to a former PTI MPA, wrote on Instagram that she is "praying that Allah protects Imran Khan and helps him succeed in his efforts for Pakistan".
She said no one deserves to be treated the way he's being treated for just trying to "break [the] shackles of misery for our nation".
"He may not be perfect and has many faults but his heart has always been in the right place for which we must support him through his ordeals. Others talk while he walks the talk.
Being harassed and punished for being sincere is an injustice we must never accept as citizens of this great country," she added.
YouTuber Shaheer Jafry wrote, "
I wish KHAN thought about himself more. He'd be living a lavish retired life now.
Instead, he thought of the US and our FUTURE and the system wants him gone. A true fighter. A true leader!!"
Yesterday, Police arrived at Zaman Park Area to arrest Imran Khan but it turned out to be a clash between supporters and police.
What do you think of the story? Tell us in the comments section below.