Quba Islamic Institute in Houston was set ablaze, Friday morning. The local firefighters spent more than an hour battling the blaze before extinguishing it, saving the school and mosque of Quba Islamic Institute.
The officials believe that the fire was set intentionally and people are asking the authorities to investigate it as hate crime.  As the news of the fire spread, a retired fire fighter in Houston area, who still volunteers for Crystal Beach Fire and Rescue posted the following on social media:


Houston officials believe the fire was set intentionally, and many are calling for this to be investigated as a hate crime. Unfortunately, the hate which likely ignited this fire wasn't just contained to the blaze, for as news of the fire spread, a retired Houston-area firefighter who still volunteers for Crystal Beach Fire & Rescue posted the following:
The attack happened in the wake of the killings of three American Muslims in Chapel Hill, a likely hate crime that has badly shaken a Muslim-American community already reeling from a rise in anti-Muslim hate speech and crimes since the premier of American Sniper.
This rise is a result of the growing Islamophobia which is continually spreading throughout American society since 9/11. Since the incident took place, the anti-Muslim hate crimes have been occurring at an alarming rate. Muslims are today 5 times more likely to be targeted for a hate crime than before the 'war on terror' and the Islamophobia.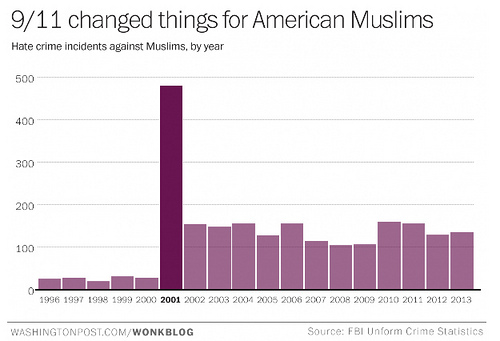 The figures mentioned above are said to be drastically underrepresented, as the reporting is voluntary. The innocent Muslim citizens and communities have been the target of illegal surveillance and spying by US police. They are also profiled routinely on the streets and airports.
The Muslims in Houston are absolutely shaken by the attack.
The first thing that should be done to solve the hate is to accept it, loudly and clearly. It is important to admit that it exists. The fact that hatred is perpetrated by the dehumanization of American Muslims in the media and society at large exists. Only then the attacks on mosques will stop.