North Carolina
Chapel Hill Police, North Carolina confirmed three people were shot and killed on Tuesday in an incident that left residents on edge in apartments not far from the Friday Center off Highway 54.
All three killed were American Muslims; observers say that this might be a hate crime and the Police are hiding the identity of white, male killers.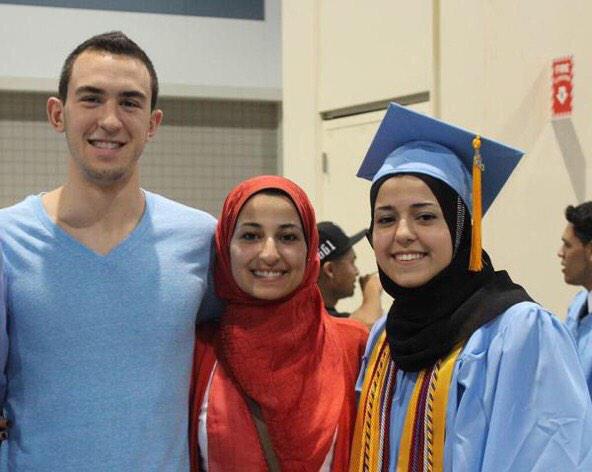 Deah Barakat, Yusor and Razan Abu-Salha are reported to be killed in the incident.
At 5:11 p.m., the Chapel Hill Police responded to the report of gunshots in the area of Summerwalk Circle, which is where there are some apartments a few blocks off 54 and behind the Friday Center.
All three were dead at the scene. No names have been released but police said there was no threat to the public.
A man could be pleading with law enforcement on scene demanding to know the status of his son.
"Tell me how my son is! What's his situation? If he's dead, tell me he's dead! If he's alive, tell me he's alive! Just tell me, straight up!" the man yelled at authorities on scene.
The man said he was going to go in and check on his son even if it meant he would go to jail.
Residents of the apartment complex said they were in shock following the shooting.
UNC student Kristen Bowling said she was at home studying at the time of the shooting and never heard the shots.
"I'm really confused and I have been since 5:30," Bowling said.
Alert Carolina notified the UNC community shortly after 7 p.m. saying the shooting posed no ongoing threat.
Resident Daniel Waggoner said he has noticed suspicious activity recently.
He said a truck has been parked outside of a building at the complex lately.
"A couple of guys were walking through the neighborhood and I'm walking my dog, like I am now, and I heard them say to get a flashlight and take a look in this truck," Waggoner said. "I was like, 'Hey guys,' and saw me with the dog and sped off at about 60 miles an hour."
The Chapel Hill Police said they were "questioning a person of interest in the crime."
Source: Medhaj News