Komal Rizvi marries S. Ali Uppal, the CEO, and co-founder of a multi-billion dollar company in Silicon Valley.
Komal Rizvi Pakistan's one prominent singer and her sudden marriage news shocked her fans. Uppal is one of the most influential men in the Trillion Dollar industry of Networks and 5G.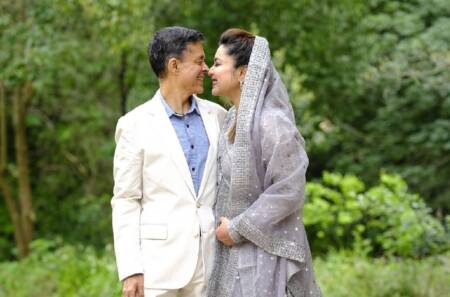 This beautiful surprise came on Friday when Komal Rizvi shared a gorgeous picture of her delightful day wedding.
The wedding was held privately in California with few family and friends.
Komal Rizvi Marries Uppal – Found True Love
Rizvi shared her loved-up pictures from the private ceremony and announced her marriage on Instagram. "Here is a solemn promise; to always dream with you, celebrate with you, and walk beside you through whatever life may bring," she captioned the post. The pictures showed a beautiful emerald ring covered with diamond studs.
Komal's outfit looks stunning in an all-silver embroidered lehenga made by her mother.
It's her second marriage of Komal, she was previously part of an abusive marriage from which she got a divorce. That marriage even kept her out of the industry, she revealed that her marriage, which was semi-arranged, was plagued by abuse and manipulation from her husband.
She even spoke that she was being hit, manipulated, and fell into psychological abuse. She regrets wasting her prime years on someone who doesn't deserve her at all.
At the time of her marriage, Oman's higher authorities didn't provide any help to her.
What do you think of the story? Tell us in the comments section below.