Joyland isn't stopping to conquer every award event and it's a great moment for the whole nation. After receiving endless appreciation at the Cannes, Joyland's team achieved another big prize that no one saw it coming.
No doubt Saim Sadiq's work created a special place in people's hearts and no one could walk away without appreciating the work the whole team did in the movie.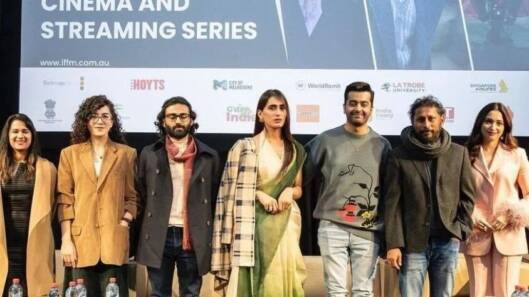 Recently Joyland bagged another big award at the Indian Film Festival of Melbourne (IFFM) and create history by winning the best film from the subcontinent.
It was the moment not only for the Joyland team but also for the whole nation as Pakistani artists headed towards the grandest stage.
Joyland bag historical award at the Indian Film Festival of Melbourne (IFFM)
The film festival happened till the 30th of August, it started on the 12th of August, and ever since the pandemic. Posting highlights from the event, their official Instagram account shared glimpses from the award ceremony.
Various clips have been released, in one of the clips Saim Sadiq and his team walk on the stage to receive the award "Congratulations team Joyland for Best Film from the Subcontinent!"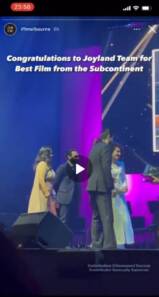 Another clip saw the Indian producer, Apoorva Charan, wish Pakistan a "happy birthday" on the occasion of its 75th Independence Day on stage and an early birthday to India. With the award in hand, she reminisced, "Last Diwali, I was in Lahore and the cast and crew helped me celebrate on set and it made it so special for me."
In the category, Joyland was competing with Lunana: A Yak in the Classroom from Bhutan, No Land's Man and Rehana Maryam Noor from Bangladesh, and The Newspaper from Sri Lanka.
Joyland already grabbed everyone's attention when it became Pakistan's first feature to be selected at Cannes.
Saim Sadiq being emotional
While talking to the local news publisher, the director Saim shared "Emotionally, observationally, if I've seen a vulnerable moment in my mother or aunt, I have inculcated that in Joyland.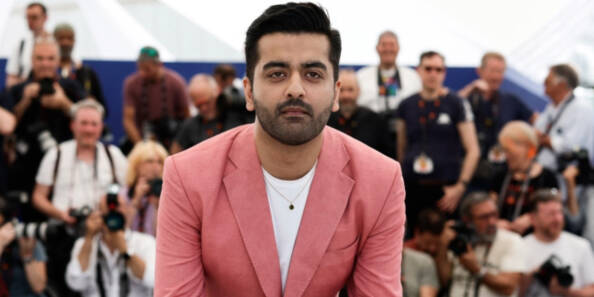 When you feel, you don't belong to that boys' club, how it doesn't come naturally to you, you start wondering if it makes you any less of a man. When you're not interested in cricket or having other 'masculine traits', you start questioning the notion of masculinity.
Why those nuances are so strict? Why do they stifle you unnecessarily? Those things did make their way into the film. Understanding the privilege that comes with being a man also made its way into Joyland."
What do you think of the story? Tell us in the comments section below.