The Pakistani entertainment industry rising and leaving its mark on the international film festivals. In the past decade, there have been a lot of achievements unlocked for Pakistan when it comes to films and entertainment.
Pakistani filmmakers making their way to the world of international film festivals and making the nation proud. Saim Sadiq Pakistani filmmaker joined the others and officially his film "Joyland" was selected to be screened at the 75th anniversary of the prestigious annual film festival.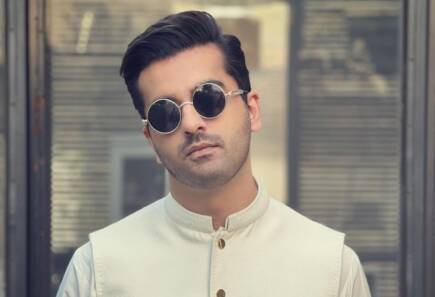 On Thursday, Cannes took the whole announcement thing to their official Twitter handle and shared the news with everyone. Soon the news spread out, and many Pakistani celebrities jumped in to congratulate Saim Sadiq and appreciated his efforts.
Celebrities congratulating Saim Sadiq
Undoubtedly it's an amazing moment not only for Saim but for the whole nation and it's a great platform where Pakistani artists can showcase their work. For those who don't know, Cannes is one of the biggest film festivals, in which a lot of films from all over the world are submitted and very few are selected to be screened.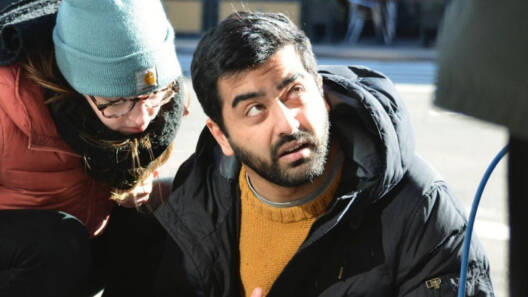 The category for feature films only takes in a limited number of 14 films and it's a moment of pride for the Pakistani people.
One of the cast members Actor Sana Jafri who's also starring in the feature film along with Ali Junejo took to Instagram with a screenshot from Cannes official website that displayed their film's name in the category Uncertain Regard. She wrote, "Yeah guys, this is real. It has happened, history has been created again. [This is] the first Pakistani feature film at Festival De Cannes!"
As the news spread all over the social media platform, actors and directors of our entertainment industry praised the team of Joyland. Mahira Khan retweeted the announcement and wrote, "This is amazing! Congratulations to the entire team. And to Pakistan!"
Osman Khalid Butt also reshared the big "fantastic" news and wrote, "This is FANTASTIC. What a huge moment for Pakistani cinema. Congratulations, Saim and the entire team of Joyland!"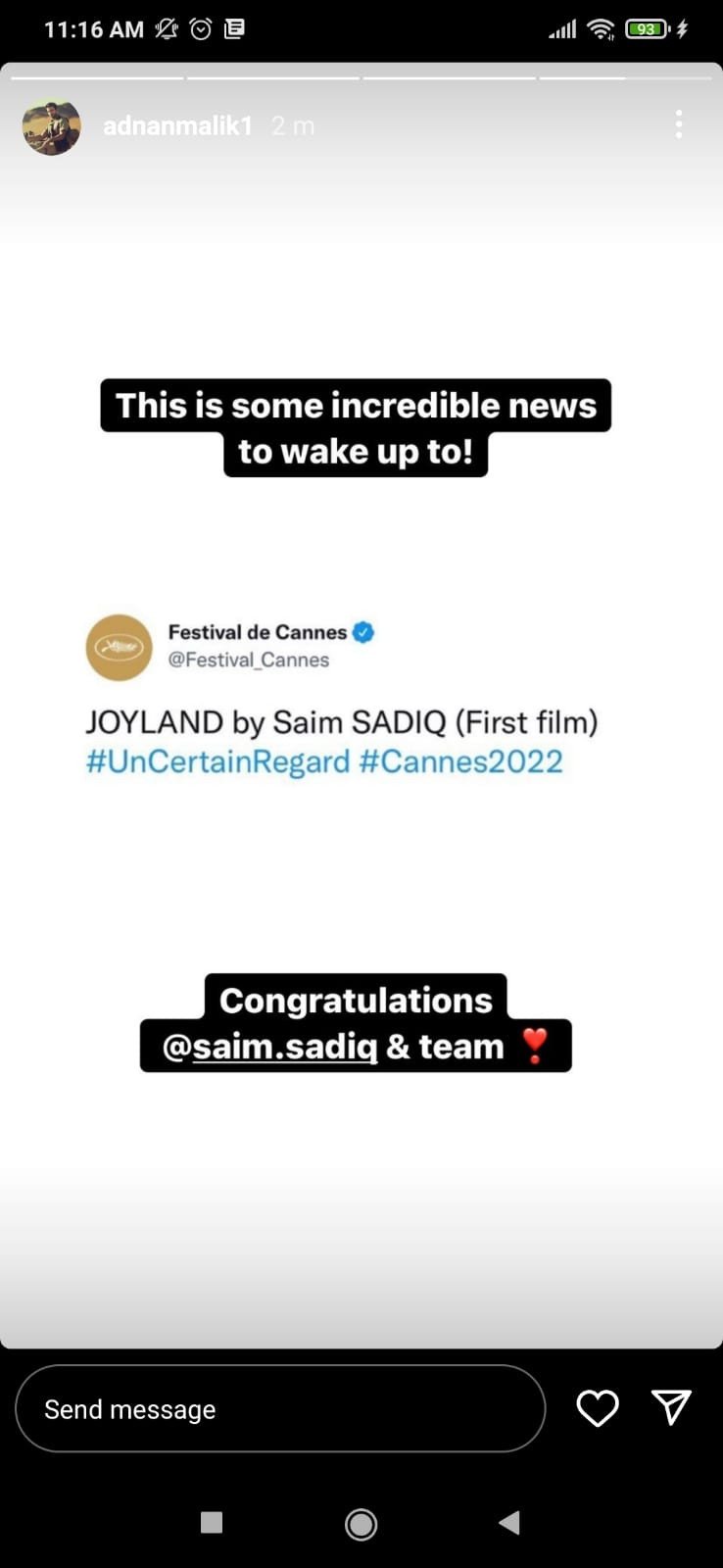 Celebrities like Adnan Malik had a brilliant morning and shared their happiness on their Instagram story. He wrote, "This is some incredible news to wake up to. Congratulations Saim Sadiq and team."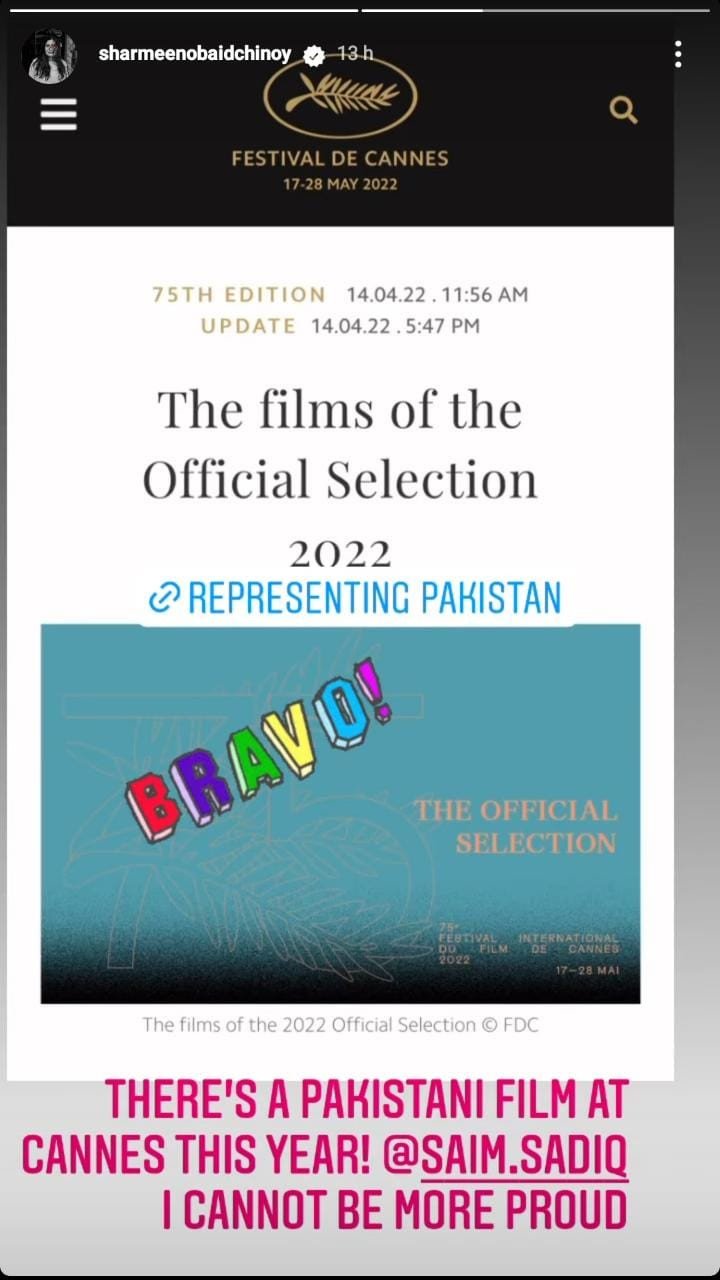 Oscar-winner Sharmeen Obaid Chinoy also took to her Instagram story to take pride in Saim's achievement for the country. "There's a Pakistani film at Cannes this year. Saim Sadiq, I cannot be more proud," read the caption.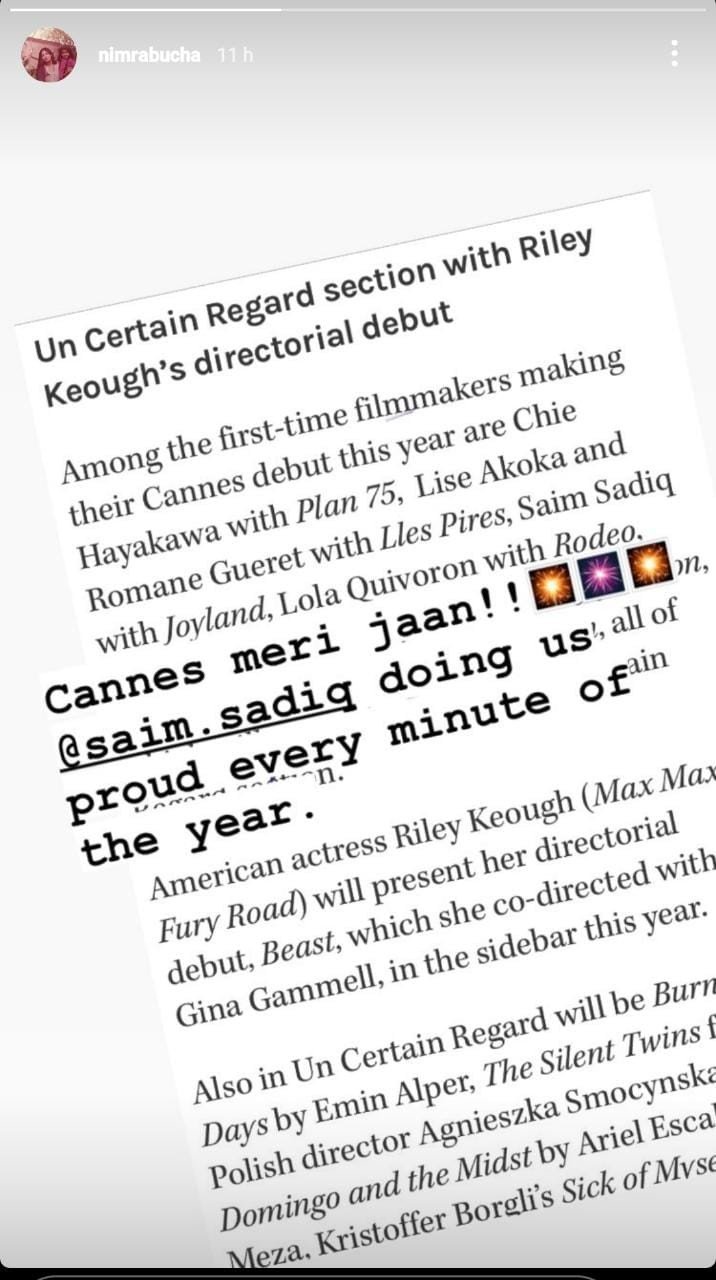 Nimra Bucha who was last seen roaming in Ms.Marvel's latest teaser also wrote, "Cannes Meri Jaan. Saim Sadiq makes us proud every second of the year."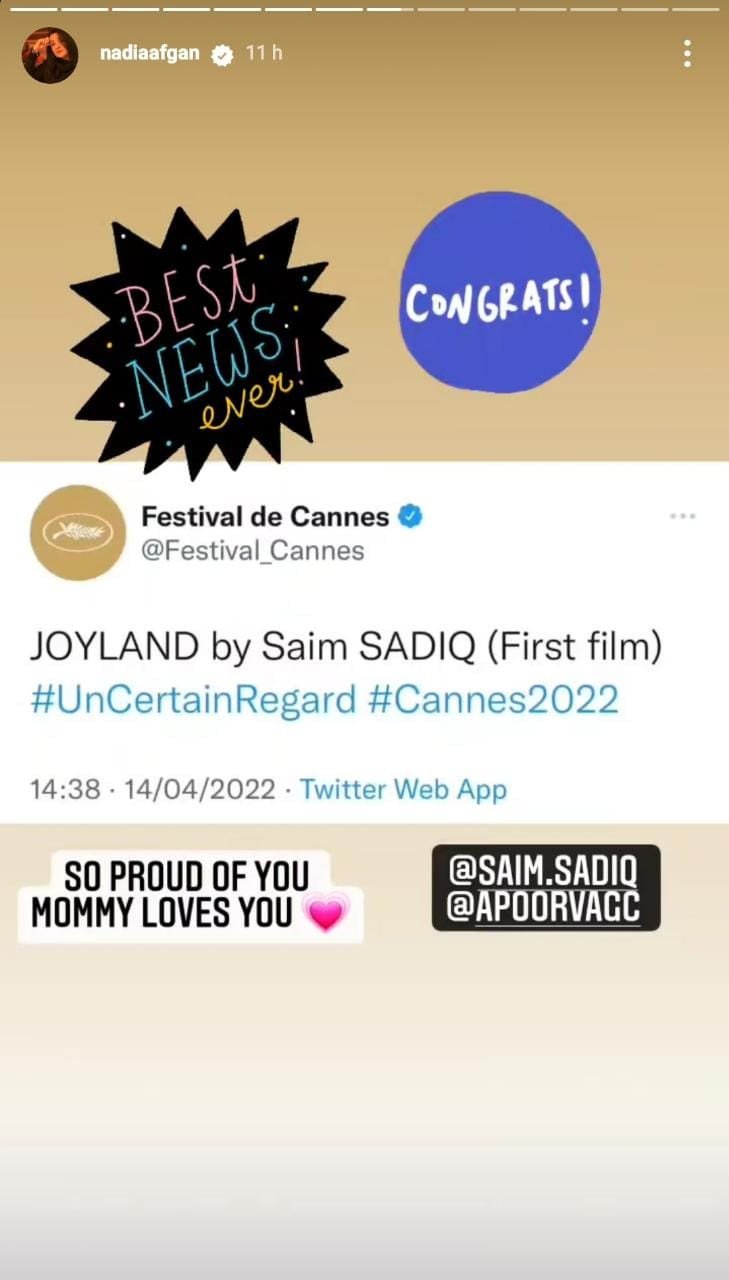 "So proud of you, Saim Sadiq! Mommy loves you" wrote Nadia Afgan as she posted Cannes' official tweet on her story.
Complete the official selection list for Cannes 2022
Let's have a look at the complete list of films selected for Cannes.
Competition
Eo, Jerzy Skolimowski
Tchaïkovski's Wife, Kirill Serebrennikov
Boy From Heaven, Tarik Saleh
Leila's Brothers, Saeed Roustaee
Showing Up, Kelly Reichardt
Decision To Leave, Park Chan-Wook
Triangle Of Sadness, Ruben Östlund
RMN, Cristian Mungiu
Nostalgia, Mario Martone
Broker, Hirokazu Kore-eda
Armageddon Time, James Gray
Close, Lukas Dhont
Frère Et Sœur, Arnaud Desplechin
Stars At Noon, Claire Denis
Tori And Lokita, Jean-Pierre and Luc Dardenne
Crimes Of The Future, David Cronenberg
Les Amandiers, Valeria Bruni Tedeschi
Holy Spider, Ali Abbasi
Out Of Competition
Z, Michel Hazanavicius (Opening film)
Masquerade, Nicolas Bedos
Three Thousand Years Of Longing, George Miller
Novembre, Cédric Jimenez
Elvis, Baz Luhrmann
Top Gun: Maverick, Joseph Kosinski
Midnight Screening
Hunt, Lee Jung-Jae
Moonage Daydream, Brett Morgen
Fumer Fait Tousser, Quentin Dupieux
Cannes Premiere
Irma Vep, Olivier Assayas
Dodo, Panos H. Koutras
Nightfall, Marco Bellocchio
Nos Frangins, Rachid Bouchareb
Special Screenings
Jerry Lee Lewis: Trouble In Mind, Ethan Coen
The Natural History Of Destruction, Sergei Loznitsa
All That Breathes, Shaunak Sen
Uncertain Regard
The Silent Twins, Agnieszka Smocynska
The Stranger, Thomas M Wright
Joyland, Saim Sadiq (first film)
Rodeo, Lola Quivoron (first film)
Godland, Hlynur Pálmason
Butterfly Vision, Maksim Nakonechnyi (first film)
Corsage, Marie Kreutzer
Beast, Riley Keough, and Gina Gammell (first film)
Plan 75, Hayakawa Chie (first film)
Domingo And The Mist, Ariel Escalante Meza
Sick Of Myself, Kristoffer Borgli
All The People I'll Never Be, Davy Chou
Metronom, Alexandru Belc (first film)
Burning Days, Emin Alper
Les Pires, Lise Akoka and Romane Gueret (first film)
This is not the first time, a Pakistani film screened at the biggest international festival or has been nominated. Zindagi Tamasha Sarmad Khoosat's film got a nomination at the Busan Film Festival.
What do you think of the story? Tell us in the comments section below.