The appearance of Gullu Butt in model town Lahore got viral on social media on 17 June. A video of a man with a police backing hitting cars and had gone out of control. Well, a great response had been shown by a linguist in Pakistan, by suggesting a new word "Gulluism" for oxford dictionary. Oxford dictionary has a policy of adding new words, if it becomes popular among public. It gets updated with new words every year. Even words from movies like "Harry potter " has been added to this world wide famous dictionary. Syed Shamim Azam from lahore took the advantage of this policy, and managed to write directly to Oxford team. The meaning of this word will be;
A violent person, enjoying enjoying back-end of ruling segments of society or any who has a conduct of mischief.
Various versions are;
Gullu (from proper noun to common noun)
Gulluish (adjective)
Gulluishly (adverb)
Gullunise (verb)
Gulluism (abstract noun)
The matter was first discussed by Dr. Tahir-ul-Qadri in Inqilab march. The release of Gullu Butt from jail was completely disappointing for TUQ as well as the people of Pakistan. Despite of the video proofs, high court of Lahore managed to prove him a "respected" person. Gullu Butt was received like a hero and shifted to some unknown place. News channels managed to talk to the cousin of Gullu Butt. He said;
"Gullu butt is in safe hands now and people of Pakistan has wrong perception about him"
The complete name of "Gullu Butt" has not been added as it include a cast "Butt" as well. Which is also a wise decision, as people belonging to that cast might get angry. The moment i am writing the word Gulluism, computer is showing me a grammatical error. But sooner or later, it will get fixed up.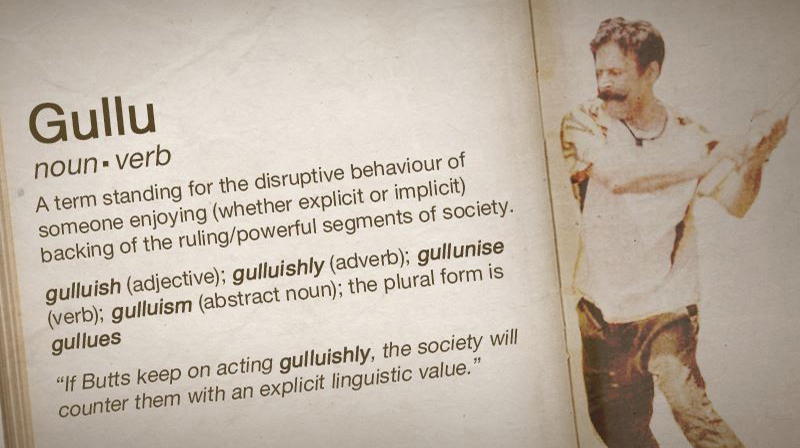 'Gullu' is used to show a certain violent behaviour, so its word category is to be changed from Proper Noun to Common Noun, and it should not be written with a capital letter. The word class is changed by using morphemes like gulluish (adjective); gulluishly (adverb); gullunise (verb); gulluism (abstract noun); the plural form is gullues; the past simple tense of gullu, rather than being gullued, is gulloished; the comparative form of gulluish is more gulluish (not gulloisher, as it contains two syllables). Although the Butt clan does not will to become a part of the concern and wishes not to have "Butt" associated with the violent behavior and suggests that the name of the clan must not be disrespected like that.
By Top Gravity