Giuseppe "Joe" and Teresa Giudice, stars of the Bravo reality television show, The Real Housewives of New Jersey, finally learned their fate today as a federal judge handed down the sentences in their financial and tax fraud cases. Joe Giudice has been sentenced to 41 months in federal prison for financial and tax fraud. His wife, Teresa, will serve 15 months.
Earlier this year, Teresa and Joe shocked their fans when they pleaded guilty to host of charges, including failure to file federal income tax returns. The couple had originally pleaded not guilty to the charges, claiming that they were unfairly targeted for prosecution because of their celebrity. Teresa eventually changed her position, saying:
Today, I took responsibility for a series of mistakes I made several years ago. I have said throughout that I respect the legal process and thus I intend to address the Court directly at sentencing. I will describe the choices I made, continue to take responsibility for my decisions, and express my remorse to Judge Salas and the public. I am heartbroken that this is affecting my family—especially my four young daughters, who mean more to me than anything in the world. Beyond this, I do not intend to speak specifically about the case outside of court, at the recommendation of my attorney and out of deference to the Government and our legal system.
The Giudices were initially indicted in 2013 on 39 counts of conspiracy to commit mail and wire fraud, bank fraud, making false statements on loan applications and bankruptcy fraud. The charges included separate charges for Joe for failure to file federal income tax returns for tax years 2004 through 2008. As part of the plea agreement, Teresa pleaded guilty to four of the counts against her and Joe to five of the counts against him, including failure to file federal income tax returns.
Joe had faced up to 37 to 46 months in jail. Teresa faced just up to 21 to 27 months; she had requested leniency because she has four children at home. Just before sentencing, Teresa confessed to the judge, "I'm scared, I'm not going to deny it, I'm really scared."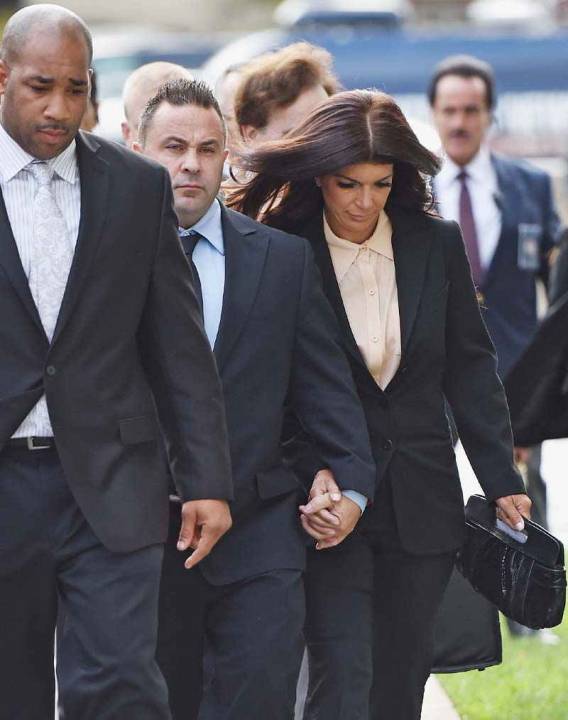 The final sentence for Joe Giudice was 41 months in a federal prison plus $414,588.90 in restitution. He must also enter an alcohol treatment program; Joe had admitted, through his attorney, that he has a drinking problem. That comes as no surprise: he flipped his truck in a DWI accident in 2010 and was sentenced to a seven-month license suspension, $300 fine and 12 hours of driver-education.
It is not yet clear whether Joe, who is not a U.S. citizen, will be able to remain in the country after this most recent sentence. Earlier in the year, federal Judge Esther Salas told Joe that, after prison, he would face immigration proceedings which would "likely result in … your being removed from the United States."
Teresa received just 15 months, about 2/3 of the potential sentence; prosecutors had argued against house arrest, claiming that she would benefit by remaining in the very home she had defrauded others to purchase.
The judge agreed to stagger the sentences so that one parent could remain at home with the couple's four children. Teresa will serve her sentence first.
It's the second high profile tax case to involve a reality television star from New Jersey in recent weeks. In September, Mike "The Situation" Sorrentino pleaded not guilty to one count of conspiracy to defraud the United States; two counts of filing false tax returns for 2010 through 2012; and one count for allegedly failing to file a tax return for 2011. Mike's brother, Marc, was charged with one count of conspiracy and three counts of filing false tax returns; he is represented by Chris Adams of Colts Neck, New Jersey. Sorrentino's arraignment will be held next week.
Source forbes.com