Recently, an unsettling revelation has been brought to notice, revolving around the students of the top-notch Lahore Grammar School 1A1 branch. Minor girls of the prestigious Lahore school have come out with strong harassment allegations against four male teachers. The school took action and suspended these teachers.
The news about the harassment allegations against these teachers spread like wildfire on social media. The outrage on social media has also reached the government.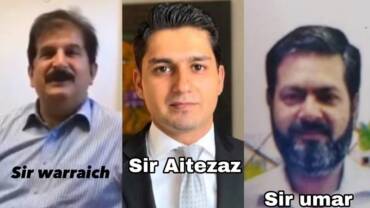 'These are my children'
In addition, Murad Rass, who is the current Provincial Minister of Punjab for School Education has also spoken up about the subject matter.
He took the matter to his Twitter and talked about how he will deal with the case himself. The Punjab Educational Minister says that he will talk to the principal of Lahore Grammar School (LGS) 1A1. Moreover, he said that he would acquire all the necessary details and bring the case to a proper conclusion.
I will deal with the case in Lahore Grammar School 1A1 myself. Have talked to the Principal this morning. Getting all the details. These Children are my Children. I will protect them. This case will be brought to a proper conclusion according to law. Make NO mistake about it.

— Murad Raas (@DrMuradPTI) June 30, 2020
Earlier, Human Rights Minister Shireen Mazari also took notice of the harassment case against LGS teachers. The minister said regional offices are on alert now.
Have taken note of serious harassment allegations of young girls and women at educational institutions – most recently at two premier private institutions in Lahore. MOHR helpline 1099 is available for complaints & for help. Our regional offices have been alerted on this issue.

— Shireen Mazari (@ShireenMazari1) June 29, 2020
In addition to this, all the social platforms, especially Instagram and Twitter, are bombarded with educational institute related harassment cases. Students all over Pakistan, specifically from the city of Lahore, are coming forward and opening-up about the hidden reality of their educational institutes.
These students have finally mustered up the courage to speak out about the monstrosity that they had to deal with. Multiple educational institutions have turned out to be in the spotlight over the allegations of sexual harassment.
It is to be noted that it is not only LGS that has been accused of harassment. In fact, many institutions in Lahore including Lahore University of Management Sciences (LUMS), National University of Sciences and Technology (NUST), and Foundation for Advancement of Science and Technology (FAST), are also in the related spotlight.
A friend of mine posted this about her school LGS 1-A 1. This is so disturbing. How can a school still have these guys roaming around their premises after all these allegations. Disgusting. More power to the girls who brought this up and saved many girls from becoming a victim. pic.twitter.com/YrEARSofkA

— Izzat Riaz 🇵🇰 (@izzatriaz) June 27, 2020
Actor Omair Rana's involvement in harassment case 
The teachers who harassed and exploited these students at LGS will finally face the consequences now. Meanwhile, it is believed that Pakistani actor Omair Rana has also some role in the case. Omair was employed by LGS as a teacher for dramatics. Moreover, his wife, Maira Omar is also part of the LGS faculty.  Her worked at LGS 1A1 and female students are still sharing the 'uncomfortable experiences' they faced.
We are proud of these young women who opened up about their harassment stories and called out their abusers. Let's just hope that the government serves them right!
What do you think of this story? Let us know in the comments section below.