It seems like there is no end to violence against young maids in Pakistan. People in the country were shocked when a new video surfaced on Saturday. They saw how a man and some women thrashed a minor girl. They had no fear of the law enforcement agencies or even god. The 12-year-old maid faced the torture of the Faisalabad family, the video is shocking.
According to Geo News, the girl was brutally beaten by her employers on a street in Faisalabad. However, when the shocking video went viral, police registered a case against them.
The police said that the case was registered on the complaint of the Child Protection Bureau and rightly so. The bureau came into action after the video had surfaced of a family beating the child.
The whole of Pakistan also saw the video on their TV screens and on social media platforms. Soon the police conducted raids to arrest the man and the women who tortured the child.
12-year-old girl is a domestic worker
The 12-year-old maid who was tortured in the video is a domestic worker employed by a family in Faisalabad.
"The family said that it was hitting the girl because she is a mental patient," Child Protection Bureau Chairperson Sarah Ahmad told Geo News.
However, she added, "This is no justification for hitting her. Keeping a young girl as an employee is a violation of child rights."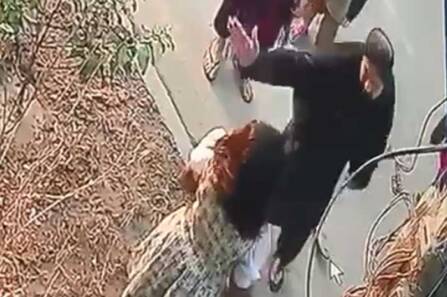 Meanwhile, neither the girl nor her parents have been located so far.
Ahmad said, "The bureau is working with the police to ascertain her whereabouts."
Meanwhile, a case has been registered against the man in the video and his wife.
CM Buzdar takes notice
Meanwhile, Chief Minister Punjab Sardar Usman Buzdar has taken notice of the incident. He sought a report from RPO Faisalabad.
"The chief minister has directed to take legal action against those involved in torturing the innocent child," said a statement from the provincial government said.
Such cases are very common in Pakistan, a claim we should not be proud of. Earlier in June, evil sisters from Rahim Yar Khan tortured and forced their maid into prostitution. Another 13-year-old maid was abused and tortured by an old employer in Lahore and no one knew.
What do you think of this story? Let us know in the comments section below!