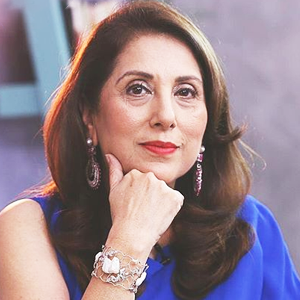 Biography
With a long list of successful dramas and top-rated serials, Samina Peerzada has been associated with this industry for a very long time since the 1980s. Starting from dramas then as a director she contributed and now you see her as a promising host with 'Speak your heart' and 'Rewind with Samina Peerzada.'
She has a charm and graceful essence in her personality, which grabs you to the television screens. Even though she plays as an actress or host, both have something catchy to the eye; even though she didn't come from an artist background, she still has that power.
Fact‌ ‌File‌ ‌ ‌
Birth‌ ‌Date‌ ‌–‌ 9 April 1955
Birth‌ ‌Place‌ ‌–‌ ‌Lahore, ‌ ‌Pakistan‌ ‌
Age‌ ‌–‌ ‌65 years in 2020
Father‌ ‌–‌ ‌Moinuddin Butt‌ ‌
Mother‌ ‌– Alma Butt‌ ‌
Marital‌ ‌Status‌ ‌–‌ ‌Married‌ ‌ ‌
Husband-‌ Usman Peerzada 
Children ‌– Amal Perzada, and Anum Perzada ‌ ‌
Nationality‌ ‌–Pakistani‌ ‌
Religion-‌ ‌Islam‌ ‌ ‌
Occupation‌ ‌–‌ ‌Modeling‌ ‌and‌ ‌acting‌ ‌ ‌
Years Active– 1980-present 
Background 
Well-known Samina Peerzada was born as Samina Butt in a Kashmiri family having no connection with tv industry. Rise as a talented show business personality who worked in different areas as an actor (film and dramas), director, producer, host, and activist. Her parents Moinuddin butt and mother Almas butt brought her up in the most beautiful manner. She married a person within the industry well-known actor Usman Peerzada back in 1975. Together the couple has two daughters, Amal and Anum Peerzada.
Educational Qualification 
Samina Peerzada holds a graduation degree from PECHS, Karachi Government College of Commerce & Economics, Karachi.
Married Life 
Samina Peerzada got married to Usman Peerzada man from the same industry; they met in 1973 then, after some time decided to get married with mutual understanding in 1975. Together they manage to have a work-life balance and have two pretty daughters.
Her parents got separated which affected her life a lot but somehow, she manages things and accepts reality as it was. There are together for four years; they are a power couple then and now.
Professional Life 
As An Actress
When she completed her Bachelor's degree, she decided to join the showbiz industry with her acting skills and make her career in the industry without having any links. At the beginning of her career, she even struggled to get the minor roles. But her dedication towards acting and hard work made her prominent with some time, her work got noticed and the audience wanted her to be on screen. There is a long list of serials that made her noticeable, and people started admiring her more and more. She remained the part of numerous Punjabi and Urdu movies too.
Her drama serial 'Dil Diya Dehleez' which was released in 2006, was the major hit of all time. Later sometime in 2009, she again surprised the audience with her negative acting skills in the famous drama serial 'Meri Zaat Zara e Benishan' starring Faysal Qureshi, Summiya Mumtaz, and Adnan Siddiqui in the main lead. In 2010 another drama serial, 'Dastan' based on the partition, was added to her super hit list. In 2012 she grabbed everyone's attention with her remarkable performance in the most popular drama serials 'Dur e Shehwar,' 'Zindagi Gulzar Hai,' and 'Shehr e Zaat. Each drama has a different genre and requirement, and she played all with grace and beauty.
At the start of her career, she made her appearance in In 1980, her debut film released in the UK but unfortunately banned in Pakistan. 
When she started her career, she showcases her acting skills in many Pakistani Urdu and Punjabi Films. In 1980 'The Blood of Hussain' her debut film got released in the UK but, due to some reasons, banned in Pakistan by General Zia ul Haq. 
Her drama list includes; because of
Darya

Wafa Kay Mausam

Zard Dopehr

Ana

Thori Si Mohabbat

Sheeshay Ka Mahal

Tere Ajanay Se

Dil Diya Dehleez

Ishq Ki Inteha

Thori Door Sath Chalo

Meri Zaat Zara e Benishan

Mohabbat Kon Rokay

Noorpur Ki Rani

Tair e Laahoti

Dil Ki Dehleez Par

The Ghost

Kalmoohi

Dil e Nadan

Natak Mandi

Daastan

Bebak

Koi Lamha Ghulab Ho

Kafir

Rangeelpur

Mera Naseeb

Pani Jaisa Pyar

Kuch Khuwab Thai Mere

Durr e Shehwar

Roshan Sitara

Shehr e Zaat

Zindagi Gulzar Hai

Rehaai

Ghaao

Kuch Is Tarhan

Chaar Chand

Meri Beti

Kitni Girhain Baq Hain

Adhura Milan

Kaanch

Beqasoor

Neelum Kinary

Judai

Be Aib

Aap Ke Liye

Saanp Seerhi

Rasm e Dunia

Hisaar

Ghanti

Karb

Musafirkhana

Kathputli

Doosra Chehra

Jab Jab Dil Milay

Malika e Alam

Raat

Sahil

Hisaar

Balaa
As A Host
After her many performances as a really promising actress, she is now ruling the screens with her show 'Rewind with Samina' where many celebrities have appeared as a guest. And share their life experiences with her and the audience, though after a lot of shows, she gets trolled by the people yet it is the most-watched show and much loved Pakistani host. Her communication and questions are so subtle that guests often get emotional while sharing their difficulties and hardships. 
With Samina Peerzada 
With Samina Peerzada is a talk show hosted by one and only Samina Peerzada in which she asks the celebrity's success, failures, struggles, and his/her experiences. It was started with the name 'Rewind With Samina Peerzada.' Next, year she hosted season two with a different name, 'Speak Your Heart With Samina Peerzada,' and the third season came with the same name as of first 'Rewind With Samina Peerzada.' Each season she has new celebrities, the show faces criticism and even trolled by many but the fame remains the same.
Awards and Recognition 
Along with national level appreciation, she also gained a lot of praise internationally; 
She received the Lifetime Achievement Award at the "Beyond the Mango Film Festival."

She was the recipient of another Lifetime Achievement Award for Excellence in Television by Hum TV at the 3rd Hum Awards.

She has also received the Hum Award for Best Supporting Actress in 2014 for Zindagi Gulzar Hai.
Along with these, she is the recipient of many other awards and honors. 
Samina Peerzada is a versatile Pakistani actress, host, and director; she has been part of the industry for a long time. She has done many positive roles and negative characters beautifully; her convincing performance earned massive audience appreciation.