Prime Minister Imran Khan has launched a web-portal soliciting application from those who have lost their livelihoods as a result of the COVID-19 pandemic. He announced to commit the PM's COVID-19 Relief fund to those who will qualify for aid.
The financial assistance under the program is meant to help them buy rations so that they don't go hungry. The program covers 12 million families. It will provide 12,000 per family with the allotted total budget Rs. 144 billion.
Due to this lockdown, many have lost their only source of income. However, since the launch of the program, many families are being benefited with the emergency funds. While many are still struggling with the lockdown effects.
Step-by-step guide to apply
We are giving a step-by-step guide for those who want to register themselves for the PM Ehsaas emergency funds.
Here is how you can do it:
To get yourself enrolled for the emergency cash, all you have to do is to write your CNIC number in an SMS and send it to 8171.
The government will filter out your details in its socio-economic database.
Within the next 24 hours, you will receive an SMS for confirmation or rejection.
People can also apply online by using the Ehsaas web portal. Fill out your personal details in the form given on the website. The government will verify all your details with the help of The National Database and Registration Authority (NADRA) before you receive a confirmation from the authorities.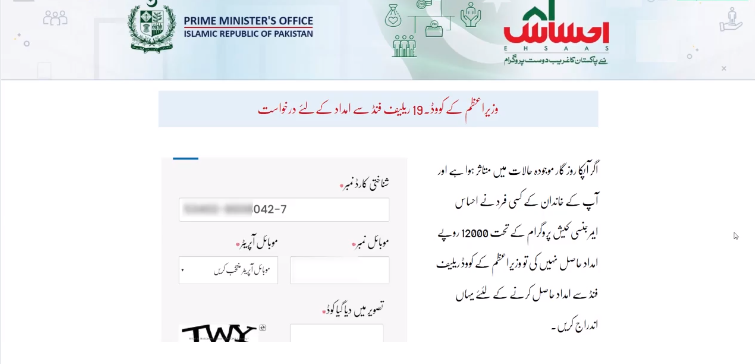 After the due process, the applicant will receive all the details as to which bank they should visit to withdraw their emergency funds.
PM relief fund
PM Khan earlier also made a similar announcement. This, in regard to employees who have been fired/laid-off by their companies due to the COVID-19 pandemic. He announced PM Relief Fund for those people who have lost their jobs.
Speaking to the nation in his address, he said, "People who have been laid off from their jobs, fired by their companies, need to be supported. This is why I am announcing that any employee fired from his company should contact the government. We have given the address of our scheme on our website".
"All you have to do is inform where you worked and elaborate on why you were laid off. InshaAllah, the PM Relief Fund will cover anyone who has been laid off. This will be on the same model is the Ehsaas Cash Programme, people will be given money the same way. My government is trying to provide as much relief as we can to the people," added PM Khan.
What do you think about the story? Tell us in the comment section below