Among all the international celebrities, Angelina Jolie is all set to visit Pakistan to help innocent flood victims.
She has always shown her support whenever such catastrophic incidents take place in Pakistan and this time she decided to visit Pakistan to extend support for flood relief work.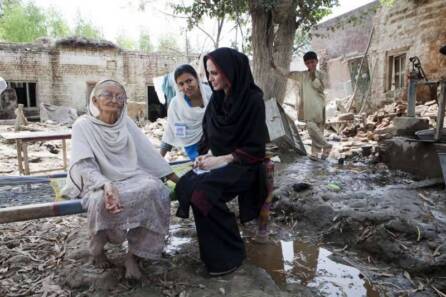 Angelina Jolie has reached today in Pakistan and visited affected villages and met those people.
Angelina Jolie Reached Pakistan
"International humanitarian Angelina Jolie is visiting Pakistan to support communities affected by the devastating floods. Heavy rains and floods across the country have impacted 33 million people and submerged one-third of the country under water," the organization shared.
"Angelina Jolie is visiting to witness and gain an understanding of the situation, and to hear from people affected directly about their needs, and about steps to prevent such suffering in the future."
The outlet further shared, "Jolie, who previously visited victims of the 2010 floods in Pakistan, and the 2005 earthquake, will visit the IRC's emergency response operations and local organizations assisting displaced people including Afghan refugees."
She even visited Dadu to meet those flood victims and get every details about the situation.
Arrived In Pakistan With No Protocol
Pakistani actress and host Mishi Khan tweeted. "
We need to learn that helping people & doing publicity stunts is pathetic. Angelina Jolie arrived today without any protocol, dressed so appropriately & decently to help the flood-affected people. No cameras or fake stuff. Bravo. Aik hamaray waly Tobah #تم_ہوتے_کون_ہو_ڈرانے_والے"
Jolie will highlight the need for urgent support for the Pakistani people and long-term solutions to address the multiplying crises of climate change, human displacement, and protracted insecurity we are witnessing globally."
According to the IRC, Jolie will see "firsthand how countries like Pakistan are paying the greatest cost for a crisis they did not cause."
IRC further highlighted and believes Jolie's visit might create a big impact on flood victims. "The organization hopes Jolie's visit will shed light on this issue and prompt the international community – particularly states contributing the most to carbon emissions – to act and provide urgent support to countries bearing the brunt of the climate crisis."
Ever since the disastrous incident took place, global celebrities have come forward and showed their support to flood victims.
What do you think of the story? Tell us in the comments section below.