Aima Baig is one of the popular singers in Pakistan and found herself trending for various reasons. But today, she's in the hot boiling water, trending on social media platforms for only one reason and that's her relationship saga.
A British model accused her of cheating with her ex-boyfriend, Qes Ahmed while being engaged to actor Shahbaz Shigri.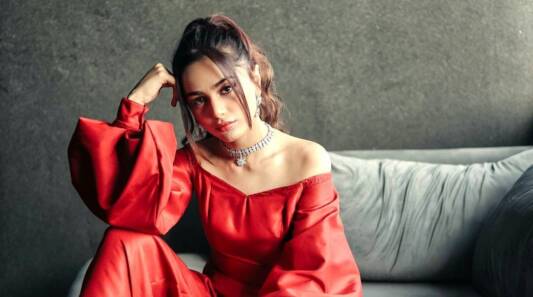 It all went viral when the model Taloulah Mair took to Instagram and called out the Pakistani singer for having an affair with her boyfriend.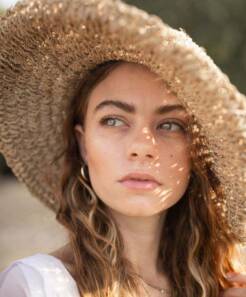 Not only that she also took her ex-boyfriend's side by stating that Aima accused him of raping her is a wrong statement, because she herself asked him for a physical relationship.
Taloulah Mair exposed Aima Baig
Taloulah Mair took to her main Instagram account, where she exposed Aima Baig and her boyfriend's relationship with her.

"It was actually Aima Baig, the girl he was actually cheating on me with," Mair shared on her Instagram story. "He's [Ahmed] is actually not a very thoughtful person, but I am. So, one of the first presents I ever bought him was a personalized Zippo.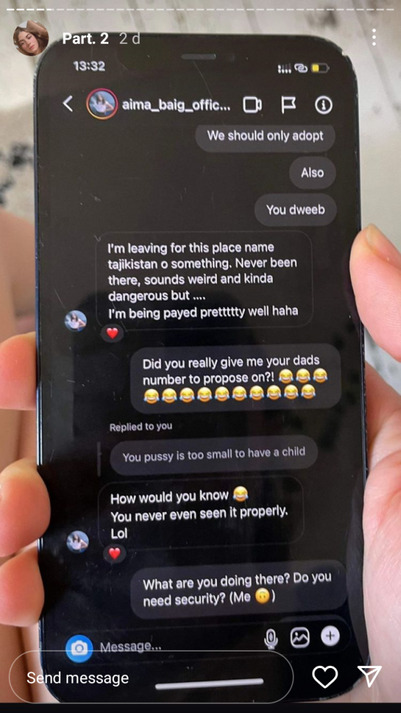 That was really meaningful for me. Fast forward a few years and when he went to Dubai to meet Aima, they were staying together and she flew him out.
They were having a great time and you know what the gift he bought for her was? A personalized Zippo," Mair alleged.
In another story, Mair said, "This will get a lot more attention because this lady is quite famous in Pakistan or as Qes delicately put it while he was gloating about cheating on me, 'One of the most famous women in Pakistan.'"
Back in June, there were rumors spread that Aima and Shigri have split up. Aima last week confirmed her separation from Shigri.
She shared various screenshots & video
She further went on to share screenshots screenshot of her and Shigri's chat. In the chat, it said it is not an 'easy thing to believe that they [Ahmed and Baig] didn't actually cheat in the full sense of the word.'
The screenshot further read Shigri allegedly asking for further screenshots. "I'd be extremely grateful," he had apparently written to Mair.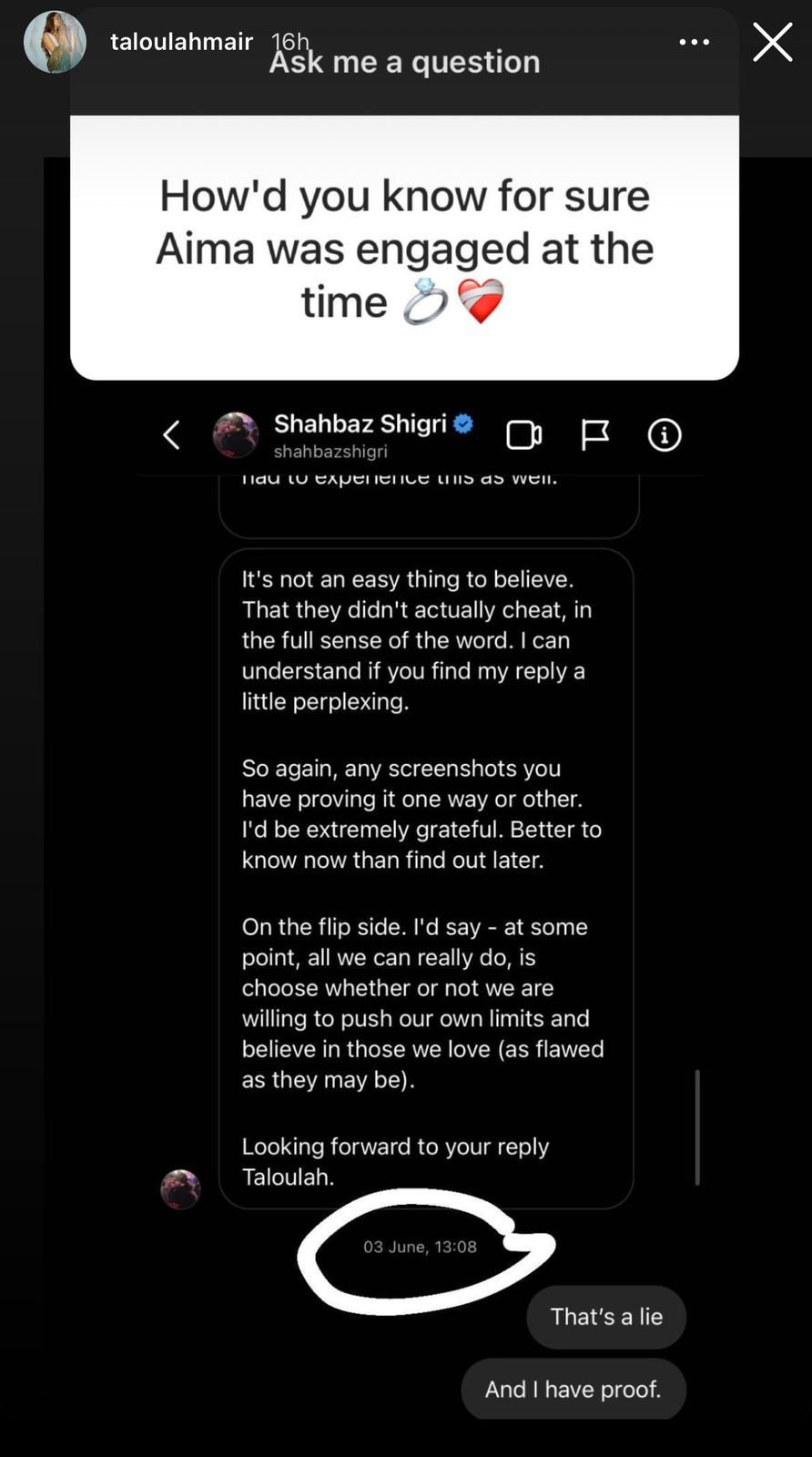 "Better to know now than to find out later." He supposedly added, "On the flip side, I'd say – at some point, all we can really do, is choose whether or not we are willing to push our own limits and believe in those we love (as flawed as they may be)."
On Twitter, one user wrote and shared Taloulah Mair's video in which her crystal clearly exposed Aima Baig.
She wrote, "In a shocking turn of events where Aima Baig & Shahbaz Shigri called it quits, British model Taloulah Mair exposed her ex-BF Qes Ahmed, having an affair with Aima Baig.
Oh and Aima's Rape accusations?
WTH is going on?"
Aima Baig didn't respond to any of the statements of the Taloulah as she's been exposed all over social media.
What do you think of the story? Tell us in the comments section below.