Disclaimer*: The articles shared under 'Your Voice' section are sent to us by contributors and we neither confirm nor deny the authenticity of any facts stated below. Parhlo will not be liable for any false, inaccurate, inappropriate or incomplete information presented on the website. Read our disclaimer.
Youth activist Kabir Sohail Leslie has started one of its kind school in Kasur. This school is attended by little laborers who are involved in backbreaking work at the brick kilns. This is first brick kiln school in Kasur.
Detailing about his project, Kabir Sohail said that these children have no means to afford education, as they come from poverty-stricken families who are oftentimes trodden by loans and are heavily indebted to the brick kiln owners. "This is the only school and source of education for little laborers working at brick kilns."
Kabir Sohail explained that these children are also deprived of schooling because of the fact that government schools are about three to four kilometers away which is also a great hurdle in their way. Due to the current situation, no one wants to send their children three to four kilometers far to attend school, he clarified.
He said that parents are reluctant to send their children to schools far off owing to the deteriorating situation where children are no longer safe. Leslie mentioned Zainab murder case, which is playing on their minds. "Parents are afraid of sending their children to schools," he said. For this reason, they preferred a Brick Kiln School over sending them to government schools.
Children attending the classes are taught subjects including English, Urdu, and Mathematics. After three months, global politics will also be added to the syllabus, he believes that they will be going to become future leaders of Pakistan and these children will eliminate the child slavery from Pakistan. 2 million children are bonded by the brick kiln owners, for them, Brick Kiln school is the only hope.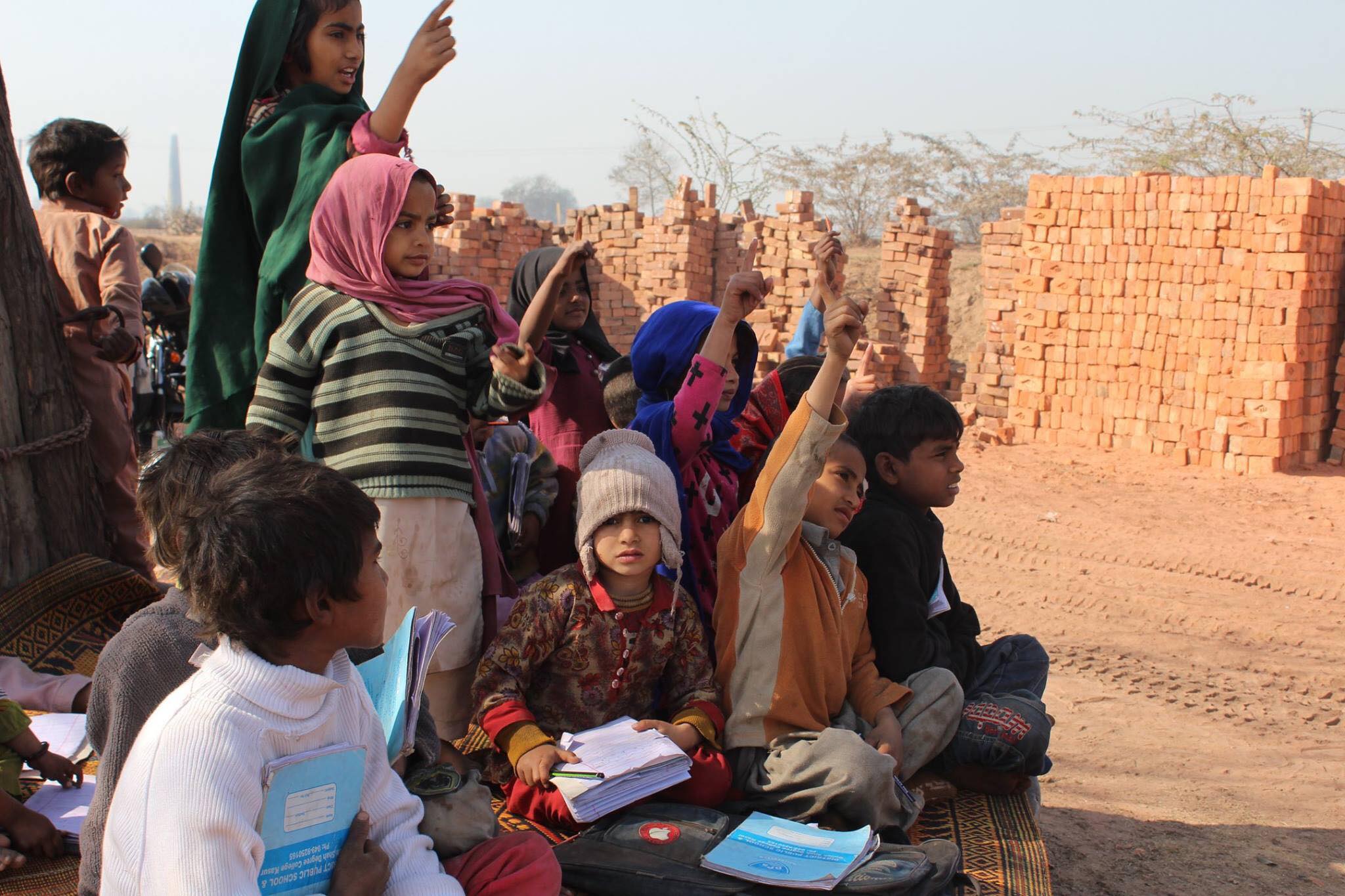 We all know that child slavery is a crime against humanity. Humanity itself is at stake here. A lot of work still remains but we will see the end of child labor in our lives soon. Brick Kiln School is giving its 100% to eliminate child labor from Pakistan and will make it "Child Labour Free Pakistan". Kabir aims to make education free for 2 million bonded child labor of Pakistan without any fear of Brick Kiln Mafia! Kabir is giving them awareness and arranging workshops on Child Abuse and Child Protection at Brick Kiln School so that every child should be aware of all the problems they may face.
While talking about the hurdles he had to face while initiating his project, he said: "First of all if you talk about the initial problem, it is really hard to convince any brick kiln owner to give someone access to meet bonded children or their parents because of the Brick Kiln MAFIA." He explained, "they did not want me to meet them and if luckily I succeeded in reaching them, the parents did not say anything but told me to talk with the brick kiln owner because they were all afraid of them."
Leslie had to struggle hard in convincing the brick kiln owners to permit them to teach children of their brick kiln workers. "After struggling for two to three weeks finally I was able to convince one brick kiln owner to give me an opportunity to educate to laborer children."
"At first, he was not that welcoming and friendly however after 2 or 3 weeks he permitted me to educate the children working at his brick kiln." He said that after the brick kiln owner permitted him to access the children, his next daunting task was to convince the parents but was surprised to find that the parents were happy to send their children to the school.
Read Also: Pakistan Army Just Built A Girls School Over Terrorist Hakimullah Mehsud's HQ And This Is A Huge Statement!