"We have decided to fulfill his dream and Inshahallah a school will be built in the village of our hero in his memory," singer turned politician Abrar Ul Haq vows to complete the missing mountaineer Muhammad Ali Sadpara's dream.
Sadpara is still missing. He is one of Pakistan's most celebrated climbers who had ascended eight of the world's highest mountains. He went missing while trying to summit the K2 with two fellow climbers earlier this month. The search for Sadpara and John Snorri from Iceland and Juan Pablo from Chile went on for days with no fruitful result on the K2 mountain.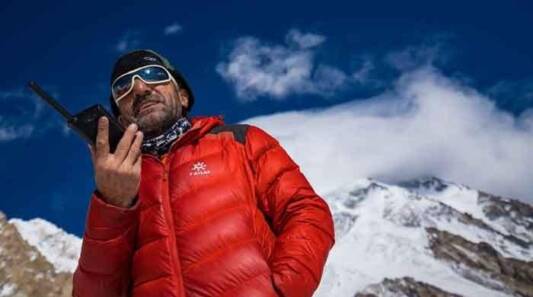 They were last seen on February 5 around noon at what is considered the most difficult part of the climb. The Bottleneck, a steep and narrow gully just 300 meters shy of the 8,611 meters (28,251 ft) high K2.
All air and ground efforts are being used as the search and rescue mission enters the fourth day. But he added that "no stone will be left unturned" and that the search will continue.
Many took to social media and honored Sadpara in their own way. The latest one being singer turned politician Haq. The Tere Rang Rang crooner recently took to Twitter and vowed to complete the mountaineer's dream. 
Abrar Ul Haq promises to fulfill Sadpara's dream
Haq took to Twitter and spoke about Sadpara's dream of having a school in his village.
Sadpara's son Sajid also expressed his gratitude.
"I am thankful to Abra Ul Haq who announced to fulfill my father's dream and build a school in our village! My father's dream was to build a school in his village with his help where the children of the area could study easily and the entire cost of the school would be borne by my father himself."
Singer Fakhre-e-Alam thinks, Haq's gesture is great and truely needed.
Earlier, speaking to the media, Sadpara's son said, "I think if they search for the bodies it makes sense to continue the operation, but their chances of surviving, if you are at 8,000 (meters) in winter for two or three days, a person's chances of surviving are next to none."
Sadpara has the distinction of proudly hoisting the Pakistan flag on eight high-altitude peaks. He was born in Sadpara, a village at the periphery of Skardu city on February 2, 1976.
Pakistan continues to wait for a miracle as we cannot afford to lose hope. Meanwhile, a video of Sadpara singing and dancing to 'tum chalay aao paharon ki qasam' [you just come back for the sake of mountains] is also breaking our hearts.
What do you think of this story? Let us know in the comments section below.