Well, it seems as though some cringe filled ideas will keep on being implemented without caring for our ears and our eyes. A naatkhwan Hafiz Yasir Soharwardi, widely known as the 'Confirm Jannati' guy has yet again come up with another piece.
Soharwardi just released a new video. Titled Main Bhi Shadi Karun Ga, the video was dropped a few days before Valentine's Day. We just cannot stop listening to it. No wait, just kidding.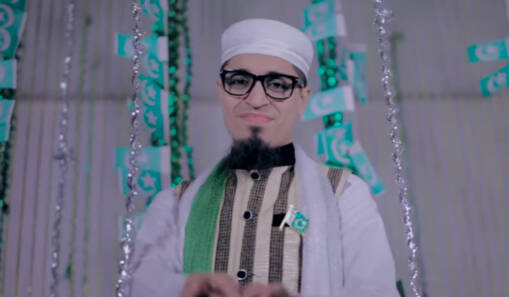 In the video, Soharwardi can be seen dressed as a desi groom. He roams around inside a wedding venue. He also showed his signature finger move which became popular due to Confirm Jannati Hai.
The soundtrack has been shared on social media, mostly as a piece of entertainment on the occasion of Valentine's Day.
Check it out!
Social media users are certainly enjoying the video. LOL!
Since its release, social media users have been sharing and liking the video, mostly not to appreciate but as a piece of entertainment. Letting others know about who is going to jannat and who is not, Soharwardi has sure made many people laugh with his videos. And this video is proof!
With the passage of time, the changing trends and tracks of life have brought the human population to an eerie spot. In olden times, people used to listen to religious kalaams and naats that were created to calm the listener down. Back then, such productions focused more on what message is being sent through it in a soothing tone.
Gradually, the insertion of musical instruments and various effects in the coming naats completely ruined its actual purpose. Every year, in Ramadan some musical content created with strange composition and forced lyrics goes viral on the Internet. Speaking of weird compositions, remember that 'Ramzan Aya Roza Rakho Jee' kid? Well, he is all grown up and winning now.
More so, this is not the first time Soharwardi has come up with such a video, he been creating similar content before as well. No matter what people say or maybe throw at them, such 'talented' individuals return every now and then to entertain the world.
What do you think of this story? Let us know in the comments section below.