Let's face it! At every new year's day, we find ourselves trying to initiate on our list of resolutions only to fail at them a week later. According to a recent survey that I just pulled out of thin air, 90% of people who start working out every new year, end up quitting before even 2 months have passed! (FACT!)
But there are some that take the initiative head on with dedication and continue to work through the struggles to stay healthy and in shape.
Whether you among the former or the latter group, you have seen (or been) one of these 5 shokhay people often found in the gyms.
1. The "I forgot my deodorant" dude
You're having a great day. You just crushed that squat session and are now moving towards the hamstring section. You're happy. Smiling, singing songs in your thoughts when all of a sudden it hits you like a chirya ki tatti falling from the sky- only worse.
Shakoor, who has already spent 2 hours in the gym in his vest today, is now working his Lats (wings). For the five seconds his arms remain upward, exposing his pits, a gush of toxic wind enters your nostrils and burns all the baal that housed it.
2. The Unpaid Trainer
It doesn't matter if he is officially overlooking your workouts. It doesn't matter if he isn't paid for it. And it doesn't matter if you've asked him not to interrupt your workouts over 978238340 times a day, this guy has taken the responsibility to coach his entire gym mates on what is the right technique to "melt your charbi" and how "ganday kaam decrease your muscle mass"
#ThankYouUnpaidTrainer needs to trend on twitter forever!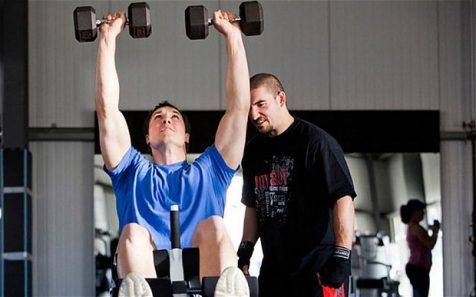 3. The Muhallay Ki Khalas
You've been waiting for thirty minutes now but the bench is occupied. The people around it don't even seem to be decreasing. You move toward the lot only to find them casually sitting around the equipment either discussing the newest episode of Mann Mayal or how Momina Mustehsan is his future wife and everyone else's bhabi.
Take your discussions and fantasies elsewhere, guys. Thanks!
4. The John Ibraheem
You are in the middle of a workout when this dude enters the gym with a bunch of his friends. You notice him as he takes out the three liters of protein shakes out of his bag, takes off his kaalay chashmay and wears an even more smug look on his face . He walks past you without noticing your friendly hellos that leave you ashamed after your third try.
He quickly occupies the most occupied spot in front of the mirror and the show begins. He takes off his shirt as a song featuring Bipasha Basu plays in the background, and flexes his biceps. Tightens his core and squints his eyes.
He's the struggling wannabe model who has no qualms about getting naked in the gym. His muscles, in his mind, serve as a motivation for the rest of puny weight lifters.
5. The Noise Machines
You are in your zone when you suddenly hear someone scream. You suspect pain or injury. Your heart beats faster as you try to find the source of the sound. Turns out, it's just Shakoor. He loves using heavy weights but only manages 3 reps before giving up.
Shakoor loves informing the entire establishment of how hard he is working. The Oohs and Aahs suddenly feel like music to his everyone's ears. Even right now, at this moment, sitting 5 kilometers away from my gym, if I shut off all my fans and listen closely, I can hear Shakoor ooh-ing and aah-ing.
How many other different kinds of people have you spotted in your gym? Tag the Shakoors or the John Ibraheems in the comment below!