Disclaimer*: The articles shared under 'Your Voice' section are sent to us by contributors and we neither confirm nor deny the authenticity of any facts stated below. Parhlo will not be liable for any false, inaccurate, inappropriate or incomplete information presented on the website. Read our disclaimer.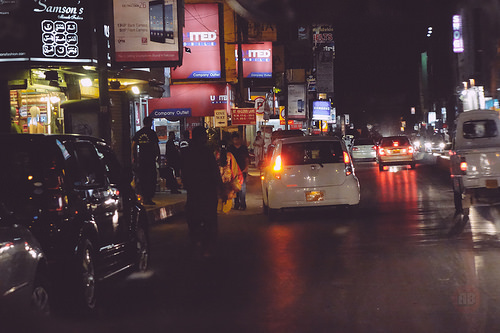 Last night when everyone was busy crying in front of Allah, asking for forgiveness on the most Holy night of the year; I too was crying but for different reasons. I was crying to Allah asking for repentance for not just my sins, but for sins of the horrendous monsters that walk among us and make us question the very premise of life in Pakistan.

Last night I was out with my family for Eid shopping at Zamzama, no later than 9.00pm. While walking past the shops on the main road, two bikers rode past and before anyone had time to react, they spanked me, publically, before letting out a loud hoot and rushing off, disappearing into the traffic.

Never in my life have I been so humiliated and disgusted. Feeling the eyes of all those around me piercing my body with their scrutinizing, checking to see what it was that I did wrong that attracted such an action and gave those vile creatures the courage to treat me like that in a place that crowded.

Was I dressed provocatively? Was I out with a bunch of rowdy boys? Had I made any inappropriate gestures?

No.

I was out with my family, dressed in traditional attire with a proper dupatta and minding my own business. Such is the situation now that a girl literally can't even be on the street for 5 minutes without being faced with some form of harassment, be it physical or verbal. What is more nauseating is the fact that not only do such people disrespect us females, but they show utter disregard of morality as a whole. While the country is busy repenting for sins on the most Holy night of the year, they are out increasing the burden of their sins.

The disturbing bit is how guilty I felt after the incident, though it was by no fault of my own. I felt like I had been dirtied and no amount of washing could cleanse me of the dirt that had been imposed on me.

The point is, no amount of self loathing was enough to make me feel better and the after effects of that one touch have left a lasting feeling of revulsion. Having been too tormented at the time, and now having reflected upon the incident, I would just want to put it out there that such incidents are NOT your fault so stop feeling guilty. Their voices were still resonating in my head as I pleaded to Allah to discharge me of the strong feelings of hatred and anger I felt. You are not the first and unfortunately, neither the last victim of this barbaric society. That is the price you have to pay for being not just a girl, but a Pakistani one as well.

And secondly, it is extremely important that you take a stand. Voice out! If anything you'll wish you would have done so later. It is important to raise your voice against such monstrosity because our fear, shame and guilt is what they feed on. Slap them or scream at them enough to get people around you to notice. Trust me, you'll regret it otherwise.
– The victim wishes to stay anonymous.