The manuscript of Reham Khan's book has caused more damage to her reputation than anything else. While she has been on her own after the divorce, the ex-wife continues talking about Imran Khan, PTI, KPK and every move related to the political party of her former husband.
Few weeks before the general elections, Reham Khan announces the release of her book. As claimed by Hamza Ali Abbasi, the book has painted Imran Khan and PTI, in general, in a very vile image. But in addition to the claims, she has made regarding the former husband, his party and the co-workers, Reham Khan talked about Wasim Akram and his late wife Huma Akram.
According to Hamza Ali Abbasi, who read Reham Khan's manuscript for the book, she talked about Wasim Akram and his sexual desires for which he used his late wife.
Here's the Image of the Legal Notice Served to Reham Khan by Wasim Akram
It highlights the nature of the remarks Reham Khan has made in her book regarding Wasim Akram and his late wife.
RK is such a disgusting and cheap woman to write such words about @wasimakramlive and his family.#StayStrongWasimBhai pic.twitter.com/a8ljyC92aV

— Tariq Khawaja (@RickyPTI) June 4, 2018
Wasim Akram, Who Met Reham Khan When he Was Married to Shaniera Akram, Has No Idea Why Reham Khan Made Such Accusations
In an interview with Aaj Shahzeb Khanzada Kay Saath', Wasim Akram said the following:
"Things could have ended if Reham denied the inclusion of the questionable matter, but she didn't. I will go till the end of whatever is mentioned in the book. I have two young children, what are they going to think. How can a person who I have met once or twice on a lunch/dinner can make such claims?"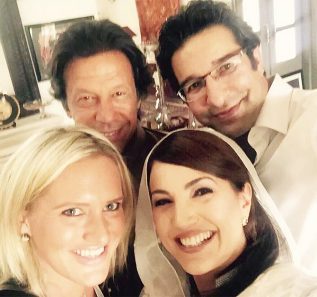 Wasim Akram has served Reham Khan with a legal notice as well and it seems just absurd how Reham Khan is using everyone for some claims she has no evidence of.
Reham Khan has yet to provide any reasoning for what she said in her book.