Dubai, a city synonymous with luxury and opulence, is not just a haven for shoppers and business moguls. Beyond its glittering skyscrapers and lavish malls, Dubai offers a playground for adventure seekers. From adrenaline-pumping activities to awe-inspiring natural wonders, here are five must-visit tourist destinations in Dubai for those craving an adventurous escape.
Skydiving Over the Palm Jumeirah: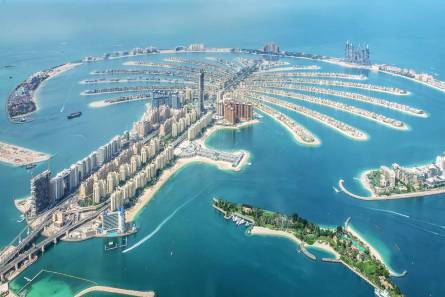 Imagine having a bird's eye perspective of the Palm Jumeirah, one of the most recognizable man-made wonders, as you soar over the skies. A unique experience, skydiving in Dubai makes for an exhilarating memory with the Palm Jumeirah as your backdrop. Feel the rush as you freefall from thousands of feet above, taking in breathtaking vistas of the city, the Arabian Gulf, and the intricate palm-shaped island below. Whether you're a seasoned skydiver or a first-timer, this adventure is bound to leave you exhilarated.
Desert Safari in the Dubai Desert Conservation Reserve: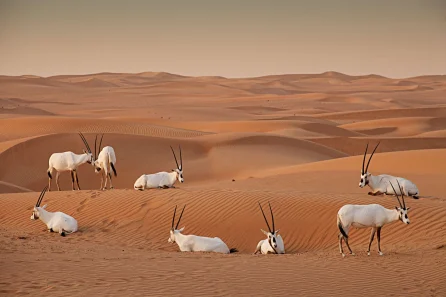 For those seeking a taste of the wild, a desert safari in the Dubai Desert Conservation Reserve is a must. Buckle up for a thrilling ride over sand dunes in a 4×4 vehicle, as skilled drivers navigate the undulating landscape. The reserve is a haven for nature lovers, showcasing the unique flora and fauna of the Arabian desert. Adventurers can try their hand at sandboarding down steep dunes or experience the age-old tradition of falconry. As the sun sets over the desert, a traditional Bedouin-style camp awaits, complete with a sumptuous feast and cultural performances under a star-studded sky.
Also Read: Best Things To Do In Abu Dhabi
Hiking the Hajar Mountains: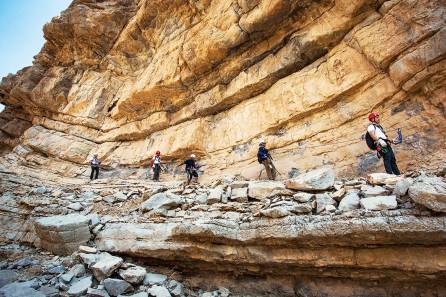 For those who prefer to explore on foot, the Hajar Mountains provide rugged and rewarding terrain. Located on the eastern border of the United Arab Emirates, the Hajar Mountains offer a stark contrast to Dubai's urban landscape. Hiking enthusiasts can tackle trails that wind through ancient villages, deep canyons, and rocky peaks. The Hajar Mountains are a treasure trove of geological wonders, with fossils dating back millions of years. As you ascend, catch panoramic views of the surrounding valleys and the Gulf of Oman, making this adventure a perfect blend of nature and adrenaline.
Kitesurfing at Kite Beach: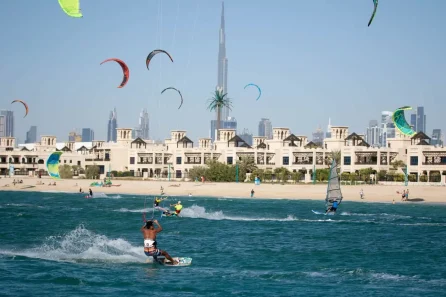 Dubai's coastal charm extends beyond its pristine beaches, especially for kitesurfing enthusiasts. Kite Beach, located near the iconic Burj Al Arab, is a hotspot for adrenaline junkies looking to harness the power of the wind and waves. With the Dubai skyline as a backdrop, thrill-seekers can take lessons from expert instructors or ride the waves if they're already seasoned kitesurfers. The combination of wind, sea, and skyline creates an exhilarating experience, making Kite Beach a must-visit destination for water sports enthusiasts.
Skiing in the Desert at Ski Dubai: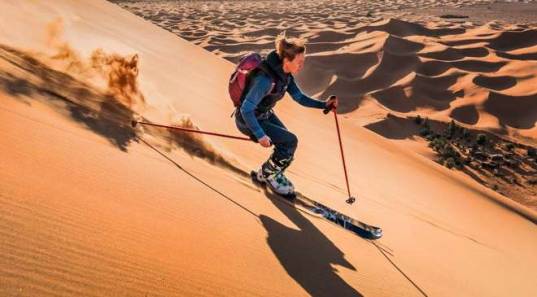 The rush of skiing in the middle of the desert is something you can only have in Dubai. Ski Dubai, an indoor winter wonderland with snow-covered slopes and a sub-zero temperature, is situated in the Mall of the Emirates. Adventure seekers can try their hand at skiing, snowboarding, or even interact with friendly penguins in the snow park. It's a surreal experience to carve down the slopes surrounded by desert sands just beyond the frosty walls.
In Conclusion, Dubai is a haven for adventure seekers rather than merely a flashy metropolis. Whether you're riding waves, snowboarding in the desert, trekking mountain paths, flying over artificial islands, or battling sand dunes in the desert, Dubai has something to offer for every thrill-seeker.
So pack your sense of adventure and head to these must-visit tourist destinations in Dubai for an experience of a lifetime.