Dubai, a city known for its lavish lifestyle, is a haven for beachgoers and water enthusiasts. On its pristine beaches, you'll find a range of value-added beach bars that serve only refreshing drinks and delicious food. Not only do these places offer a respite from the bustling city streets, but they also showcase some of the most breathtaking views of the coast. In this article, we present 20 of the best beach bars in Dubai that are a must-visit for those looking for a slice of sun, sand, and beach luxury
1. Zero Gravity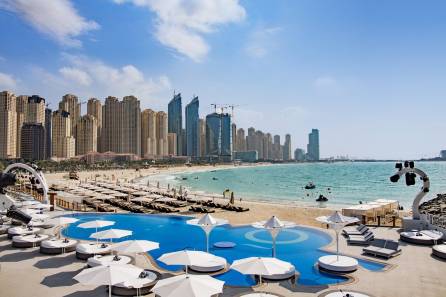 Located near the exhilarating Skydive Dubai, Zero Gravity is more than just a beach bar; it's a beach club that offers a blend of relaxation and lively entertainment. Enjoy the infinity pool, sunbeds, and an eclectic menu, all set against a stunning backdrop of the Arabian Gulf.
2. Barasti Beach Bar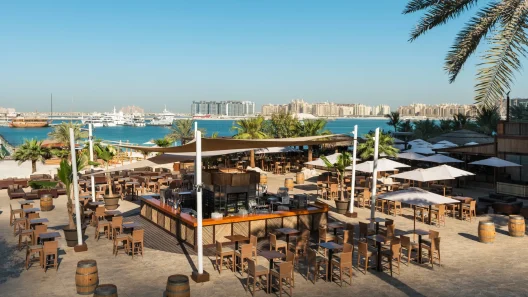 Barasti Beach Bar is a legendary Dubai institution, known for its vibrant atmosphere. Situated on the beach at Le Méridien Mina Seyahi, it's the perfect place to unwind, with live music, beach parties, and a variety of food and drink options.
3. Nikki Beach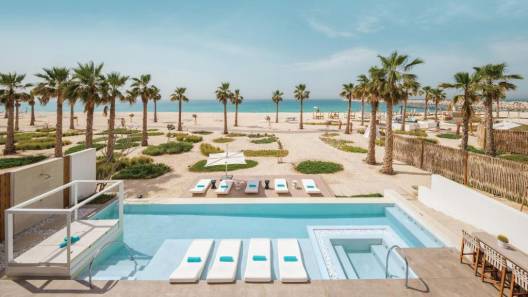 Nikki Beach Dubai, part of the renowned international chain, offers a luxurious beachfront experience. With a pristine beach, resident DJs, and an exquisite menu, it's a haven for those looking to bask in the sun's glory.
4. Drift Beach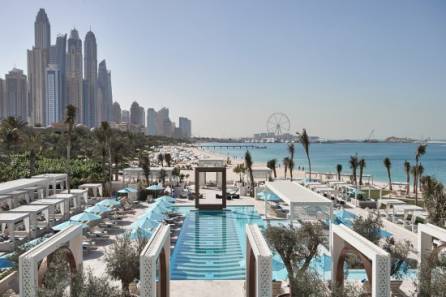 Located on the One&Only Royal Mirage resort's private beach, Drift Beach provides an exclusive, tranquil escape. With a blend of Mediterranean cuisine, infinity pools, and pristine sands, it's the epitome of beachfront sophistication.
5. El Chiringuito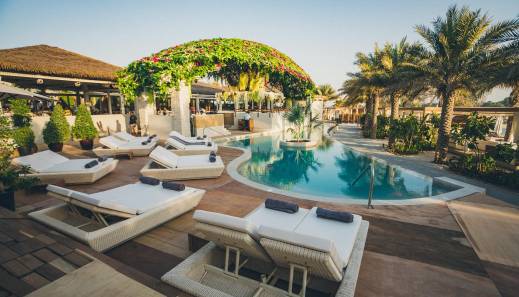 El Chiringuito, located at Rixos The Palm Dubai, transports you to the Spanish coast with its bohemian vibe. The stunning beach views, stylish décor, and delectable Mediterranean cuisine make it a must-visit.
6. Azure Beach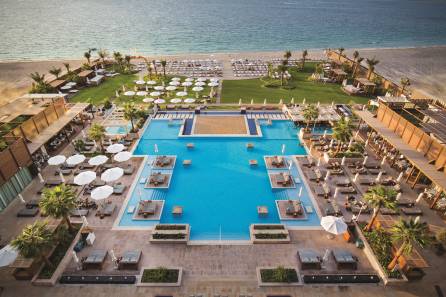 Azure Beach, nestled in the heart of Dubai's JBR district, offers a chic beach club experience. Lounge by the pool or on the beach, enjoy live entertainment and savor an array of dishes from their international menu.
7. Cove Beach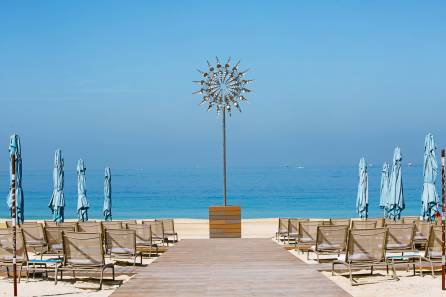 Cove Beach is known for its trendy ambiance and beachside location at Caesars Palace Bluewaters Dubai. It offers a diverse menu, shisha, and live entertainment that's perfect for a day by the sea.
8. White Beach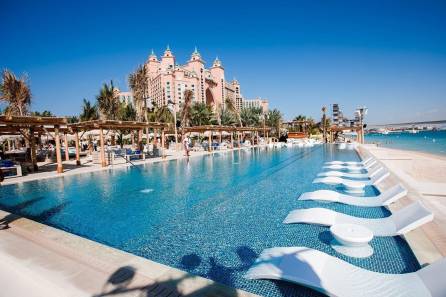 White Beach, located at the luxurious Atlantis, The Palm, is a beachfront hotspot. You can enjoy a dip in the pool, delectable food, and a lively atmosphere with a stunning view of the Palm Jumeirah.
9. Palm Sugar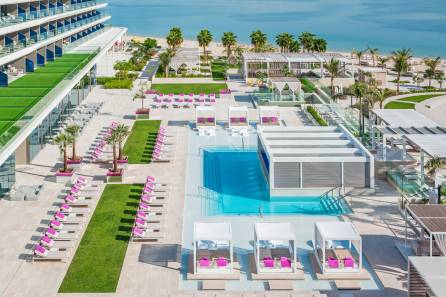 Palm Sugar, situated at Jumeirah Zabeel Saray, offers a taste of Thai paradise. This tranquil beach bar is known for its Thai-inspired cocktails and cozy cabanas with Gulf views.
10. The Beach House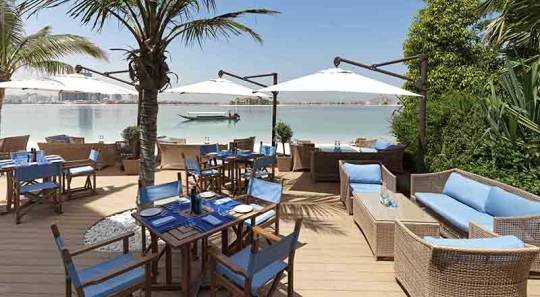 The Beach House, at Anantara The Palm Dubai Resort, provides a charming escape with its overwater seating. Enjoy Mediterranean cuisine, stunning sunsets, and a laid-back atmosphere.
Also Read: 11 Beautiful Places In Dubai For Scuba Diving Adventures In The Underwater World
11. Laguna Waterpark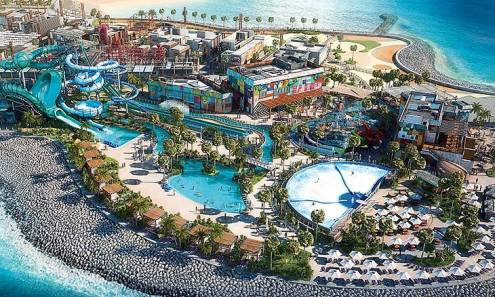 Laguna Waterpark's beach bar on La Mer's vibrant beachfront offers an array of refreshing beverages and light bites. It's the ideal spot for a casual, fun-filled beach day.
12. Jetty Lounge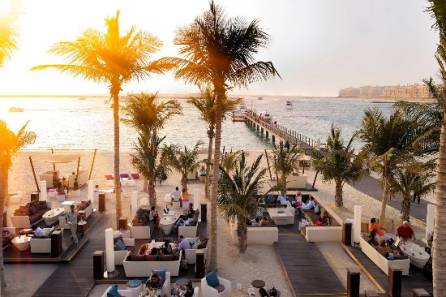 The Jetty Lounge at the One&Only Royal Mirage is an iconic Dubai destination. It offers a relaxed setting, seafood specialties, and views of the Palm Jumeirah.
13. OPA Beach Bar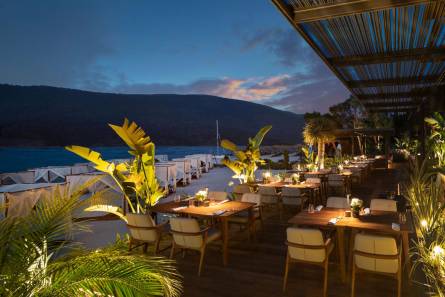 OPA Beach Bar, located at Rixos The Palm Dubai, transports you to the Greek islands. Enjoy Mediterranean cuisine and a vibrant atmosphere with the beach as your backdrop.
14. Breeze Beach Grill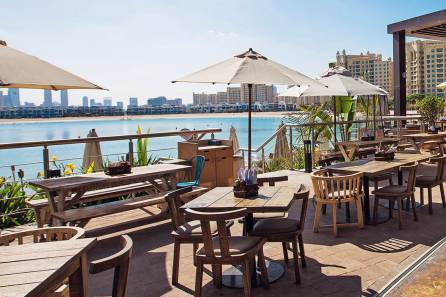 Breeze Beach Grill at Club Vista Mare, Palm Jumeirah, offers a laid-back beach bar experience with a menu focused on grilled dishes and stunning beach views.
15. Club Boudoir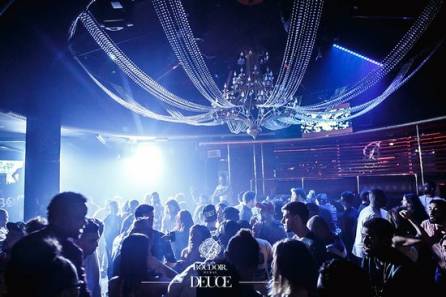 Located at the Jumeirah Beach Hotel, Club Boudoir is a beachfront destination with a lively nightlife scene. Dance the night away while enjoying the sea breeze.
16. Solo Bar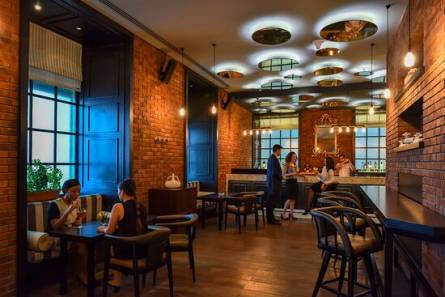 Solo Bar at Rixos Premium Dubai, JBR, is a stylish beachside venue. It offers a wide range of cocktails and a stunning view of the sea, making it perfect for a sundowner.
17. Pierchic Lounge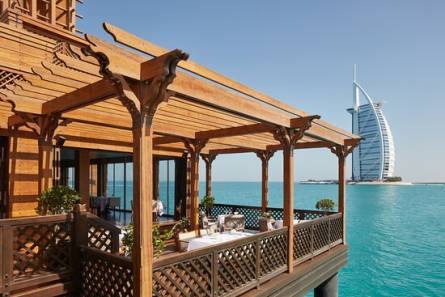 The Pierchic Lounge is an extension of the renowned Pierchic restaurant, offering seafood delights. Situated on the pier, it provides a unique overwater experience with panoramic sea views.
18. Aprons & Hammers Beach House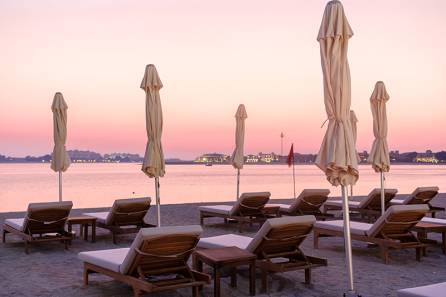 Aprons & Hammers Beach House, located at The Beach, JBR, is a seafood haven. You can savor fresh catches and enjoy the beachfront ambiance.
19. SoBe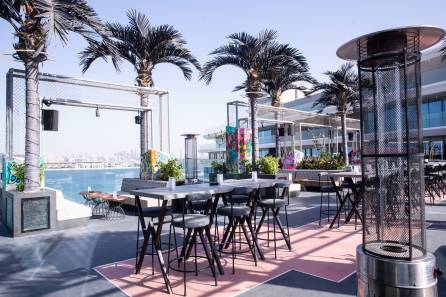 SoBe, at W Dubai – The Palm, combines a beach bar, rooftop lounge, and restaurant. It offers diverse cuisine, creative cocktails, and captivating ocean vistas.
20. Kite Beach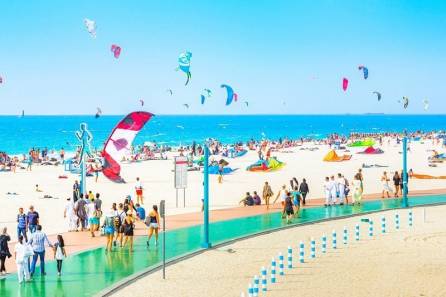 Kite Beach itself is a vibrant beach destination, offering various beachside food and beverage outlets. It's a place to soak in the sun, enjoy water sports, and savor local treats.
A Beach Lover's Paradise
Dubai's beach bars offer more than just seaside relaxation; they are immersive experiences that encompass the city's zest for luxury, entertainment, and stunning coastal beauty. Whether you seek a tranquil escape, a lively party atmosphere, or a combination of both, Dubai's beach bars have something for everyone. So, as you plan your Dubai vacation, be sure to include visits to these top 20 beach bars to experience the city's vibrant beach culture. Enjoy the sun, sand, and sea while relishing delectable cuisine and refreshing beverages in the midst of stunning coastal landscapes.