Disclaimer*: The articles shared under 'Your Voice' section are sent to us by contributors and we neither confirm nor deny the authenticity of any facts stated below. Parhlo will not be liable for any false, inaccurate, inappropriate or incomplete information presented on the website. Read our disclaimer.
Every day we see people celebrating their children's birthdays. Every day we see gatherings of mothers organizing play dates for their children. But how many times does someone actually do something for other people's children? Especially those who have no one? A few days ago a friend of mine celebrated her sons 6th monthly birthday. Yes, it's a thing. That little cutie gets to have a small birthday bash every month and he's only 6 months old right now! Can you imagine the kind of fun and blackmailing he's going to do every month when he's older? I can't wait till baby number 2 starts making my friends life hell for wanting the same. Haha.
Anyway, this month, she decided to celebrate his birthday in a very special place and a little differently. I can't begin to explain the kind of pride I felt for her. So here's how she narrated her story:
"I love celebrating and making occasions out of small things. One could say, I'm known for it. While some people approve of the habit, others largely think I'm wasting theirs and my own time. 
So imagine my eagerness to celebrate when I was gifted with a beautiful little angel six months ago, my son Nayel. Since then, life has been, more or less, a continuous celebration.
We've been celebrating with cake and presents on the 11th of every month and, this time around, for Nayel's 'monthly birthday', we decided on hosting a small party at the Sweet Home Orphanage.
The orphanage, founded by educationist Hunaid Lakhani, is home to almost 40 boys. For the party, I decorated the whole place in black and yellow to keep in line with the 'Honey Bee' theme we decided on. The kids, too, were all decked out in yellow or black .
The day came and when we reached the orphanage, a few kids came to help us set everything up. All the kids greeted us with handshakes and smiles. My friend and my sister painted their faces as they patiently waited for their turns. Even in their excitement, the children were well-behaved angels.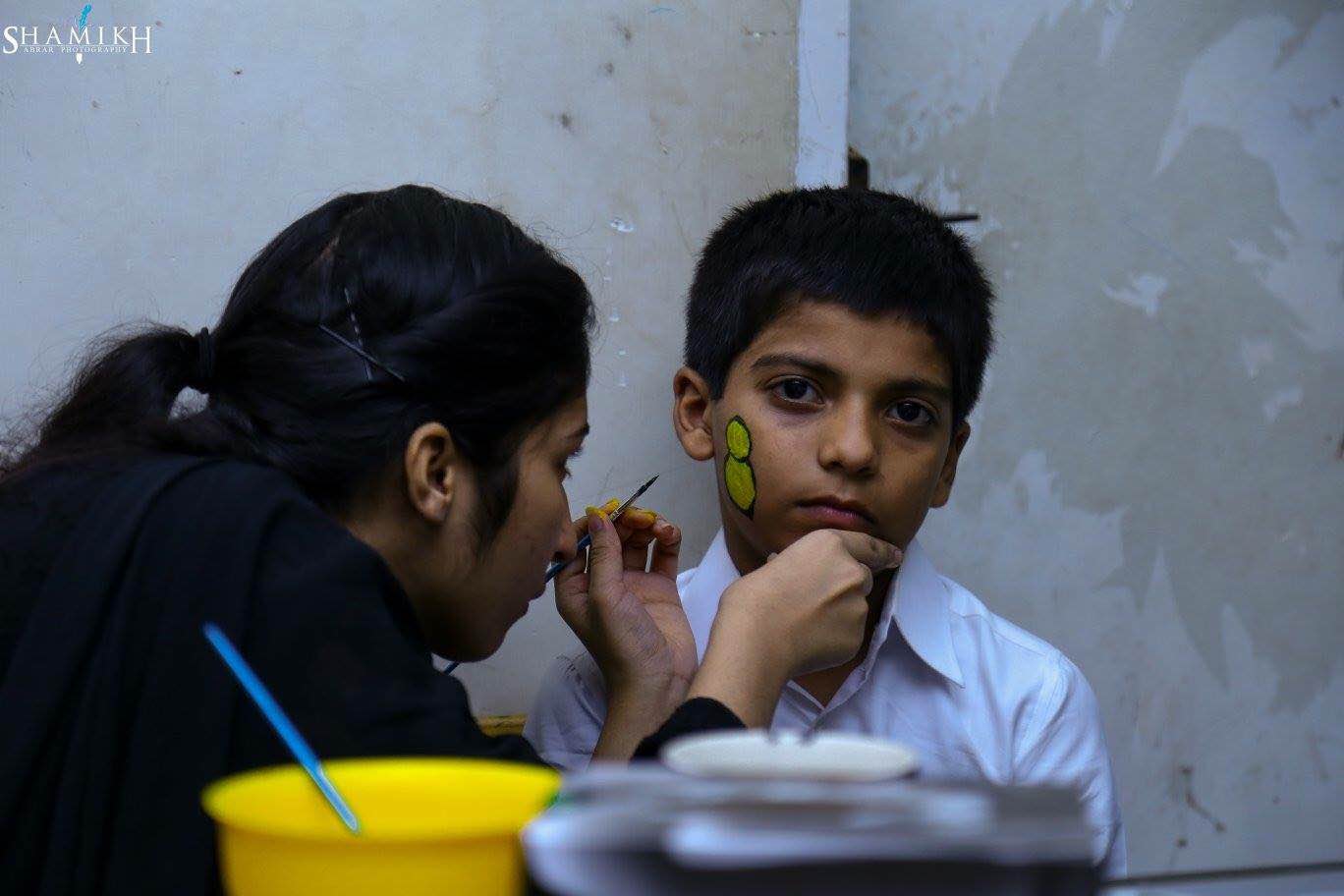 One of the older children, Khalil, seemed to take care of all the younger kids, acting as a guide in everything. Surprisingly, it was his birthday too and he cut the cake with Nayel, while all the other kids cheered and clapped for the two birthday boys.
As a wave of happiness spread through the room, suddenly, a child who was no more than 3 years old burst into tears. We all tried to calm him down and cheer him up, but nothing helped.
He was taken to the caregivers and we later found out that he, along with his 2 brothers, had come to the orphanage that very day.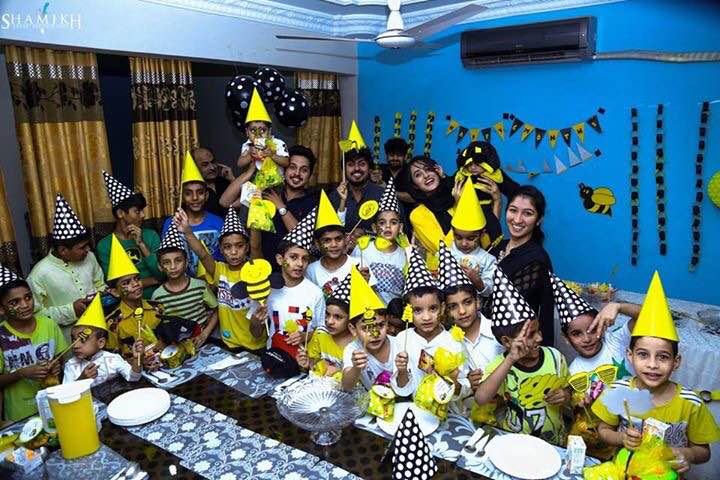 His father had passed away and God only knows how tough his mother's conditions were for her to leave all three of her beautiful kids at the Home.
It's impossible for me to describe how I felt at that time; the helplessness, the urge to help that kid and not being able to, left me disheartened. He wasn't able to say anything, only cry. We all tried everything we could to make him feel better, but the tears just wouldn't dry up.
Maybe he was missing his mom. Maybe he was afraid of the strange people around him. At that moment, we all realized how blessed we are to have so many blessings in our life; the joy of having our families is one we all tend to under-appreciate.
Soon, the children brought out toys they had wrapped as birthday gifts for Nayel. On insisting, I accepted a few and they will be kept with my baby always.
Later, goodie bags and juices were distributed. As the kids tucked into the food and birthday cake, the air of celebration returned. Two of my talented friends, Shaikh and Hammad, had come along with their guitars to entertain the kids. The children sang along with great excitement, and some of them had beautiful,  melodious voices. A kid, maybe 5 years old, came and hugged me and, with tears welling up in his eyes, thanked me for considering them a part of my joy. If only I could tell that little angel how I felt…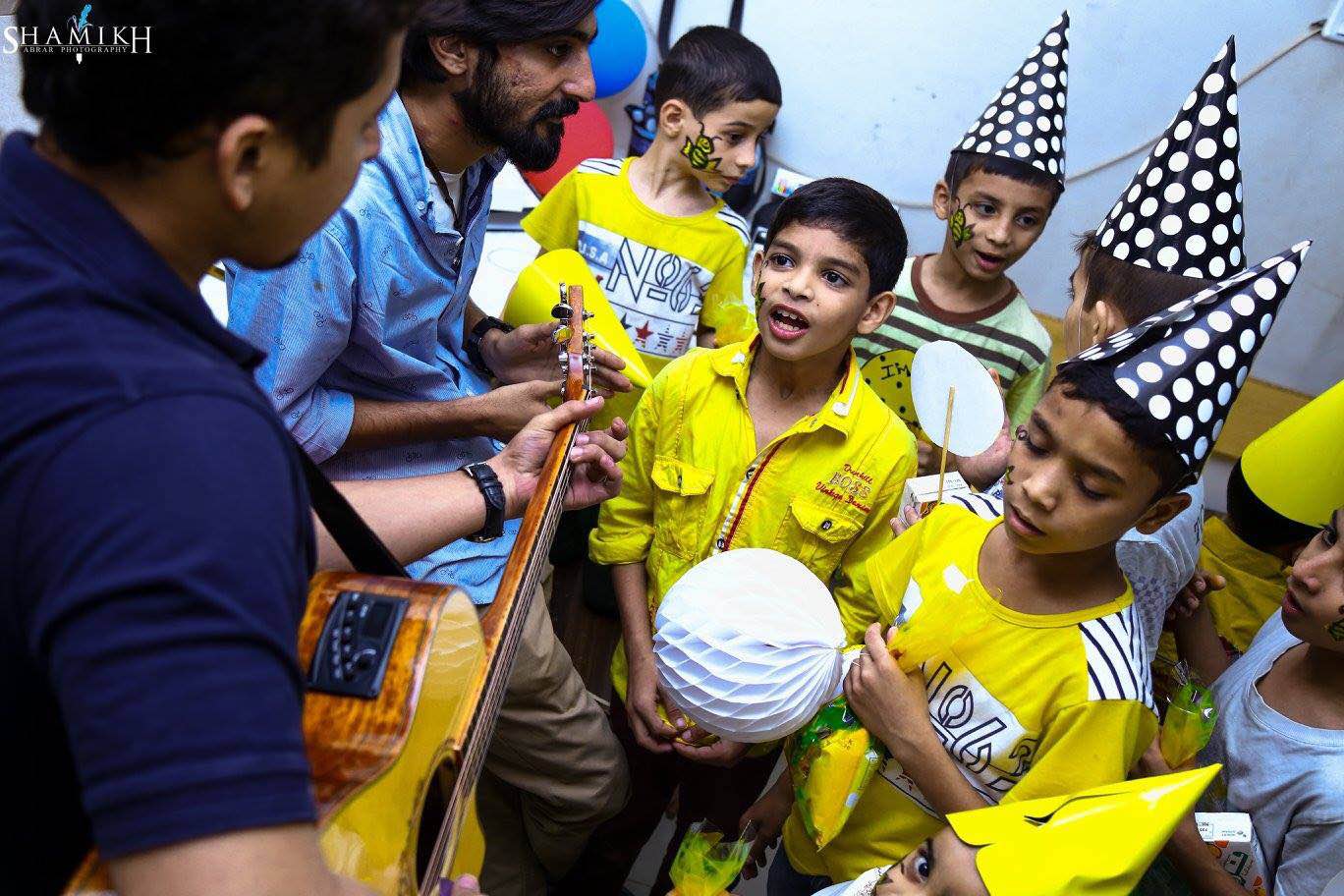 We finally bid the children goodbye. Each one of them thanked us for coming and hugged us goodbye, even coming out to the main entrance to see us off.
The reason for sharing this with you guys is that I want to highlight the efforts of the management and administration of the Sweet Home Orphanage; for the amazing upbringing they are providing to these boys. I haven't seen such well-mannered and kindhearted kids anywhere.
They are fed quality food, have nice, clean clothes to wear, know all table manners, and are properly taught how to greet and meet people. They are receiving proper schooling and the best part is that they all live like a big, happy family.
Honestly, I've seen kids from well-off families behave like brats, but here every single kid was exemplary. Kudos to the caregivers at Sweet Home Orphanage for doing such a great job. Places like these restore your faith in humanity. I want to encourage you all to go to all such institutions and spend time with the children. Don't just donate money, go there and spend your time with them. Spread love and happiness. Tell them they matter, tell them they are an important part of this society too. Tell them they are as worthy of happiness as anyone else in the world."
See what I meant? It's not every day you hear something like this. She went on to make not just her own child's day but successfully managed to make so many others happy as well. The world still has people with hearts made of Gold. This selfless act of hers will hopefully encourage others to do something similar, or at least I hope it does. Rather than having extravagant parties every year, maybe if we all did something like for the children in orphanages, at least once a year, I'm sure there will be a lot more happy children around us, and a little sense of accomplishment in our hearts.