Dubbed as the couple of the century, Brad Pitt and Angelina Jolie, after staying together for 11 years, have finally decided to part ways. People have already started to say that they have stopped believing in love, as it died with Brangelina's relationship. Such tall claims makes one wonder, how could a 5-star couple like Brangelina end? What could be the reason behind it?
The rumor mill has started to spin again. This time, the rumors are nastier than ever. According to multiple reports and claims of TMZ, America's top paparazzi parade, Brad Pitt has been accused of child abuse, verbal and physical, and is currently under investigation with the Los Angeles Police Department (LAPD).
Brad Pitt is under investigation for child abuse after he allegedly got verbally abusive and physical with his kids, @TMZ, @people report

— Brianne O'Brien (@brianneobrien) September 22, 2016
The incident seems to have occurred in Brangelina's private plane. Brad Pitt and Angelina Jolie have six children, Maddox, 15, Pax, 12, Zahara, 11, Shiloh, 10, and twins Vivienne and Knox, 8, of which Shiloh and the twins are their biological children, the rest are all adopted.
Always in the limelight for fostering children and making them celebrities of the future, the tide has turned against Brad Pitt. According to USATODAY, "Brad Pitt is being investigated after being accused of verbal and physical abuse against his children, according to multiple reports early Thursday."
It is still untold that which child exactly was abused by Pitt but the incident happened in the company of Angelina Jolie and the child's siblings. This has been termed as the prime reason behind Angelina Jolie's demand of a divorce. There seems to be no other reason that the couple would split their ways.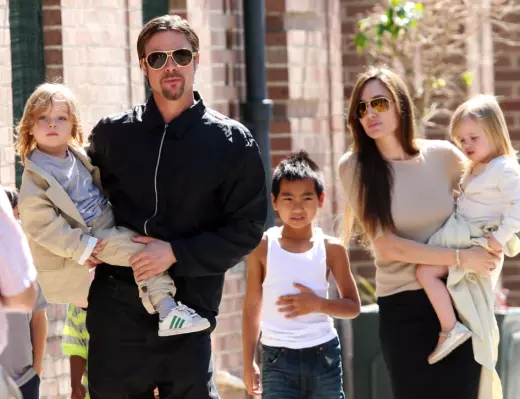 These reports, however, can be false as well. Some people involved with Brangelina even think that this might be a tactic used by Angelina Jolie; one that would not allow Brad Pitt to visit his children in the future, as the court will take away Brad Pitt's visitation rights towards his children, following domestic abuse.
If these claims are proved to be true, Brad Pitt might be losing much more than just his pretty wife.