President Dr. Arif Alvi offered the Eid-ul-Adha prayers at Faisal Mosque with complete observance of coronavirus standard operating procedures (SOPs). However, the live broadcast of him offering namaz caught something very unusual.
Qasim Suri, Deputy Speaker of the National Assembly, and other lawmakers also offered prayers at the mosque.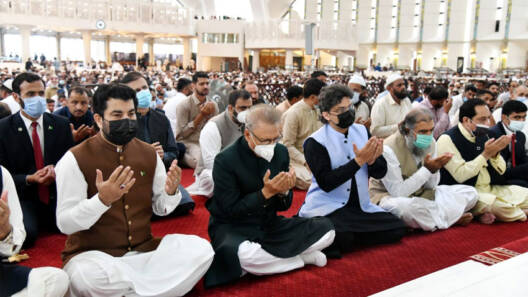 In today's world, people are observant of every little thing and are able to voice their opinions easily on social media. Hence, it was easy for us to see where the president went wrong in his Eid prayers. Not only did his namaz go wrong but also of those surrounding him.
Social media users were quick to point out how the president displayed confusion as he offered namaz on Eid. The live broadcast of the prayers caught Dr. Alvi going into Ruku (a step of in namaz where one bows down placing hands on knees and then goes to Sajdah) earlier when he was supposed to. Watching him do so, those around him were also led into a state of confusion. While some followed his step, others remained standing.
Take a look at it!
'This is so embarassing' – check out the public reaction
President shows 'displeasure' over violation of SOPs
Later, the president observed severe violations of SOPs during Eid-ul-Adha prayers at Faisal Mosque. "President Dr. Arif Alvi, taking serious notice of the violation of Standard Operating Procedures (SOPs) against coronavirus during the Eid prayers at Faisal Mosque, has directed the departments concerned to observe strict compliance," an official press release issued from the Presidency said.
The letter mentioned that during Eid-ul-Adha prayers at Faisal Mosque on July 21, President Alvi observed serious violations of health guidelines. "In wake of the fourth wave of COVID-19, the observance of SOPs has become all the more important to minimize its impact through implementation of stringent measures," the president wrote in the letter.
Back in 2018, the president landed in trouble after his lavish breakfast bill surfaced on social media.
Read More: Here's How You Can Perform Eid Prayers At Home Amid COVID-19
What do you think of this story? Let us know in the comments section below.