Islamabad police temporarily detained a dozen students on Thursday and used force to end a protest against holding physical examinations for classes nine to 12 which are scheduled to begin later this month.
Students started gathering outside the Higher Education Commission (HEC) office. Their intent was to protest the in-person exams as well as call for Education Minister Shafqat Mahmood's resignation.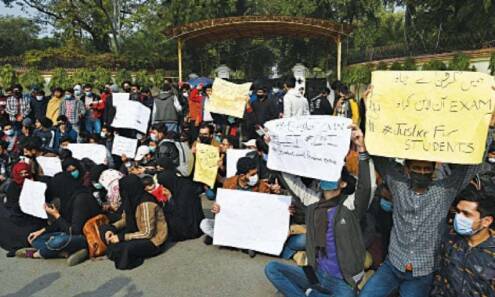 The students chanted slogans against the government. Moreover, they demanded the cancellation of the in-person examinations. According to the protesters, they were taught the courses online. Students claimed they were unable to prepare well for the upcoming matriculation and intermediate examinations.
Their demands asked Shafqat Mahmood either to agree with their demands or to resign. In addition to this, the students announced that they would continue their sit-in until their demands were met.
In order to prevent any untoward incidents, a heavy contingent of police was present on the occasion. As the number of protesters increased, they blocked Ninth Avenue. Subsequently, the police were told to use force to clear the road for traffic.
The police detained around a dozen students as well as used force to disperse the protesters and clear the road for traffic, the official said.
Take a look at this:
Later, the students were released. In recent months there have been several demonstrations across the country as the coronavirus pandemic dragged on and affected educational activities. It must be noted that the education sector relies heavily on digital learning since the past year due to the coronavirus pandemic. Conducting classes online but exams on campus is not fair to students in any way.
In May, students of the National University of Modern Languages (NUML) staged a protest against the university's administration. They demanded the exams be held online. Police reportedly arrested and tortured a number of students.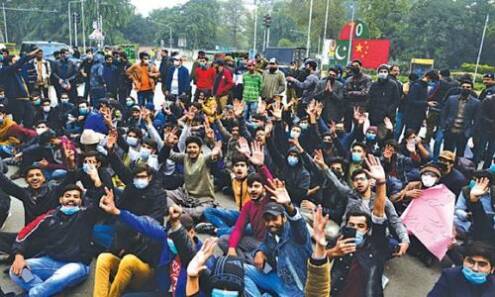 Apart from demanding examinations to be held online and not in person, they also demanded a decrease in the 'unreasonable' amount of tuition fees since classes are being held online. In addition to this, the students said that the 'constantly changing exam schedule' is also 'unacceptable'.
The protesting students shouted slogans against the government, the federal minister for education, and other officers of the education department. Meanwhile, the university administration argued that the demands were "baseless". It said the exams would be held on campus as the federal government has allowed the reopening of education institutions.
In a similar incident before, the police shamelessly arrested innocent students in Quetta for protesting against useless online classes. With minimum to almost no media coverage till now, these protests often go unnoticed.
What do you think of this story? Let us know in the comments section below.