It is far from an astonishing fact that MQM is the don of Pakistani politics. MQM has once again demanded the division of Sindh to create a 'Mohajir' Province. It appears that MQM has failed in its attempt to create an image of a national party and returned to its original ethnic politics.
MQM looks mindful of its diminishing support base in Karachi as was witnessed in previous elections due to changing demographics and emergence of new political forces. The 'Mohajir Card' seems to be a desperate attempt by MQM to achieve what it once owned as the sole king. This myopic political agenda poses existential threat to Sindh as it will increase the divisions among various ethnic groups in the province.
It is appalling to see the MQM, the harbingers of liberal politics as they consider themselves, invoking the blasphemy law against Khursheed Shah for the latter's 'meant to be kind' remark on the term 'Mohajir'. Moreover, MQM has seriously hurt its image of secular party by making use of religion for political advantage.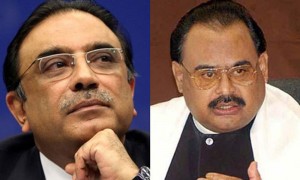 The rancor of Altaf Hussain and MQM not only damaged party's image but also diverted people's attention away from the real issues obscuring the peace in Karachi and MQM loses most in this case.
The MQM has left and joined government many times and it looks just another political tactic of MQM to get its demands meet. By doing this MQM has ridiculed itself even in the spheres where it enjoyed un-conditional support. But, it seems MQM's withdrawal from government seems serious but who knows, they may fall again to PPP's alluring politics anytime in the future.
The love and hate relationships between PPP and MQM have left the citizens of Karachi and other parts of Sindh affected most as the unrest prevails. Chanting ethnic slogans leaves MQM ignorant of the issue of local government system that is their fair demand, which ought to be the focus.
The truth also holds that PPP is benefitting from ethnic slogans too. We often hear PPP's leadership raising nationalist sentiments to garner the diminishing support in the rural areas of the Province. MQM's persistent ethnic slogans gave space to Bilawal Bhutto to appear as the sole savior of Sindh as he raised the slogan 'Marsoon Marsoon, Per Sindh na Desun'. One wonders, raising mere slogans will earn political fruits to PPP anymore after it's dismal performance for 6 years.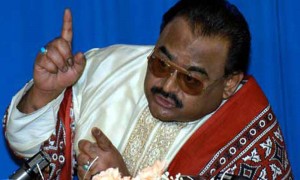 The Sindh division on the basis of ethnicity or even on administrative basis won't be accepted by majority population, academia, historians and educationists. But, truth also holds that the PPP government's failure to introduce local government system provided MQM to pursue extreme ethnic based politics.
Few days ago, Sindh Assembly enacted an amendment in the Sindh Local Government A ct, 2013, and assigned powers to election commission of Pakistan so that ECP holds municipal elections after the delimitation of constituencies.
This law is different to act passed in 2001 as it has diminished the city government's powers limiting their functions to basic municipal services. The key areas of government such as security and land management are retained by the provincial government. The financial budget of metropolitan corporations has also been reduced. As the result, both MQM and PPP seem to be in race to occupy the control of the provincial government as much as each of them can.
The provincial government is reluctant to devolve powers to cities and towns at the local level. It holds true in the case of Karachi because of its multi-ethnic population base and the city being the provincial capital. Another major reason for not trickling down power at the local level is to possess control over city's resources such as land, buildings and revenue.
The administrative autonomy is imperative to run Karachi effectively. With an estimated population 18 to 20 million, Karachi needs an efficient and effective local government system that ensures impartiality and transparence in its working so that it could relieve the problems of people of Karachi. Same goes for other major cities of Karachi. However, MQM's ethnic agenda and propagandist politics leaves the neutral intelligentsia demanding for local government astounded.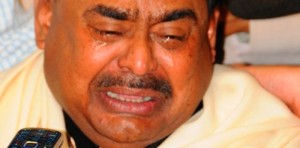 Let' look at the other obstacles in the way for local government system. The delimitation of constituencies is the first obstacle. It is now the responsibility of ECP. Then, electoral process' transparency is the main issue. While criminal elements supported by the political parties are pervasive in the city who deteriorate the law and order situation at their will, free and fair local government elections seem untenable task. MQM's politics based on violence, threat and ethnic divisiveness has made the matters only worse.
The drastic change in demographics of any city will have an impact on social and political dynamics if the city. With the people from different ethnic backgrounds moving to Karachi in past one and half decade, the city will never have a monopoly of any one political party , that diminishes the chances hugely when ethnic element is used to garner the support. Moreover, two generations after the immigrants from India have born, lived, owned, and adored the Pakistan and thus Karachi so that don't make them 'Mohajirs' in any logical and social sense.
Looking at these factors, MQM should rather pursue politics of inclusiveness rather than exclusiveness. The demographic, economic, political and social factors of Karachi have changed and MQM's attempt to invoke ethnic sentiment for political motives and use of religion for political expediency has lost prominence and will harm the political future of the party. MQM should be mindful of the effects it saw in the previous general elections as numerous political forces were accepted by certain section of people in Karachi. It is high time MQM revisits its politics of divisiveness as it will only leave party divided in the future.