People have trolled Jannat Mirza over her recent comment regarding the roles she was offered. The internet went bizarre with netizens' endless reactions and comments.
Looks like Jannat Mirza took it very seriously, that's why she shared the screenshots of the chat she had with Hum Tv and Nina Kashif.
It's shocking how people force such actors and celebrities to do such things. She took this whole scenario to her Instagram where she posted chat screenshots along with the caption.
She claimed that she finds this whole scene disrespectful, but things were getting out of control.
Jannat Mirza Shares Proof Regarding Dramas She Was Offered
Jannat Mirza is a TikTok sensation, from there she captured everyone's attention and her beauty made her way to the entertainment.
On her Instagram story, she wrote, "Never wanted to explain myself here or share personal chats here on social media. Because I find it disrespectful, but things were getting out of control.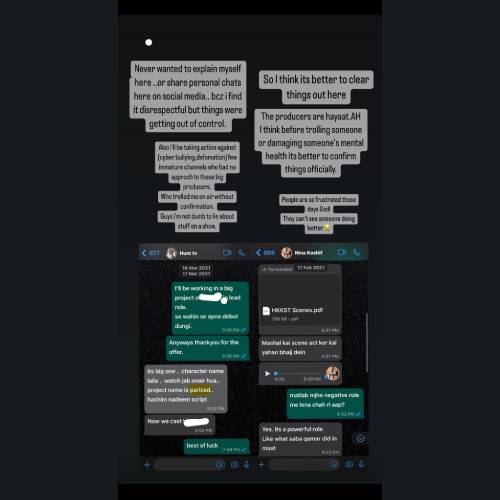 She even stated that she will take legal action. "Also I will be taking action against (cyberbullying defamation) a few immature channels who had no approach to these big producers. Who trolled them on air without confirmation?
Guys, I am not dumb to lie about stuff on a show. Here she shared a screenshot of the conversation with Hum TV.
Confirm Things Officially First
Jannat Mirza continued, "So I think it's better to clear things out here. The producers are Hayat AH, I think before trolling someone or damaging someone's mental health it's better to confirm things officially.
People are frustrated these days God! They can't see someone doing better. "
A few days ago in a show, Jannat Mirza shared that she was offered Parizad and Hum Kahan Ke Sachay Thay.
She stated that "I was asked to play Kubra Khan's character in the drama Hum Kahan Ke Sachay Thay and Ushna Shah's character in Parizaad," the TikToker said during the interview.
"I was in Japan at that time and they told me that I would have to come to [Pakistan] for the audition. I still regret it and I wish I was in Pakistan at that time," she added.
What do you think of the story? Tell us in the comments section below.