Shahid Afridi kinda and sorta stole the Defence Day show which took place on the 6th September, 2018. While sitting behind Prime Minister Imran Khan and COAS, Shahid Afridi was caught on live television, sniffing something.
Now, given the Pathan ethnicity of Afridi, everyone assumed he is sniffing or chewing naswar.
Watch the Video Yourself
In case you missed Shahid Afridi's Naswar scene ?#DefenceDay pic.twitter.com/LjeFGVTWZO

— f ?? (@iPakiLad) September 6, 2018
And It Wasn't the First Time Afridi Was Caught Chewing Something On TV…
Remember this?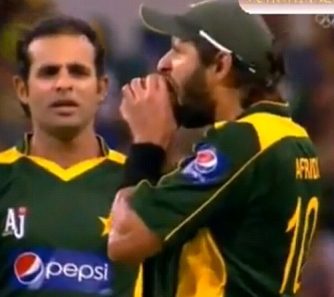 And It Was Only a Matter of Minutes That Everyone Started Talking About It
LOOOOL
Sachin Tendulkar : Boost is secret of my energy
Shahid Afridi :?? pic.twitter.com/XU7iWK1HX1

— bhaavna arora (@BhaavnaArora) September 7, 2018
HAHA
#Lala (Shahid Afridi) and Naswar, still a better love story than twilight. pic.twitter.com/JYqXdhtTt5

— Ali Salman Alvi (@alisalmanalvi) September 6, 2018
Now In THIS Closeup, You Can Definitely See Afridi Lifting his Lip and Putting Something
Naswar break is mandatory!!! Shahid Afridi you beauty. ?#shahidafridi pic.twitter.com/O9WemhbZzZ

— iumarzeb ™ (@umarzaib1111) September 6, 2018
Some People Were Not Happy With All the Attention Given to Afridi
https://twitter.com/halayyzz/status/1037767326458892288?s=20
Fun Ko Pholate Huwe
#ShahidAfridi eating Boom Boom Bubble gum at GHQ. Haters will say it's Naswar.

— Myra Zafar (@MyraZafar) September 6, 2018
So anyway, with something like this going all over the social media, it was bound to reach to the man in the video himself.
So yesterday, while Afridi was seen out, media cluttered around him and asked him about the video that was circulating on social media. The media asked Afridi to comment on the video and Afridi, in a relaxed attitude, said that it is a combination of laung and sauf.
Afridi took out a packet from his coat's pocket and made one reporter sniff it as well.
Here's The Video of What Happened
Shahid Afridi finally reply on his viral video of #DefenceAndMartyrsDay pic.twitter.com/zP2Mi8dM4f

— Abdul Ghaffar (@GhaffarDawnNews) September 8, 2018
Right after giving this explanation (sort of), Afridi got back in his car and left the scene.
Well, if this is the truth, it was still an amazingly hilarious moment to see THAT on national television and it gave everyone caught a life.
Carry on, Boom Boom Afridi!