Farwa Batool, a girl from Quetta, Hazara community got the first position in Balochistan during Central Superior Services (CSS) examination. She got the 9th position through the country during the recently announced results.
In a recent interview to BBC, Farwa said she has struggled all her life to serve the country.
While sharing the hindrance that she faced during this time she stated that, Hazara community in Balochistan faces a number of problems but the resilient community always stood up against the odds and manage to pave their way to success. "The results of CSS exam came out on June 17, in which I bagged first position in Balochistan and ninth position in Pakistan," Batool stated. "I saw my pictures on social media with lots of prayers and well wishes".
Farwa who is the oldest among her three children said that her parent's only wish was to see their children get a quality education.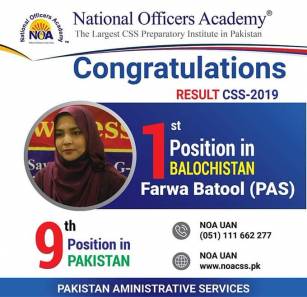 Talking about her father, Farwa said that her father always wanted his children to make a name for the Hazara community. He always made sure that his children always had good opportunities and study in the best educational institutions. "I will give all the credit for my success to my parents who educated me and enabled me to face them no matter how difficult the situation," she said.
Passion for accounting
Batool while sharing her childhood and educational journey said, "I got my early education from the Garrison Academy in Quetta. In 2007 our family moved to Karachi where I did O level from Beacon House School and then A level from Lyceum School. Then I graduated from Lahore University of Management Sciences (LUMS) in 2018 with a degree in Accounting and Finance, after which I joined the banking sector".
There once came a time in her life when her mother asked her to drop out from LUMS University. Her family financial condition was nowhere near to meet the massive fee structure of the university.
However, she remained headstrong towards her goal and applied for financial assistance from University.
Her aim was to serve the country
After graduation, Farwa started gathering information about the CSS exam from the people around her and eventually she developed an interest in this competitive exam. Farwa used to study for nine hours daily for seven consecutive months to prepare for CSS exams. She later went to Islamabad to prepare for the interview and joined the academy.
Now after getting success in her CSS exams, Farwa aims to do justice with the responsibilities given to her by the public office.  She will now join the Pakistan Administrative Service after training at the Civil Services Academy.
Earlier, five sisters from Khyber Pakhtunkhwa created history for the country. Among all the candidates, the Sher sisters have set a record of clearing their CSS exams. After four sisters already serving in different government departments, the youngest one Zoha Malik Sher also cleared the final step of CSS.
We are proud of you girl! and wish you all the best and success for your future endeavours.
What do you think about the story? Tell us in the comment section below