Sarah Khan and Falak Shabir have recently welcomed a new addition to their family – a healthy baby girl named Alyana. The couple has been sharing snippets from their new lives as parents on social media.
The couple, who tied the knot in 2020, announced their pregnancy earlier this year. Shabir took to Instagram to share the good news on Friday.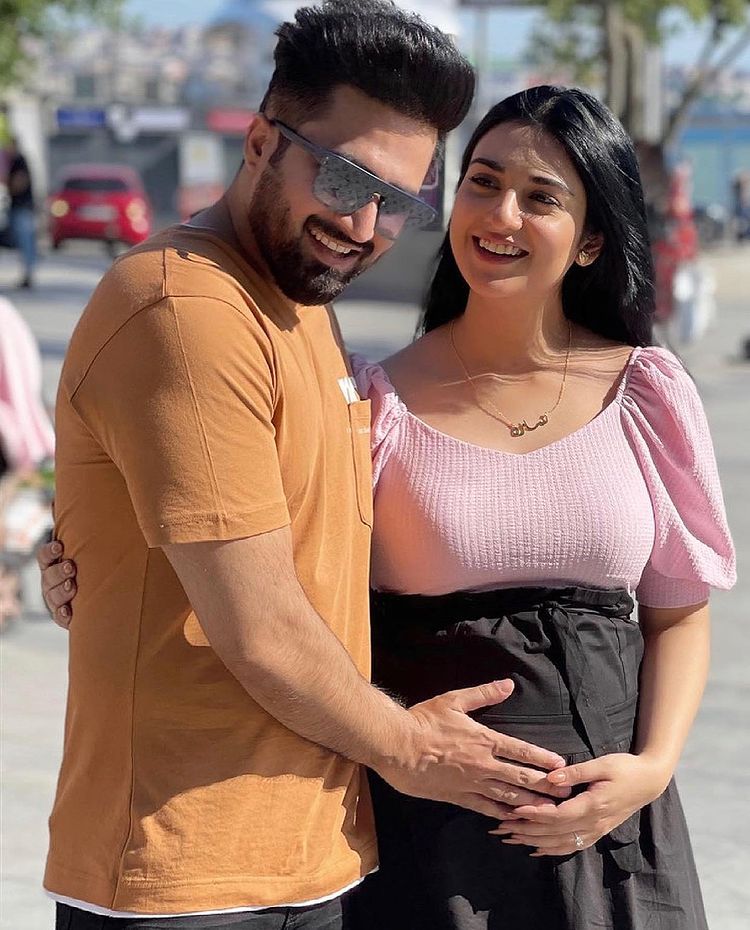 Posting a picture of his newborn and Khan, the singer penned a heartfelt caption. "Jummah Mubarak! Allah Pak ne is ba barkat maheenay ke ba barakat din Apni rahmat se nawaza hay [Allah has blessed us with his blessing in this blessed month]."
"So happy to announce the arrival of my daughter, who is half me and half the one I love. Introducing Alyana Falak," he added.
Soon, congratulations began pouring in for the couple and fellow celebrities also took to social media to wish the couple well. Meanwhile, the Sabaat actor shared a video of her husband reciting the Azaan to their daughter.
Have a look at it
Shabir then shared a series of pictures of his wife and newborn daughter, paying tribute to Khan.
A tribute to Sarah Khan
"When it comes to true strength and the ability to endure pain, women blow us away. The morning sickness, the heartburn, the sleeplessness, backaches, mood swings and what not!" he wrote.
"Then there's also the mental stress of worrying that the baby they're carrying is healthy, juggling work with pregnancy exhaustion, trying to plan out the nursery down to the last perfectly matched detail, and coming up with a baby name that's unique enough to stand out!" Shabir added.
"Then, at the time of giving birth the pain mother feels is similar to 20 bones getting fractured at a time. Can you imagine the mothers' pain and love? SubhanAllah! I'm convinced that mothers are superheroes because they can handle anything the universe has to throw at them!"
"Sarah, you're not just a mother of my child but also the beat of my heart. I promise to love you and protect you and our daughter till the day I die," the singer concluded.
Known for his displays of affection on Instagram, Shabir often has many celebrities swooning over his romanticism.
It may be recalled that Khan's co-star Gohar Rasheed recently praised the Shabir for making 'romancing his wife' normal. "Sarah Khan is a beautiful person on and off-camera," he had said. "Falak Shabbir is one lucky man. If I am honest, if I ever get married, I will be exactly like him [with my wife]."
What do you think of this story? Let us know in the comments section below.