The horrific rain in Karachi in the year 2020 will always be remembered by all. Not only did the thunderstruck on the ground and caused damage but the continuous rain caused many people on the streets to drown, manholes were overflowing, and urban flooding took a completely devastating and terrifying turn.
Pakistani celebrities roast Sindh govt after heavy Karachi rain!
From having containers floating about to the fear of people drowning everywhere. Even Pakistani celebrities call out the Sindh government for its negligence and poor performance.
Initially, Sit-com Bulbulay star Ayesha Omar took to Twitter to share her thoughts regarding the havoc of rain. Subsequently she also added how it has literally drowned the residents of the Metropolis city – Karachi.
This isn't the first time Karachi is facing heavy rain! Every year monsoon season becomes a catastrophic experience for Karachiites, however, this year seemed to have been the worst of all. Moreover, not only were people deprived of safety, rather urban flooding became a major risk.
In line with that, even Feroze Khan and Ushna Shah called out the Sindh government for their poor performance.
Urwa Hocane said the government hasn't taken any action previously, however, those who are helping each other and also assisting the people in need are worthy of appreciation.
In addition, even our ever favorite Billo a.k.a Hareem Farooq spoke up about how Karachi is going through a crisis situation; hence, she requested all to help! She also adds about this being a state of emergency in Karachi and it is crucial to help each other!
Pilot, singer and song-writer Fakhr-e-Alam also mentioned about how he is saddened with the lives lost during this horrendous spell.
Simultaneously, Wasim Akram and Shaniera Akram sent their warm wishes and roasted the government for being so negligent on how to provide aid and assistance to people.
In addition to that, the couple also made a video and posted it on Twitter to share their concerns and warm wishes for Karachiites stuck at this time of difficulty.
Feroze Khan angrily scolds Sindh government!
Taking to Twitter Feroze Khan angrily scolded PPP and Chairman PPP Bilawal Bhutto for not taking any action. He asked them for straight answers and how they can be so negligent.
Above all, during his rant, a Twitter user pointed out that instead of only blaming PPP, there are others also responsible and he should blame the overall government of PTI. To which the VJ turned star responded:
Boom Boom offers assistance through Shahid Afridi Foundation!
Even former cricketer Shahid Afridi questioned the officials on Twitter by asking them who will save Karachi in this scornful and horrific weather.
However, it is also crucial to acknowledge that Shahid Afridi Foundation has stepped up to aid and assist people in need during these tragic times.
Producer, actor and host Faysal Qureshi, like always roasted the government with his wittiness:
A case of sinking of Karachi
In the end, all we have to worry about is what is actually going to happen in Karachi. The situation the Karachoites are going through at the moment is terrifying, to say the least.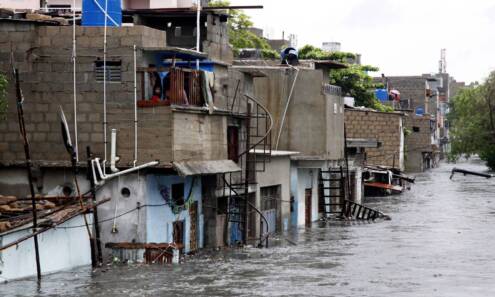 Because just looking at the devastating pictures of wreaking havoc rain is enough to give one chills and goosebumps.
Moreover, we hope that maybe so many complaints and laments knock open the Sindh government to take action regarding the horrific state Karachi is in!
What do you think of the story? Tell us in the comments section below.