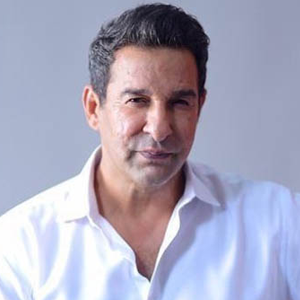 No one in the world can beat this man when it comes to swing the bowl at the perfect pace. In the world of cricket, people know him as the Sultan of Swing and everyone loves him from the core of their heart. He is none other than Wasim Akram.
Wasim Akram is one of the most favorite and lethal bowlers of his era. Decades passed away, but no one could take his place when it comes to bowl the perfect swing and dismantle the batsman. Every batsman was scared of him because they knew if he's bowling then there's no chance to hit a four or six in his spell.
Wasim Akram played an important role in the 1992 World Cup and after that, he bagged endless achievements that none of the other Pakistani cricketers have achieved.
Facts:
Date of Born: 3rd June 1966
Birth Place: Lahore, Punjab
Spouse: Shaniera Akram
Age:55
Nationality: Pakistani 
Early Era Of Wasim Akram
Wasim Akram has changed the perception of the people who see bowling in just a usual way. Looking at his early career, he started dominating the moment he stepped into the field. With the help of mentors like Imran Khan and Javed Miandad, he sabotaged every opponent who faced his spell.
In 1992, that year was his because in that period Wasim Akram shined and people saw the Swing of Sultan. Picked three wickets in the finals against England, which created a huge impact and destroyed England's confidence.
In the domestic area, Wasim Akram did his best in the time slot of 1988-98 where he played for Lancashire County Cricket Club. He was outclassed in the tournament and the favorite of local British fans out there. Whenever he comes to bowl, they used to sing the song "Wasim for England" at Lancashire's matches.
In 1998, under Wasim's captaincy, Lancashire County Cricket Club won the ECB Trophy and Axa League and finished second in the championship tournament.
Wasim Akram also led Pakistan as a captain in the 1999 World Cup and finished in the finals against Australia.
After the 2003 World Cup, Wasim Akram said goodbye to international cricket and took retirement. But didn't leave the love for cricket and joined as a commentator.
Wasim and Waqar Younis both were deadly on the pitch, opponents used scared of them but off the pitch, they were great rivals and hated each other. Plus, Wasim Akram never played any international T20 match after the retirement, except a country one for Hampshire.
Personal Life
Keeping aside professional life, Wasim Akram was a true gentleman in his personal life too. He married twice in his life. First, he got married to Huma Mufti in 1995, then 14 years of married life with two sons. But Wasim Akram had to face a big tragedy, in 2009 Huma died of multiple organ failure at Apollo Hospital in Chennai.
It was the saddest moment in Wasim's life, but then in July 2013 rumors spread about him seeing an Australian woman called Shaniera Thompson. In August 2013, the rumors turned into reality and they both got engaged.
He said, "I married Shaniera in Lahore in a simple ceremony, and this is the start of a new life for me, my wife, and for my kids."
And on the 27th of December 2014, Shaniera gave birth to a baby girl Aiyla Sabeen Rose Akram, in Melbourne.
In early in his career, he was a heartthrob and that somehow led to controversy too. There were rumors at that time when Wasim started working with Bollywood actress Sushmita Sen and news outlets spread that they might be having an affair. But later on, they proved wrong.
At the age of 30, he was diagnosed with diabetes. Along with him, everyone was in shock as he's one of the fittest and healthy cricketers. He stated, "I remember what a shock it was because I was a healthy sportsman with no history of diabetes in my family, so I didn't expect it at all. It seemed strange that it happened to me when I was 30, but it was a very stressful time and doctors said that can trigger it."
Achievements & Records
Wasim Akram's achievement list is a never-ending thing and holds some impressive records that are unbeatable. Wasim Akram won 17 Man-of-the-Match awards in 104 Tests, four hat tricks in International Cricket in both formats.
He even shared the most ODI wickets with Sri Lankan fast bowler Lasith Malinga. He finished his ODI career with 22 men of the match awards and in 199 ODIs he took 326 wickets at under 19 apiece with a run rate of 3.70 and took 18 four-wicket hauls.
He was the first bowler to get 500 ODI wickets, along with that he's the 9th wicket-taker in a test match in 414 wickets as a left-arm bowler. 
That's not the end yet, he also held some records as a batsman too. His 257 not-out against Zimbabwe in 1996 is still considered as the highest innings played by the 8th batsman in the test.
He was also inducted in the ICC Hall of Fame and he was the only Pakistani cricket who was named in the all-time Test World XI to mark the 150th anniversary of Wisden Cricketers' Almanack.
The Government of Pakistan also awarded him Hilal-e-Imtiaz for his lifetime achievement in the field of Cricket.
Coach Career
Wasim didn't play any T20, but he had coached the teams. He was the coach of Kolkata Knight Riders which is owned by Shahrukh Khan. Since the beginning, he was the bowling coach of Kolkata Knight Riders but skipped the IPL season 6 and 7 due to personal reasons.  
Wasim Akram also coached in Pakistan Super League's teams such as Islamabad United, Multan Sultan, and Karachi Kings. With Islamabad United and Karachi Kings he won the titles.
Wasim Akram lived a king life in everyone's heart, he's the most humble, handsome, and charming person. Even opposition team's fans also loved him and praised him for his marvelous bowling. After all, he's the Swing of Sultan.