In a surprising and insensitive move, an American online retail platform, known as "Americana Pipedream," has found itself in hot water due to a contentious marketing campaign featuring Pakistani Servis Cheetah high-top shoes in US.
These shoes have been rather strangely marketed as "The Preferred Footwear of the Taliban" and are being sold at a steep price of approximately Rs30,500 ($99). This marketing strategy has stirred up a significant amount of backlash and criticism, with many expressing concerns about its insensitivity and provocative nature.
"Taliban's Preferred Shoe" Controversial Marketing Campaign In US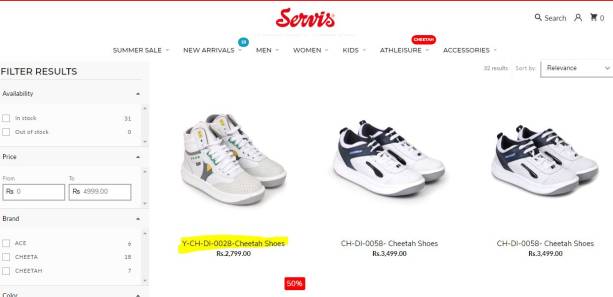 The heart of the controversy surrounding these shoes centers on the choice to link them with the Taliban shoes' sense of style, sparking ethical concerns about this marketing approach. While it is true that Servis Cheetah shoes have been widely worn by various organizations over the past 40 years, including the Taliban, Mujahideen, and Afghan Security Forces, they have also been popular in the Middle East and Southeast Asia.
What further complicates this situation is the stark difference in pricing. An investigation into the matter reveals that the exact same Servis Cheetah shoes are available on the official Servis Pakistan website for a mere Rs2,799, significantly less than what Americana Pipedream is charging. This has led to skepticism regarding the fairness and legitimacy of the American online retailer's pricing policy.
The association of these Taliban service cheetah shoes with the Taliban stems from their historical use by rebel groups in Afghanistan since the initiation of the U.S.-led conflict in 2001. Often referred to as "Tali sneakers," these shoes have become synonymous with the Taliban and the violence and turmoil that have plagued Afghanistan for decades. They serve as a somber reminder of the tragic history of a nation marked by Soviet invasion, violence, and destruction.
Not surprisingly, the sale of these shoes has triggered a wave of criticism from advocacy groups and social media users alike. Many have condemned the insensitivity of profiting from goods linked to a militant group responsible for acts of terrorism and violence. Critics argue that such marketing exploits a tragic and complex situation while displaying a lack of ethical standards in business.
What makes this situation even more perplexing is the rarity of Taliban Servis Cheetah shoes in the American market. Despite the platform's active promotion of these shoes as the "Taliban's Favorite," the information section openly acknowledges their scarcity in the United States and raises concerns about their quality due to their Pakistani origin.
As this controversy unfolds, it will be interesting to observe how Americana Pipedream responds and whether it reevaluates its approach to promoting the Servis Cheetah high-top sneakers. This case underscores the importance of recognizing the influence and responsibility held by businesses in their marketing endeavors, particularly when dealing with sensitive subjects and global crises.
In conclusion, the controversial marketing of Servis Cheetah shoes as "The Taliban favorite shoes in USA" by Americana Pipedream has ignited widespread outrage. This incident highlights the importance of ethical considerations in marketing, especially when dealing with sensitive issues. It also underscores the power and responsibility businesses hold in shaping public discourse.
See More: Best Shoes Brands In Pakistan 2023
What do you think of the story? Tell us in the comments section below.