The world's wealthiest Pakistani Mr. Shahid Khan sailed to London, that too in style.
Shahid Khan is a Florida based multi billionaire Pakistani. He sailed into the Thames, this week in his pristine brand new yacht which was 308-foot long and was suitably named 'Kismet' (Luck/ Fortune).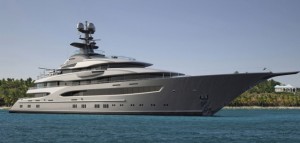 The 64 year old Pakistani billionaire Shahid Khan, is in London to take in some matches featuring his Premiership Football team Fulham FC and also to watch Jacksonville Jaguars which is his National Football League (NFL) team. He intends to stay in London over the weekend to watch the NFL game at Wembley Stadium. Last year, Shahid Khan bought Fulham FC for a reported £200 million from Mohammed Al Fayed who is the owner of Harrod.
As per the reports, Shahid Khan is the 367th wealthiest individual in the world. His personal fortune amounts to £3 billion. He bought his latest yacht bought after selling up his previous yacht, which was measly 223 feet long.
As soon as the sleek German built yacht 'Kismet' entered London it managed to gain attention and attracted many people around Canary Wharf. A number of people took photographs of the yacht and inquired who owned the boat.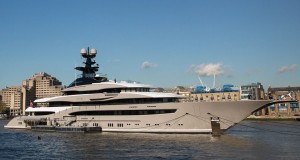 As per the reports, the yacht 'Kismet' features 6 state-rooms, jumbo suites in British parlance with Mr Shahid Khan's master stateroom flaunting its own personal deck and a Jacuzzi
'Kismet' – The Yacht features its own heated swimming pool. There are several barbeque areas on the yacht as well. Kismet also features a helipad and also an enormous cast iron Jaguar upfront in honor of Mr Shahid Khan's much loved Jacksonville Jaguars.
Shahid Khan was born in Lahore. At the age of 16 he flew to the United States of America and started living his version of the American dream. He started working as a dishwasher and earning $1.20, which he considered as a "fortune" when he compared it with what his fellow countrymen were earning back in Pakistan.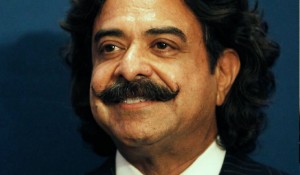 Shahid Khan received a degree in engineering from the University of Illinois. After that he joined Flex-N-Gate which is an automotive manufacturing company. It was the sort of business he would go on to buy and put together into $4.4 billion car spare parts giant.
In the year 2012, Shahid Khan purchased the Jacksonville Jaguars and became the very first ethnic/ racial minority team owner in an exclusively American sport.