Zainab Abbas is a Pakistani television host, sports presenter, commentator, and former make-up artist. In 2019, Zainab Abbas was awarded the Sports TV Host of the Year awarded at the first Pakistan Sports Awards.
Zainab Abbas Deported from India
On October 2nd 2023, Zainab Abbas shared her announcement of joining the ICC panel as a presenter of the 2023 Cricket World Cup in India.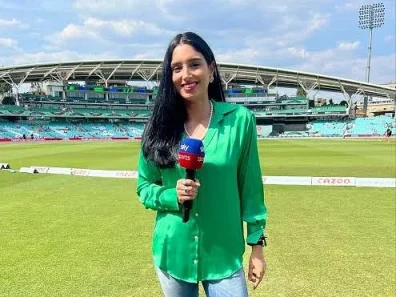 Now, she has deported from India allegedly over a disputed case. As a result, she cannot join the ongoing ICC World Cup. 
The reason for her deportation was allegations of making discrediting statements about India and the Hindu religion on social media. A couple of days before, an Indian lawyer named Vineet Jindal complained against Zainab Abbas for her Hindu and Anti-India remarks on X (twitter).
Complaint sent by Vineet Jindal to BCCI and HMO India seeking deportation of Zainab Abbas.
Zainab has denied allegations and believes she has been targeted unfairly.
Some sources suggest the International Cricket Council (ICC) could not prevent her deportation due to what is seen as Propaganda in India. A source close to her she has been unfairly accused and that her past social media activity was taken out of context.
They argue that Zainab's tweets a year ago were unrelated to her work as a presenter and should not have led to her deportation. ICC has not yet commented on the matter officially. Currently, Zainab Abbas is in Dubai.
Indian lawyer Vineet claimed that these anti-religion tweet was posted almost nine years ago from the username "zainablovesrk" the currently active account of Zainab Abbas. The situation is problematic because the International Cricket Council selected Zainab Abbas as the official presenter for the ICC Cricket World Cup 2023
Also Read: Fans Are Not Impressed By The ICC World Cup 2023 Anthem