Who doesn't know Mukhtaran Mai and her tale of extraordinary courage? She is a resilient Pakistani we all love. A symbol of hope for the voiceless and oppressed women seeking a direction in life. Mukhtaran Mai is the name of a revolt against the evils of our society, now she needs PM Imran Khan's help to run her school.
Most of the rape victims in Pakistan often end their lives due to 'forced shame' or shackle themselves in their own cage. However, Mukhtar Bibi, who is better known as Mukhtaran Mai, openly challenged her abusers. She also defeated the stigma that rape victims should not marry and became a mother of beautiful children.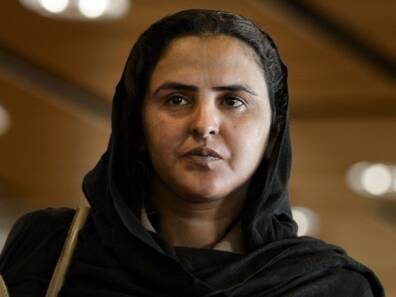 Mukhtaran still lives in the same village of Meerwala in Muzaffargarh District of southern Punjab where her life changed. She saw happiness and even the ugliest days of her life there. It was her pain that pushed her to empower women and helpless people around her.
Her battle has been long. Although Mukhtaran won global fame for her bravery yet, she always struggled at home. It seems like her fight for change is not ending any time soon.
After receiving retributions from the government, Mukhtaran started working for promoting and defending women's rights in Pakistan. She knew that empowering women is to educate them and started her journey with three schools.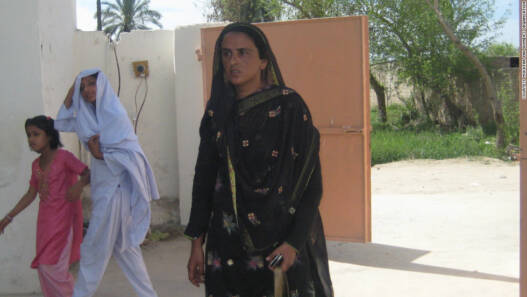 In 2002, Mukhtaran started the 'Mukhtar Mai Girls' Model School' in her village Meerwala. She ran it for 18 years through donations. But, now due to a lack of funds, Mukhtaran needs the government's help to keep it up and running.
"I established this school in 2002, and since then, I was running it systematically on my own. However, now I am unable to pay salaries to teachers as I am not getting enough funds for it," Mukhtaran told Parhlo during a telephonic interview.
The school, which started as a primary school, is the only higher secondary school in Meerwala today with at least 620 students. Their future is at stake as even after days of the government reopened schools post-coronavirus lockdown, Mukhtaran's school is still closed.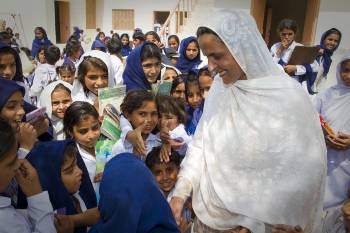 "It became difficult for me to run the school almost three years back but I never lost hope. However, the last five months have been critical," said Mukhtaran while explaining how she tried to get help from concerned government officials and academic bodies.
According to Mukhtaran, she has knocked on the doors of government officials, related education departments in Punjab, and even at the district level in Muzaffargarh. She even wrote letters to Punjab School Education Minister Dr. Murad Raas, but no one came to support her.
"It is not easy to seek help from others. My school is my responsibility but it is also the responsibility of the federal and Punjab governments along with the district administration."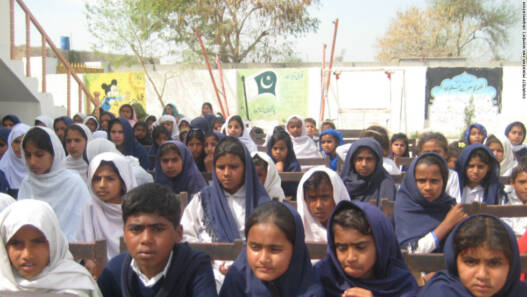 "All they give," Mukhtaran added, "Are fake assurances and promises. Nothing else! And, it has been five months now."
Time and again, Prime Minister Imran Khan has said that the provision of quality education is one of the top priorities of his incumbent government. It then also becomes a responsibility of the government to ensure that those who are already working to make Pakistan educated must get the desired push and support from it.
Mukhtaran Mai has been informed that Rs 20 million is needed to run her school for which she needs PM Imran Khan's help. However, the budget needs to be approved first which is not likely before 2021. But, what the schoolchildren will do till then?
"Parents of the schoolchildren are very upset and they kept on calling me. I have stopped pick their calls as I don't have answers for their concerns. Several of my teachers have also left because I cannot pay them," continues Mukhtaran while speaking to Parhlo.
While explaining how close the school is to her heart, she said, "If you want to delete my name from the school's name, I am ready for it. If you want me to hand over the school's authority to the government, I have no issues. All I want is to see my school running again."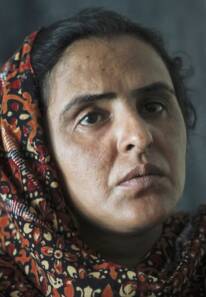 "My school is a matter of life and death for me. This is the hard work of my 18 years. I am ready to do anything to see it up and running again. But, I am tired of asking for help. For the last 15 days, I am confined to bed. I cannot stop thinking about the future of the children who study in my school," said the brave but 'helpless' Mukhtaran.
We could hear Mukhtaran sobbing on the phone as she tried to present her case for the public to know. The donors have given up and the government officials seem to be ignoring her requests. So, what's next now?
This is a case of not just one but 620 students who want to be educated, and a case of their parents, who wish to see their children become doctors, engineers, or even the prime minister of Pakistan one day. Let's give these children a bright future. Prime Minister Imran Khan, we are talking to you, sir! Mukhtaran Mai needs help.
What do you think of this story? Let us know in the comments section below.