If you have survived the rain and thunderstorm up till now – fair warning, the MET office has just announced another new spell is likely to hit Sindh and Balochistan in few hours.
While Karachiites still are fearful of the traumatic experience they had to forego since last Tuesday, the MET office fears, an even more horrific storm is brewing. The expected thunderstorm is likely to hit Sindh and Balochistan province tomorrow.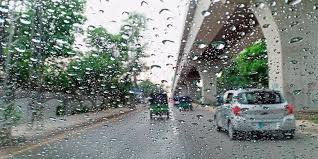 As Karachi and other cities of Sindh and Balochistan manage to endure three days of torrential rain, the news of the upcoming spell isn't any form of music to one's ears. To tell the truth, the news is within itself a major threat and perhaps a time to repent and ask Allah for his mercy!
People are still not over the trauma & tragedy caused by the torrential rains recently.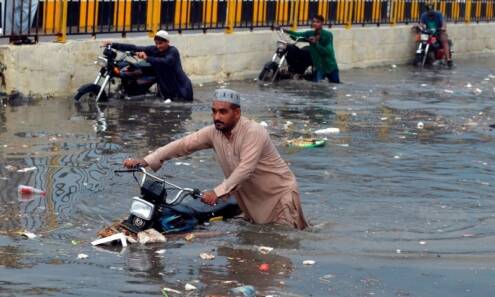 More rains are coming: Pakistan Meteorological Department
While informing the weather advisory Pakistan Meteorological Department report says, "The latest spell is likely to enter the two provinces of Sindh and Balochistan tomorrow; hence it will cause rains from Saturday to Monday. During these three days, the cities like Karachi, Thatta, Badin, Sukkur, Hyderabad, Tharparkar, Nagarparkar, Islamkot, and Dadu are likely to suffer from thundershowers, heavy rain, and wind thunderstorm."
It is noteworthy that after yesterday's torrential rains, Karachi is in a complete state of emergency.
Simultaneously, we also hope that Sindh government wakes up from its nap just long enough to take matters into consideration and look after the poor state of the city.
Along with that, we would also like to request people to stay indoors. Agreeing to the fact that rain is a blessing, it is crucial to understand that safety is equally as important.
Despite the fact that Karachites are famous for living in the moment, we suggest they stay safe during this horrific thunderstorm; which is likely to hit Karachi tomorrow.
In the end, all there is left to say is that may Allah (S.W.T) shows mercy on all of us. We already lost at least 25 lives yesterday. In addition, we also hope that we get to survive this horrible weather with no more traumatic losses.
What do you think of the story? Tell us in the comments section below.