People who have speech impairments have a hard time pronouncing different speech sounds. They might distort the sounds of some words and leave other sounds out completely. Expressing how they feel and describing what they need is a huge challenge for them. However, to help the speech impaired to overcome the daily life obstacles, a 13-year-old, Ahmad Jamal from Karachi has developed an app.
Ahmad Jamal Khan created an app called 'Kya Baat' for the speech impaired, people who are unable to communicate verbally because of certain conditions like stroke or tracheostomy.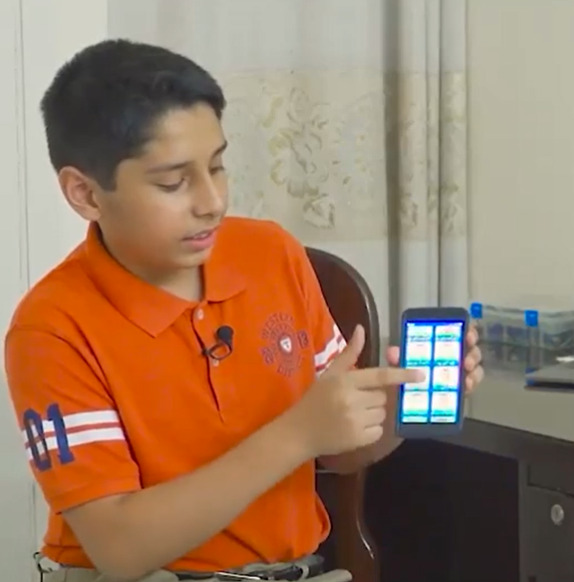 With the tap on a button, the users of this app will be able to communicate with others, especially their caregivers. The intuitive and user-friendly design makes sure that everyone can easily use the app.
Some of the outstanding features of the app include its user-friendly layout, an option to switch between male and female voices, an alarm button that plays a loud sound (to alert the caregivers in case of an emergency), a quick chat section, as well as a drawing area to write what you want to say, and so much more.
Here is how the app works:
In an interview with Urdu Voice of America, the 13-year-old talked about his app. "A friend of my father is a rehabilitation specialist and he deals with the kind of patients who due to stroke or other such conditions are unable to speak," said Jamal. "They have trouble in communicating. It gave me the idea to create an app for them."
"There are a few such apps on Google Play Store but they are either for purchase or have lots of ads, and there are none in Urdu," he added. "Since many people in Pakistan do not understand English, I thought of making an app for them in Urdu — free of charge and ad-free."
'I have been coding since I was four' – Check out his interview:
Indeed, seeing such exceptional minds working hard to make the world a better place deserves massive appreciation!
Pakistan is filled with individuals who strive hard to make others' lives easier by contributing their innovative thoughts to it. More so, this is not the first time a Pakistani individual has thought of easing many lives through a useful and creative invention. Previously, a tech student from Faisalabad invented 'smart shoes' for the blind. It alerts the wearer in case of any hurdle.
Following the same success trail, three students from Lyari recently created an app that helps the visually impaired to walk with ease in public places in their daily lives by connecting to a sensor on a stick.
Such wonderful souls are not only secure the future of the country but also play a pivotal role in technological progress.
What do you think of this story? Let us know in the comments section below.