Disclaimer*: The articles shared under 'Your Voice' section are sent to us by contributors and we neither confirm nor deny the authenticity of any facts stated below. Parhlo will not be liable for any false, inaccurate, inappropriate or incomplete information presented on the website. Read our disclaimer.
This article was originally submitted by Ayesha Khalid
Within a decade the world has experienced three outbreaks of the very fatal coronaviruses including the current pandemic caused by Covid-19.
Covid-19 has brought an unprecedented situation for the world and has affected nearly all facets of life.
According to WHO, 9 633 898 confirmed cases, 490 494 confirmed deaths and 216 countries or areas have been affected to date. Let alone Pakistan has itself 198 883 confirmed cases, 4035 death and 86906 recovered cases.
The unanticipated cascade of events has raised fears that the epidemic could cause a major challenge to the already strained healthcare system. According to the researchers healthcare providers are the most prodigious sector in contracting this virus. Amongst them dentist are the most vulnerable due to their distinctive nature of work procedures. Covid-19 had its implications on dentistry.
The potential routes of transmission of this virus encompass Direct transmission( i.e, coughing, sneezing and inhalation of large and small droplets) and Contact transmission with oral, nasal and ocular mucus membranes. Thus, the nature of this virus poses a bilateral risk for both the dentist and the patient. Considering the above-mentioned risks it is the moral implication of all dentists to perform elective procedures undertaking all precautionary measures.
Sideways it is advisable for the patient to only visit the dental clinic in cases of emergency that include trauma, swelling and excruciating pain.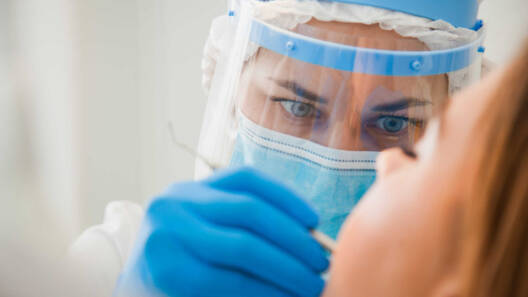 The president of Dental Trade and Manufacturers Association , Liaqat Humayun termed the current scenario as a complete economic meltdown.
"The impact we are seeing is huge, with institutions closed and prices of consumables soaring it is time that the dental industry prepares itself for the unusual challenges once this is over", he said.
Experts advise the dental community to take into consideration all precautionary measures and that only non invasive procedures should be carried out. It is recommended to take patient history via telephone triage, this should encompass all queries regarding any symptoms, travel history or any contact with covid positive patient in the prior 14 days.
Scheduling appointments with at least one hour of gap in between is necessary to avoid crowding of patients around the work place.
Covid-19 has been one of the primary reasons for the downfall of Pakistan's economy; leading to a temporary halt in imports business.
Due to this dental health care workers are unable to stock up on basic dental materials that were previously imported from foreign countries. Adding to this as the patient turnout rate has significantly dropped, existing resources and equipments nearing expiration compound, the current scenario is potentially imposing a situation where dental professionals may very likely face a shortage of essential dental supplies due to supply chain disruptions.
Equally worrisome is the lack of adequate PPEs for frontline health care workers; including respirators, gloves, face shields, gowns and hand sanitizer. This pandemic has caused an upsurge in demand for preventive gear; as it has been a dire need for all health care providers in order for their own as well as patient safety.
As per the pronounced exponential growth of the coronavirus in Pakistan, hospitals; all across the country are overflowing with patients therefore, the government has worked; on transforming feasible places to isolation centres and wards, dental clinics/hospitals and colleges being one of them now. This unprecedented situation has immensely altered academic activity throughout the country.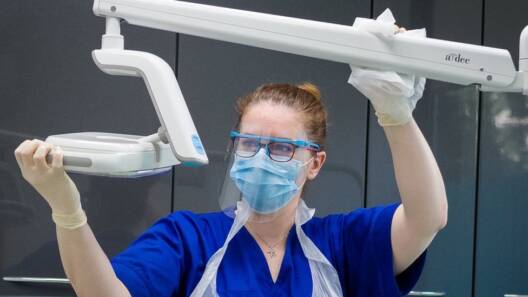 Medical and dental students are unable to perform their curricular duties and complete; the allocated clinical credit hours that are necessary for the fulfilment of their respective program. However, most schools and colleges have had to reshape the academic system by starting off with virtual education.
A prompt exorbitant impact of Covid-19 was observed on dental research department.
All research projects requiring clinical trials and dental research seminars were consequently suspended. Research work that involves clinical trials requires a broad range of samples that would jeopardise the motive of social distancing. Funding that was previously granted for these projects has now been redirected to Covid related research work. This subsequent halt in research studies may effect the amelioration of this profession.
Prime Minister Imran Khan reiterated that the Covid-19 pandemic was a global problem; that required a global solution, urging the developed world to "put their minds together".
"If developed countries put their minds together and treat this as a global situation, I think we will all come out of it unscathed. Right now things look bleak, but if we treat it as a global issue; the world will come out of it," Prime Minister Khan said while addressing a virtual High-Level Event; on Financing for Development (FFD) in Era of COVID-19 and Beyond.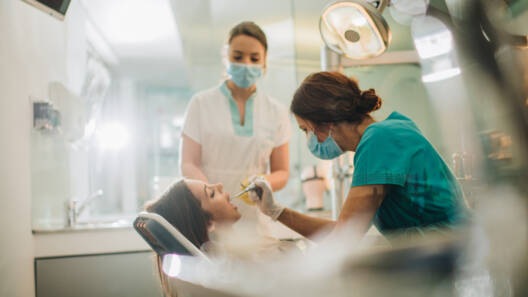 In order to overcome this ubiquitous impediment, the government should; devise policies with health ministers, economic advisers and dental professionals; to prevent the plummet of the dental profession and the safety of healthcare workers. Accordingly, they should allocate funds for such contingencies to sustain the dental economy.
Few recommended points of consideration include:
Ensuring proper funding is directed towards the dental and medical education system
Ensuring availability of all kinds of necessary dental materials and equipment
Screening of patients should be compulsory
Setting up dental tele-clinics to determine whether the patient needs to be seen in the dental setting.
Making sure appointments are scheduled with at least a hours gap in between.
Precautionary measures should be taken into consideration during the procedures like use of preoperative mouthwash, rubber dam, high suction etc
Properly maintained ventilation system to be used
Guidelines for the use of PPE should be strictly followed
Different avenues for research gateway have been opened that include impact of covid-19 on dentistry, oral tissues and its fear
To conclude, concerted efforts are obligatory to overcome this sui generis situation; which will require a great level of courage and endurance in order to take imperative steps; to invigorate the healthcare system and auspiciously battle this virus.