Yesterday, our very own Desi Angraiz George Fulton suffered the VVIP protocol of President Arif Alvi in Karachi. While President Alvi is a strong advocate of "no Protocols," he's often surrounded by protocol cars and officers.
Here's what he had to say to president alive,
A message for the President of Pakistan, Dr Alvi. @PresOfPakistan pic.twitter.com/BpqTygVg3c

— George Fulton (@GeorgeFulton1) June 15, 2019
George Fulton is a famous journalist, he lived in Pakistan for 9 years and acquired Pakistani citizenship. He produced and hosted many television programs in Pakistan, including George ka Pakistan. He moved back to Pakistan after 7 years in 2017 and is currently living in Karachi.
Sadly, there were many who supported Presidents Arif Alvi's protocol:
This guy is furious why George did not say anything about encroachments in front of the Bilawal house in the Zardari tenure. Just FYI George doesn't support PPP.
Ya cuz the President of George's Pakistan permanently encroached two main roads for almost a decade.

— Calling a♠️a♠️ (@kaxev) June 15, 2019
Well, Alright.
And this guy is too naive, he thinks Arif Alvi is not aware of the security measures taken from him.
DR Arif Alvi doesn't sit there managing his security arrangements.. grow up!

— Nabeel (@nabeel_kiani) June 15, 2019
And this man explaining George why only this time it is alright to disturb common men because of VIP movement:
Mr George it's for security purposes as ur well aware of security situations in pak, Ur car is just exactly on the road edge side in parking area. It can cause security problems if it belongs to a militant.
U should cooperate with security agencies.
Can u show protocol cars?

— ?Jwand?(پی☕آئی) ? (@AliSafiuae) June 15, 2019
And this guy bashed George (in English) for not making his video in Urdu.
I am guessing that you are living in Pakistan

The rank hypocrisy on your part is not making the video in urdu.

— ??آفتَابِ حَق?? (@aftabhaque) June 15, 2019
Matlab Kuch bhi.
George has an answer to all, don't brag about your president sleeping and on the immigration counter without any security protocol. When in reality you require it for security purposes.
I understand that but then don't mislead us with the no VIP 'man of the people' schtick then. pic.twitter.com/BgbOL7qfID

— George Fulton (@GeorgeFulton1) June 15, 2019
But there were people who totally supported him,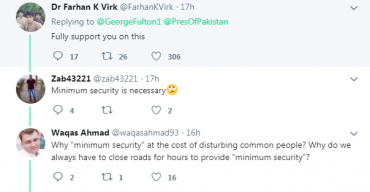 Anyways the debate ended with President Arif Alvi reaching out to George. He personally called George Fulton to apologize for the inconvenience.  
An update. Thank you @ArifAlvi @PresOfPakistan for reaching out. Matter closed. ? pic.twitter.com/7BPTNwzmZ5

— George Fulton (@GeorgeFulton1) June 15, 2019
In his video message, George said he understands the reason why security protocols are a necessity. And with the clarification from the president, he deemed the matter closed now.
So, this is a rare incident of a VVIP apologizing for inconveniences, maybe this happened because George Fulton is a "Gora".  VVIP protocols have un-apologetically taken the lives of people while stuck at the roadblocks for hours. And this goes unnoticed by authorities. The whole idea that some lives matter more than others is twisted and need to change.