One step guide on how to embarrass yourself. Publicly fight like a jungli (like an animal) and that is it. Something similar happened recently on a game show where girls can be seen fighting like animals.
The game show 'Grand Finale with Waqar Zaka' which was shot a few days ago aired yesterday. However, the Pakistan media regulatory authority slapped a ban on the show for its 'unethical content'.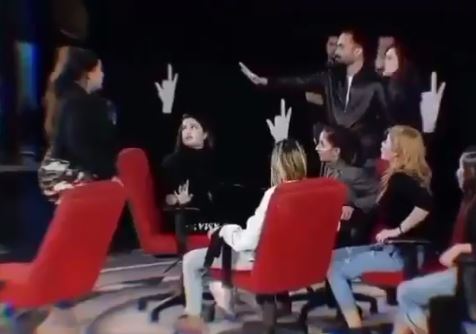 The renowned VJ-turned-television host Zaka is known for bold content. Be it his YouTube channel, show, or literally anything, he is KNOWN for it.
In a recent show that he hosts, an ugly fight took place between two girls. It seems as though they were exchanging some heated words back and forth already that just escalated quickly when one of the two girls sitting stood up and starting throwing whatever her hands could grab at the other woman.
And the language used is just beyond disgusting- makes one wonder how such shows are even allowed to be on the air. While Zaka tried to simmer things down, others were shockingly chanting and encouraging them.
The fight got too cold too soon and you know the drill, the ugly fight part from the show began circulating on social media and it became sasti entertainment for everyone. While others find the video quie obscene given the language they use and the way they fight.
However, we have absolutely no clue why this is happening, and why the show itself is taking place at all. Pakistani social media users took it to Twitter and demanded Pakistan Electronic Media Regulatory Authority (PEMRA) to ban the show altogether.
Twittersphere is enraged to see such filthy content on TV screens
"The world's worst Pakistani channel's worst show and worst anchor… I don't know where idiots come from. Shame, shame."
"The government is requested to impose a complete ban on all such programs. Who knows what kind of impact this has on our youth."
"Money speaks… They can do anything for money. This is a trailer…"
How true! These people can do literally anything with money. Clearly, nowadays the concept of good publicity and bad publicity has died. Either way, it is still publicity, and at the end of the day, it is all about money to such shameless people.
PEMRA has come under fire for allowing 'vulgar' content in Pakistani dramas to air on television a number of times. Earlier, PEMRA was criticized for showing what is a factually obscene or immoral demonstration of our society.
What do you think of this story? Let us know in the comments section below.