We have all seen those fun YouTube videos of couples doing something different at their wedding. While some are epic, others just come off more silly than impressive. They all plan on giving their guests an unforgettable experience with a unique entrance. But this Pakistani couple exchanged the ceremony of doodh pilai with the controversial sheesha smoking. Or shall we call it sheesha pilai?
Doodh pilai (milk drinking rasm) is one of the most popular customs in Pakistan. However, prevailing times have restyled the wedding rituals as well. Basically, the groom has to drink milk from a fantastically decorated container. The bride's family offers the glass to the groom.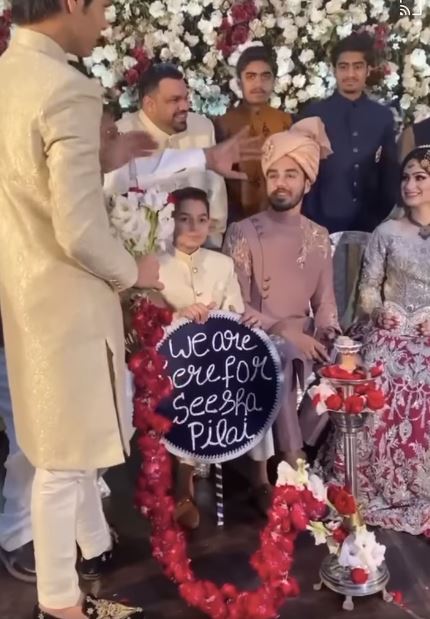 More so, if they want to add a twist to the ritual, the bride's family can put a knot in the straw. However, if the groom is unable to drink, or does not want to, he has to pay money. But we saw this getting completely revamped instead in a recent wedding.
Milk was replaced by sheesha. Recently, a wedding festival video went viral on social media where the bride and groom were smoking sheesha as custom instead of doodh pilai. Wedded pair can be seen enjoying sheesha embellished with fresh flowers while the attendees lauded.
Watch the video here
It seems as the couple was trying to make their wedding one of the unconventional ones.
Earlier, in probably the most unusual wedding video you will ever see, a photographer captured the unique moment of the bride in her wedding dress with the groom by her side, both simultaneously puffing on the same cigarette. The video went viral, and our Pakistani moral police could not be more pissed.
While another video of a mother-in-law gifting a unique gift to her son-in-law also stirred a debate. She gifted the AK-47 assault rifle to her son-in-law during a wedding ceremony. The woman congratulated the newly-wed couple sitting on the stage and presented the assault rifle to the groom. As it appears, with the passing time, new wedding customs are coming to the fore.
Previously, we have seen couples making an entrance on everything from the traditional palanquins to scooters and bicycles. Some were even seen hiring rickshaws to make a unique entrance at their wedding. But a Faisalabad couple just beat them all with their entrance. They made their entrance on a BOAT and outdid all the grand wedding entrance ideas!
What do you think of this story? Let us know in the comments section below.