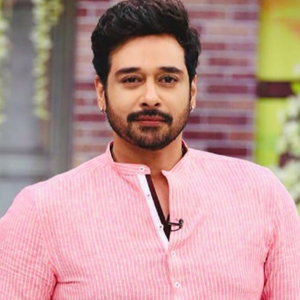 Biography
Faysal Qureshi is a distinctive Pakistani artist, television host, and producer as well. He is one of Pakistan's utmost open-handedly rewarded actors Faisal Qureshi is a charismatic and most praised Pakistani on-screen character, writer, host, producer, and singer who is tireless. It was clearly remembered and highly admired by him the year he got called the Entertainment Business Merit. He is a Pakistan-on-screen actor, producer, and TV host. During his years running in Pakistan, he received many compensated TV roles. He was the first in the TV serial Buta from Toba Tek Singh (1999).
Fact‌ ‌File‌ ‌ ‌
Birth‌ ‌Date‌

–  26

th

October 1973

Birth‌ ‌Place‌

‌–Lahore, Pakistan  ‌

Age‌

‌–‌ 47 in 2020 

Father

–

Abid Qureshi

Mother

– A

fshan Qureshi

Brother-

Imran Qureshi 

Marital‌ ‌Status‌

‌–‌ Married 

Wife

–‌  Sana Qureshi 

Children

– Two daughters and one son 

Son

– Farman Qureshi 

Daughters

– Hanish Qureshi and Ayat Qureshi 

Nationality‌

‌–Pakistani‌ ‌

Religion

–‌ ‌Islam‌ ‌ ‌

Occupation

–  Actor, Host, and Producer 
After performing a lot as an anchor, Faisal Qureshi hosted a morning show, Salam Zindagi on Ary Zindagi, but lately, Salam Zindagi has ended on a lighter note. The last episode of Salam Zindagi was on air last October 2019. He is currently working as an actor and producer both, meanwhile hosting. 
Background 
Faysal Qureshi, best known as the king of expression, has managed to gain a huge fan following through his TV hits. Like 'Meri Zaat Zara-e-Benishan,' 'Qaid-e-Tanhai,' 'Mera Yaqeen,' 'Roag,' 'Bashar Momin,' and many others. With the charisma he carries with him, a zillion of fans worldwide have fallen head over heels in love with him. The well-known Faysal Qureshi does not need any introduction. No one can beat the talent of this charismatic man. The multi-talented, good-looking man is an actor and a host, model, and producer. He has appeared in more than 50 serials in the lead role.
Faisal Qureshi also played the lead role in the highly admired drama serial Bashar Momin. In 2018, he was found in the vengeance-based drama Serial Khalis. In 2015, one of Daily Pakistani TV's most waged actors paid Rs. 2 crores for each scene. Since 2016, Faisal has been running the Morning Show Salam Zindagi, promoted in ARY Zindagi. The first performance of "Salam Zindagi" aired in October 2019. Another game show, "Khush Raho Pakistan With Facial Qureshi," debuted on Bol TV on 28 November 2019. Faisal Qureshi was selected as the CLF Goodwill Ambassador by the Children's Literary Festival on July 30, 2019.
Personal Life 
Faysal Qureshi defines himself as a really naughty little kid. Faysal Qureshi also loved playing cricket with his friends, and very often, they used to break glass windows of neighbors' houses. And there were many other naughty things which made other people really angry. Faysal Qureshi had a big group of friends who were always ready to play cricket no matter what the situation was like. He was also someone who liked to have his own style in many things, which made his mother's job really difficult at times.
Educational Qualification 
Faisal Qureshi did his graduation after entering the Pakistan showbiz industry.
Family Particulars 
Faisal Qureshi is the son of famous Abid Qureshi and Afshan Qureshi, notably known actors of Pakistan; he was born in Lahore. Because of having his family background or fame, Faysal was a bit used to the showbiz world and found his passion within this field.
Faysal Qureshi's uncle named Riffat Qureshi, has also been a part of the media industry. His uncle is a sound specialist from 1960 to 1970. Faysal Qureshi's aunt was also a famous actress. She contributed to many films.
Married Life 
Married life to Faisal Qureshi was not as sound and straightforward as many others as he was first married at 18. Unfortunately, that marriage failed and the couple was divorced seven years later, despite having a six-year-old daughter. He married again when he turned 28, however once again, sadly, the marriage did not go too long, and the couple was divorced two years later. Faisal gets married a third time, at the beginning of 2010, to a woman named Sana. He currently lives in Karachi with his mother, wife, has two daughters, Hansih and Ayat Qureshi, and a son named Farman Qureshi.
Professional Life 
As An Actor 
Faisal Qureshi started his career as a young artist and showed up in the plays Emergency Ward and Andhera Ujala for PTV. He made his first film appearance as an entertainer in the 2000 film Saza. He previously played side roles in TV serials, earlier handling his first leading role as "Boota" in Boota from Toba Tek Singh which made him a medium-term star. Faysal has additionally shown up as an appointed authority on rivalry shows Dum Hai To Entertain Kar and Nachle. He likewise facilitated the unscripted TV drama Hero Banney Ki Tarang and the morning show Muskurati Morning on TVOne Global alongside Ayesha Khalid. He additionally played a variety of characters in primarily various praised performances, including Meri Zaat Zarra-e-Benishan (2009), Main Abdul Qadir Hoon (2010) as main leads friend, Qaid-e-Tanhai (2010), and Kis Din Mera Viyah Howay Ga (2011–2018). Faysal additionally played the leading role in the 2014's acclaimed dramatization sequential Bashar Momin. In 2018, he was found in retribution-based show arrangement Khalish. In 2015, Daily Pakistan announced that Faysal has gotten one of the most generously compensated TV artists, charging Rs. 2 million for each scene.
Faisal Qureshi's Films 
Saza (1992)

Aina (2013) (Nadeem)

Good Morning Karachi (2015) (Shavaiz)

Manto (2015) (Asim)

Laloolal.com (2016) (Rameez)

Sorry: A Love Story (2020) (TBA)
Faisal Qureshi's Telefilms 
Resham Si Shaam

Muthi Bhar Mithi

Babies Unlimited

Nass Baliye 

Talluq

Hum Kahani Meri Zubani

Phir Kab Milo Ge

Tarang Houseful-Aina
Faisal Qureshi's television dramas;
Mirza and Sons

Andhera and Ujala

Bootaa from Toba Tek Singh

Masuri

Harjaee

Umrao Jan Ada

Sawan

Lagan

Emergency Ward

Tum Kahan Hum Kahan

Mann o Salwa

Ahsaas

Salman

Deewar

Ab Ghar Janai Do

Abhi Abhi

Barish Kai Ansu

Meri Unsuni Kahaani

Aashti

Tikon

Qaid e Tanhai

Sansal

Kitnay Door Kitnay Paas

Jaaey Kahan Ye Dil

Haal e Dil

Ishq Ibadat

Jeet Ka Dum

Kya Meri Shaadi Shahrukh Se Hogi

The Ghost

Ek Hatheli Pe Hina Ek Hatheli Pe Lahoo

Meri Jaan

Mera Saeein

Umm e Kulsoom

Khusboo ka Ghar

Teray Janay Ke Baad

Main Abdul Qadir Hoon

Mann Ke Moti

Bashar Momin

Meri Zaat Zara-e-Benishan

Chaar Chand

Ruswaa

Kis Din mera Viyah Howaiga

Sabz Pari Laal Kabootar

Main Bushra

Roag

Iqraar

Bheegi Palkain

Mariam

Main Manto

Waada

Aap ke Liye

Tum Meri Ho

Kis din Mera Viyah Howaiga (season 4)

Baba Jani

Khalish

Rang Laaga

Mol

Haiwan

Starangi
As A Host 
He also hosted the reality show 'Hero Banney Ki Tarang' and the morning show 'Muskurati Morning' on TVOne Global and Ayesha Khalid. He remained the part of 'Salam Zindagi' for many years and Faizan Sheikh and Adi on ARY Zindagi. 
Awards & Appreciation
Faisal Qureshi has won many awards and recognition and out of which the well-known are:
Lux Style Award 2015 (Best TV Actor for Rang Laga)

1

st

Indus Drama Award (Best Supporting Actor for Wujud-e-Lorib)

First Pakistani Media Award (Best Drama Actor for main lead) and winner of several awards and honors

2nd Pakistan Media Awards (Best Morning Show for Muscuarti Morning)

Pakistan Media Awards (Best Host)

10th Lux Style Award (Male TV actor and the best TV actor for Zara-e-benisan).
Current Life 
NowFaisal Qureshi ( فیصل قریشی) hosted a new style of game show Khush Raho Pakistan with Faysal Quraishi on BOL TV. He told his game show in detail that Khush Raho Pakistan with Faysal Quraishi is a different game show. Mainly we try to engage the audience with exciting games—audience and fans like the show.
Upcoming Project
Faysal Qureshi is trying an innovative thing in his profession; he will be expected to appear in a web series. He is collaborating with Iman Ali for Baadshah Begum, which is a production of Rafay Rashidi. Faysal said while speaking to Image, "We're in the initial stage right now. Working on the script and the characters, lots of other things. I'm very excited; Iman and I are working together for the first time. The cast also includes Gohar Rasheed and Imran Ashraf."
"We've been in talks for a while, and now that it's been announced and is properly happening, we're all on board and happy," he further said. The story revolves around themes of inheritance, family politics, gender inequality, and male dominance. Qureshi's role will be playing the arch-villain in the story, written by Saji Gul of O Rangreza fame. According to sources, the series will come out sometime after October; however, a confirmed release date has not been mentioned.