Just sixteen-year-old Mahnoor Cheema, a British Pakistani student, has accomplished an amazing feat and breaks the record.
With the passage of 34 courses at the General Certificate of Secondary Education (GCSE) level, Mahnoor has achieved an incredible achievement that breaks records both domestically and internationally.
Mahnoor had to pass 17 subjects with A* marks as a private candidate during her Year 10 in order to reach this outstanding feat.
She went on to add another 17 themes to her repertory, making an astounding total of 34 subjects in an even more remarkable turn of events. With this accomplishment, the record for the most topics taken by a student in the history of the UK and EU GCSEs has been set.
Pakistani Student Breaks Record With 34 GCSEs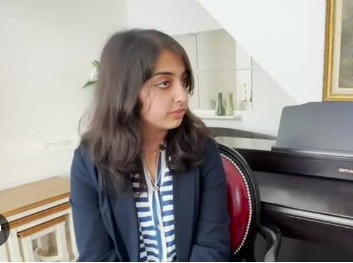 Physics, Chemistry, Biology, Math, Economics, Sociology, Psychology, English Literature, Latin, German, French, Classic Civilization, History, Film Studies, and Drama are among the 34 subjects in which Mahnoor excelled.
Ten years prior, Haroon Tariq, an additional Pakistani student, achieved an unprecedented 47 As in his International General Certificate of Secondary Education (IGCSE) O Level and A Level examinations.
Mahnoor Cheema spoke with a national newspaper about her inspirational story. Her parents, Mrs. Tayyaba Cheema and Barrister Usman Cheema, migrated to the UK in 2006 so that she could continue her studies at SOAS and Lincoln's Inn, respectively. They were originally from Lahore, Pakistan.
Mahnoor attended a private school in Lahore before enrolling in Class 5 at Langley Grammar School in West London.
Among her many accomplishments, this remarkable young student of Pakistani descent lists numerous more. Mahnoor's remarkable IQ of 161 on the Mensa IQ Test has earned her notoriety on a worldwide scale in addition to her academic achievements.
She surpasses even the famed Albert Einstein, who is said to have had an IQ of 160. Because of her intelligence, Mahnoor belongs to the top 1% of people in the planet.
She is among the youngest people in the UK studying a music diploma since she also achieved the Grade 8 ABRSM Music Theory and Practical with distinction. She has also made the shortlist for the famous John Locke essay competition. Later this year, there will be an awards ceremony in Oxford.
Mahnoor is a voracious learner who goes beyond GCSEs. Her desire to commit her life and profession to assisting mankind is fueled by her intense enthusiasm for medicine. Her will to succeed drove her to take the 15-year-old University Clinical Aptitude Test (UCAT) and the Biomedical Admissions Test (BMAT), where she performed very well, scoring 3,290, placing her in the 99th percentile of test takers.
See More: Guinness World Record Pakistani Family Sets For Same Birth Date
What do you think of the story? Tell us in the comments section below.