Every Pakistani has a soft corner for our Armed Forces, no doubt. We respect them, love them, adore them, believe in them and most of all, we're proud of them! When we've got such fondness for our Army men, we should surely hold the same feelings towards their women.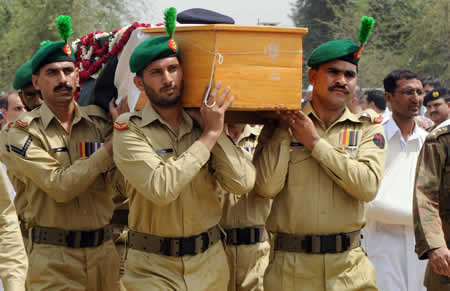 This is one such woman
The widow of the ex-Pakistan Army Squadron Leader, Martyr (Shaheed) Shabbir, has taken it upon herself to not tie her hands and instead, prove that she was once the wife of a Pakistan Army's proud personnel. According to a Facebook post that did the rounds in recent times on the social media platform, the very young widow of Shaheed Shabbir is selling lunch boxes in Karachi this Ramadan.
The army personnel's widow lives in a widow house. Every Pakistani household buys these items for iftaari, some even for sehri. Why not give back to the widows of the people who gave their life for this country? Why not buy these items, which are NOT expensive at all, from the widow of the martyr?
A VAST list of food!
The food list includes: chicken samosas, alu samosas, beef samosas, beef rolls, chicken vegetable rolls, alu rolls, croquettes, cutlets, chicken cheese cutlets, broast chicken pieces, spicy wings, shami kabab, chapli kabab, mash bhalay, alu bukhara chatni, karahi seekh kabab, frozen hari chutney and chicken cutlets. None of these items are more than Rs. 300, which is a bargain compared to the market. Almost all of these items come in sets of either 6 or 12.
It is time Pakistan united as one and showed this widow that we don't just care for the fallen jawaans. We also have a place in our hearts for their wives and children. For their families.
If you wish to buy from Shaheed Shabbir's widow, her contact numbers are: 0315-9367072 and 0321-5332883.
Pakistan Zindabad!