The Zindigi Prize, a groundbreaking social entrepreneurship contest designed to empower the future's changemakers, recently concluded its inaugural regional event in Lahore with a grand closing ceremony.
The three-day event, orchestrated by Zindigi powered by JS Bank, and the University of Lahore, highlighted the innovative ideas and immense potential of young Pakistani entrepreneurs, leaving their mark on entrepreneurial scene.
The Zindigi Prize, which reached over 120 universities and drew more than 300 start-ups from across Pakistan, sparked excitement among budding entrepreneurs seeking seed funding and mentorship opportunities. The competition's aim is to catapult start-ups to success by equipping them with essential resources and guidance.
The event commenced with a breathtaking opening ceremony at the University of Lahore, setting the stage for a three-day extravaganza. Day two brimmed with workshops covering marketing, idea pitching, fundraising, and scaling start-ups. Motivational speeches by Pakistani entrepreneurs inspired attendees, while the Speed Dating session facilitated engaging exchanges between students and over 20 industry experts, who offered valuable feedback on their start-up concepts.
On the final day, the Zindigi Academia Innovation Summit showcased 80 innovative start-ups, bridging the academia-corporate divide with ground-breaking ideas.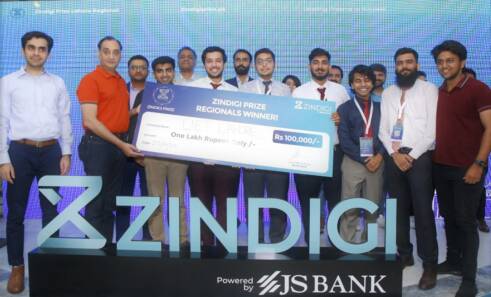 Among the participating teams, Dronition, OINIC, FitHer, Nonagon Solutions, Stress Saviour's, and Inbikes stood out as top contenders. These six teams demonstrated exceptional talent and innovation, earning their place in the final round.
After rigorous evaluation, the panel of judges declared Nonagon Solutions as the Zindigi Prize winner, applauding their innovative problem-solving approach. The runner-up positions were clinched by Inbikes and FitHer.
Noman Azhar, the Chief Officer at Zindigi, expressed deep enthusiasm for the event, and stated, "We strongly believe in giving back to the society, and Zindigi Prize allows us to fulfill that commitment by empowering our valuable assets, the Gen Z and millennials.
This initiative holds a special place in our hearts as it evidently highlights how the Zindigi Prize acts as a powerful catalyst for the younger generation to unleash their extraordinary talents and abilities. JS Group's dedication to empowering the youth of Pakistan perfectly aligns with the Zindigi Prize initiative, for which they have extended their sincerest congratulations to the outstanding winners."
Atif Salim Malik, Group Head of Retail Banking at JS Bank and Chief Guest at the ceremony, lauded the students and youth for their exceptional contributions, encouraging them to continue their remarkable journey.
Dr. Amjad, the Director of Strategy and Internationalization at the University of Lahore, commended the successful Zindigi Prize event for showcasing talented entrepreneurs. The university is actively supportive of youth entrepreneurship and anticipates future collaborations and support.
The Zindigi Prize has successfully established an ecosystem that nurtures and propels the aspirations of emerging entrepreneurs. This event marked a significant milestone in the mission to empower the next generation of changemakers, reaffirming Zindigi and JS Bank's commitment to fostering innovation and social entrepreneurship.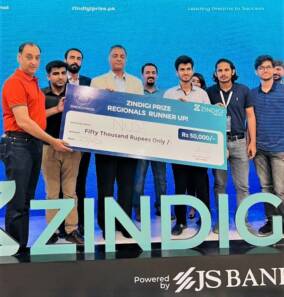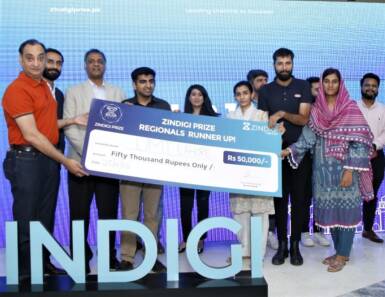 About JS Bank
JS Bank is amongst the fastest-growing Banks in Pakistan, with both a domestic and an international presence. The Bank is a leader in the SME space and has a substantial footprint in Digital Banking and Consumer Loans. JS Bank has been recognized on multiple international and national forums, including the prestigious Asia Money, Asian Banking, Finance, DIGI, and Pakistan Banking Awards. JS Bank is part of JS Group, one of Pakistan's most diversified and progressive financial services groups.
About Zindigi
Zindigi powered by JS Bank is a digital banking initiative targeted towards Gen Z and millennials, who value their independence and want to control and operate things their way. Zindigi is the first of its-kind customizable mobile app with an ethos of giving complete control of the digital bank to customers and the look & feel for their app. It offers Digital Generation savings and investment products. The fintech goes by with the slogan "Simple Karo" reflecting their objective of making the consumers' lives simple. It is the only Digital banking experience of Pakistan offering both, a full fledge account to be opened digitally and a master debit card that can be used both internationally and locally.
For more details visit our website.