Sweet are the uses of adversity said Shakespeare in one of his plays. Adversity may be critical, hard, and difficult but it may spark all the hidden talents in us. Even today how true and apt is this quote, specially for Pakistan cricket team. Very recently, Younis Khan was declared to be unsuitable for the ODI series against Australia but the absence of some good players forced the selectors to play him for the test matches.
Moreover, the absence of players like Saeed Ajmal, Junaid, Wahab Raiz in the Pakistan cricket team forced the normal pessimistic follower of the game in Pakistan to give no chance to the Pakistan cricket team. Most of these so-called lovers of cricket did not even switch on their TV sets as the result was a foregone conclusion for them.
We are bad followers of sport because we love them only when they win and hate them as soon as they lose.
Those who had the courage to follow the match saw Younis Khan scoring a century on the first day and Sarfraz Ahmed on the next day. Sarfraz Ahmed again who come and goes in the team on the whims and fantasies of our selectors. We ended with a huge score of 454 with scores of over fifty by Misbah, Azhar Ali and Asad Shafiq.
Younis Khan, also equaled the highest number of centuries hit by a Pakistani, which he shared with Inazam-ul-Haq. How many times have we scored over 400 in the first inning in a test against Australia.
Then, it was the turn of the Australia team to bat and they raced to 113 without loss. The ever pessimistic supporter who had come out of his shell after the huge score of Pakistan cricket team, sarcastically remarked," Oh, this is a wicket which is a batsman paradise" so Australia will also score a mammoth score and the match will peter out to a draw.
Still, a likely draw was not a bad result against the might of this would be number one team of the world. But what happened, this mighty team was dismissed for 303 runs giving Pakistan cricket team a lead of 151.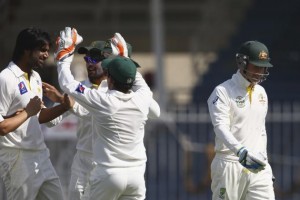 Yasir Ali, playing in his very first match got three wickets and was ably supported by other bowlers. It was Warner's century that kept Australia afloat otherwise they might have followed on. Again Pakistan cricket team in adverse conditions bowled their hearts out and a significant lead was in their bag.
We had a tendency to throw away the advantage in a match. However when we batted again there was no panic, no hurry, no loose shot. The batsman played every ball on merit and again in the second innings two centuries flowed from the bat of Pakistani. It was Ahmed Shahzad scoring a century and then it was Younis Khan scoring two in a row.
In the process he also became the highest century maker for Pakistan and has gone ahead all the greats of Pakistan, more centuries than Zaheer Abbas, Javed Maindad, Mohammad Yousuf and Inzamam-ul-Haq.
Scoring a century in each inning against Australia is no mean achievement. There was a gap of 40 years, in the midst of cricket greats Tundulkar, Dravid, Lara, Bobby Simpson, and many others, no one was able to do so. Today, this rare feat was achieved by none other than our Younis Khan of Pakistan cricket team.
Dear selectors are you still skeptical about him. Has he erased all your doubts, suspicions or still thing that this was fluke? Pakistan cricket team declared their innings at 286 for two with a very healthy lead of 438 runs and before end of the end of day the visitors  lost 4 wickets for 59 runs and because of great innings Pakistan won the 1st test match.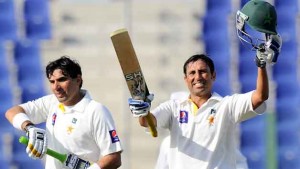 Is Pakistan cricket team playing like Australia or is Australia playing like Pakistan? A win was evidently very much on the cards for Pakistan cricket team amid the glorious uncertainties of cricket. Pakistan cricket team managed to win and proved that even in a state of adversity, the best can come out.
No use crying over the loss of Saeed Ajmal because Yasir Shah has proved that no one is indispensible. He did what even Saeed may not have achieved, in addition the support of other bowlers. This likely win will turn a new leaf in the annuals of Pakistani cricket. Let us stop counting only on big names. It is not the big name but the performance that counts.
What the Pakistan cricket team has achieved, is a win against one of the best teams. A combined Pakistan cricket team effort is always better than performances one or two big names. This match proves that out of 11 players in Pakistan cricket team who played at least 8 came up with good performances. As the number of performers in a team increases so does the number of victories.
Pakistan cricket team is in a rebuilding phase and there is a dire need to identify the future captain of Pakistan cricket team and groom under Misbah or Younis Khan. Those who had written off Pakistan cricket team to even give a tough fight to Australia are caught by surprise. They are not a mode of willing suspension of disbelief. Contrary, what they see and observe is factual and not a work of fiction.
We need to remember this same place where Pakistan cricket team was bowled in a test match for under 60 in both the innings. That was the time we considered Pakistan cricket team for test matches as a strong team on the international circuit. Right now, we are considered under-dogs playing against any of the top teams of the world.
Still, this state of adversity brought the best out of every player in the team. Two new caps, Yasir and Imran were brought in the bowling department. Sarfraz got his due place as the wicket keeper.
Many of us may passed a sleepless night but a victory was the best way to welcome the new Islamic year. Let us pin our hopes on Pakistan cricket team's talent and youth and not on names that never deliver or do it once in a blue moon.