Swarovski Opens in Pakistan
With a premium lead store on Zamzama, the world famous crystal brand offers a variety of sparkling crystals to Pakistani fashion designers.
Glistening and glittering, it would be difficult to miss the radiance of the first official Swarovski store that opened on Zamzama, Karachi this week. It is a great addition to Pakistani fashion industry. It offers a collection of costume jewelry that would transform the most obstinate gold loyalists and an upper story of crystals, beads, globules, mesh and everything that a couturier's treasure trove ought to be overflowing with.
Garish and chic, the inauguration of the outlet pulled in the right swarm, from Pakistani fashion models and designers Bunto Kazmi, Safinaz Muneer, Rehana Saigol, Maheen Khan and Faiza Samee to Naushaba Brohi and Yousuf Bashir Mirza, all were eager purchasers in this glim and bling market.
Swarovski, a name that requires no introduction aside from an aide-mémoire that it has no parallel rival in its 115 years of presence, has delegated the Fifth Element Group as domestic accomplice. The Fifth Element will be taking care of Swarovski outlet/ distribution in Pakistan.
So what, one thinks, happens to the wholesale market, that Pakistani fashion designers have been sourcing their crystals from? Basically, Swarovski will easily make the black market wrap up their business.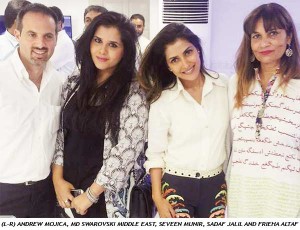 On the launch, famous Pakistani fashion designer Safinaz Muneer told the press that they have been using Chinese and Korean crystals on their inexpensive outfits and Swarovski on expensive, top class bridal wear, but now that the Swarovski store has been opened in Pakistan it would be easier for them to use it freely for all their bridal dresses.
The legendry Pakistani fashion designer added that as Swarovski is expensive it will be used only on expensive bridals, not even the low range bridals.
When she was inquired about the kind of crystal she is particularly interested in and wants to use, she replied: "We only use a certain small size crystal in silver, gold or champagne and peach tones. We don't use larger stones or the colored, bigger variety that is used on jackets, for example, so our choice will be a little conservative."
The renowned Pakistani fashion designer Safinaz further said that Swarovski is too expensive to use in the high street brand or on lawn.
Nadir Iqbal, the Head of Sales in the Middle East and emerging markets flew all the way from Dubai to Pakistan for the launch. He said that their most major target market is apparel.
Swarovski's managing director Andrew Mojica added that the industry of crystals is worth millions of dollars, it has a huge potential when it comes to high end clothing and bridal dresses.
A clothing brand, 'Pink Tree' was asked to prepare 3 dresses for the launch to show the attendees the possibilities of creating exceptional dresses with Swarovski. Pink Tree has been working with Swarovski for the past 1 year. The outfits they made were sophisticated as well as edgy in their use of crystals as surface embellishment. The attires showed how a value added product can instantly raise the quality and overall visual impact of formal attires.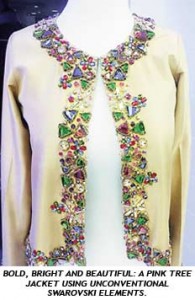 Few of the high-end Pakistani fashion designers, such as Bunto Kazmi, have already been using Swarovski crystals in their collections.
One of the most seasoned Pakistani fashion designers, Bunto Kazmi said: "We use Swarovski crystals in our bridal couture but the options are never this diverse… The only problem is that we can't use stick-on crystals in hand crafted clothes. It's impossible to stick them in between the embroideries and embellishment.
We need crystals that can be sewed on. Our wholesale supplier has been customizing crystals by adding holes to them and we hope Swarovski will too."
The officials of Swarovski assured the attendees that all the kinds of designs and types of Swarovski crystals will be made available in Pakistan. The variety would include loose crystals, larger stones as well as mesh ribbons and apparel stick on designs.
The seasonal Swarovski mood prediction boards made will also be made available to all the Pakistani fashion designers just like they have been made available to all the other designers in the world. Exclusive designs on the demand of Pakistani fashion designers will also be made on order.
The highest usage of Swarovski crystals in Pakistan has been for Abayas, fashion clothing, and high end, expensive bridal clothes, shoes, bags, accessories, jewelry, etc. Swarovski open the window of endless opportunities for the Pakistani fashion designers to enhance and improve the quality of their collection.
Moreover, people who are very religious can also use Swarovski rosaries (tasbeeh). They look absolutely beautiful.