In a shocking turn of events, an attack by two vicious pet dogs injured a citizen in Karachi's Defence Housing Authority DHA Phase 6 on Monday.
The citizen, a lawyer by profession, was under attack by the two pet dogs when he ventured out for morning walk in DHA, Phase 6. A video clip of the horrific incident is going viral on social media platforms.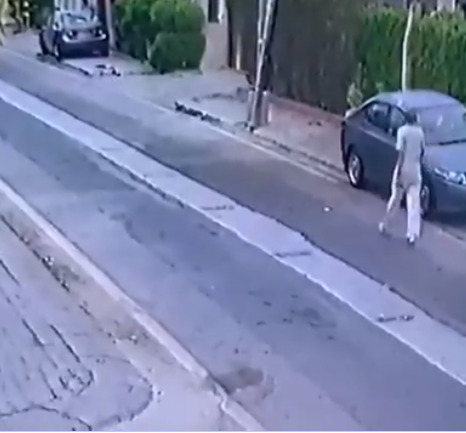 A lawyers' body reportedly demanded immediate action and proper investigation into the case. Meanwhile, the police had taken action by arresting two handlers of the dogs after lodging a First Information Report (FIR).
"Some arrests have been made in the case," said South SSP (Investigation), Imran Mirza. Dawn reports that efforts were underway to arrest a suspect. Daniyal who has fled while his father, Humayun Khan, has already got bail from a local court. In the FIR, Section 324, which pertains to attempted murder, has also been incorporated.
Senior advocate Mirza Akhtar Ali, father of advocate Taimur Ali Mirza, was injured on the road, according to the police and lawyers. He was passing through the area in DHA when Daniyal was standing outside his home along with two pet dogs when the hounds attacked the lawyer on June 16.
The CCTV footage shows the two dogs attacking the advocate ferociously. They can be seen pulling him down and constantly mauling him despite restraining efforts by the dogs' handler to save the victim.
Here is the CCTV footage of the incident
"After the attack, the senior advocate was left bleeding and severely injured on the road and neither the owner nor anyone [from] his household helped him or provided medical assistance," said Karachi Bar Association, which condemned the attack. "They left him on the road and ran away."
The senior advocate suffered serious injuries that required extensive surgery and he is currently in the hospital. According to the KBA, the same dogs had attacked others in the past in the same way.
A private driver of the attorney general of Pakistan (AGP) died. Moreover, two police security guards were left wounded after a car rammed into a 'police security camp'. The accident took place outside AGP's bungalow in Defence Housing Authority last month. CCTV footage emerged after the horrific accident.
Last year, another very disturbing story emerged but from Lahore. A little child was mulled and attacked by 'trained' German shepherds dogs in Lahore's Iqbal Town family park, near Moon Market. The little child was a balloon seller, not older than 7-8 years. The child, who could barely move, kept crying in pain.
Story Courtesy: Dawn
What do you think of this story? Let us know in the comments section below.